Build an Adaptive Game Controller for a Raspberry Pi
15 reviews
Summary
Areas of Science
Difficulty
Time Required
Short (2-5 days)
Credits
Ben Finio, PhD, Science Buddies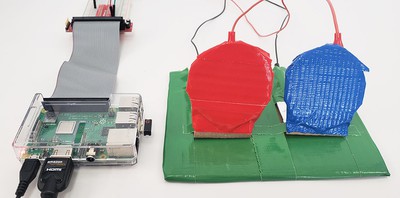 *Note:
For this science project you will need to develop your own experimental procedure. Use the information in the summary tab as a starting place. If you would like to discuss your ideas or need help troubleshooting, use the
Ask An Expert
forum. Our Experts won't do the work for you, but they will make suggestions and offer guidance if you come to them with specific questions.
If you want a Project Idea with full instructions, please pick one without an asterisk (*) at the end of the title.
Abstract
People with limited mobility, especially in their hands, may not be able to use traditional video game controllers. Adaptive game controllers use a variety of peripherals, like larger buttons, foot pedals, or specialized joysticks, to let people with limited mobility play video games. This video shows how to build a very simple adaptive controller that works with Scratch games on a Raspberry Pi. Can you build an adaptive game controller for a hardware platform and game of your choice?

Ask an Expert
Do you have specific questions about your science project? Our team of volunteer scientists can help. Our Experts won't do the work for you, but they will make suggestions, offer guidance, and help you troubleshoot.
Global Connections
The United Nation's Sustainable Development Goals (UNSDGs)
are a blueprint to achieve a better and more sustainable future for all.
This project explores topics key to Industry, Innovation and Infrastructure: Build resilient infrastructure, promote sustainable industrialization and foster innovation.
Careers
If you like this project, you might enjoy exploring these related careers:
Related Links
Cite This Page
General citation information is provided here. Be sure to check the formatting, including capitalization, for the method you are using and update your citation, as needed.
MLA Style
Finio, Ben. "Build an Adaptive Game Controller for a Raspberry Pi." Science Buddies, 26 Oct. 2022, https://www.sciencebuddies.org/science-fair-projects/project-ideas/CompSci_p064/computer-science/raspberry-pi-adaptive-game-controller. Accessed 27 Sep. 2023.
APA Style
Finio, B. (2022, October 26). Build an Adaptive Game Controller for a Raspberry Pi. Retrieved from https://www.sciencebuddies.org/science-fair-projects/project-ideas/CompSci_p064/computer-science/raspberry-pi-adaptive-game-controller
Last edit date: 2022-10-26
Explore Our Science Videos
How to Measure Light with Google's Science Journal App
Valentine's Day Candy Delivery Robot
Volleyball Machine: 2019 Engineering Challenge