Turning Mushrooms into Environmentally Friendly Packaging
5 reviews
Summary
Areas of Science
Difficulty
Time Required
Long (2-4 weeks)
Credits
Sabine De Brabandere, PhD, Science Buddies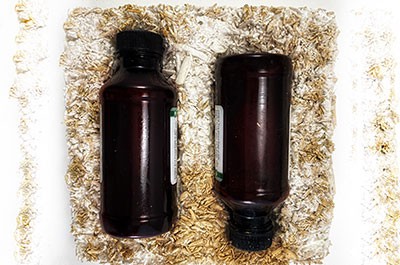 *Note:
For this science project you will need to develop your own experimental procedure. Use the information in the summary tab as a starting place. If you would like to discuss your ideas or need help troubleshooting, use the
Ask An Expert
forum. Our Experts won't do the work for you, but they will make suggestions and offer guidance if you come to them with specific questions.
If you want a Project Idea with full instructions, please pick one without an asterisk (*) at the end of the title.
Abstract
Have you ever questioned the packaging of an item in a plastic container, secured in a plastic mold, that also slides into a plastic box, or a small item packed in twenty times its volume of polystyrene noodles to keep it from breaking? In this project, you will explore if mycelium composite material, an eco-friendly material obtained from organic waste and mushroom roots, can serve as a viable eco-friendly packaging alternative.
Packaging material made of foams and plastics (Figures 1 and 2) are taxing to the environment; they can easily take over 100 years to begin to degrade on a landfill, and burning this plastic waste leaves us with toxic byproducts. Look around and see what issues you can find with current packaging materials. What would you like to see changed? What benefits could a biodegradable material have? What other qualities do you want packaging materials to have? Write down your list; you might want to come back to it later in the project.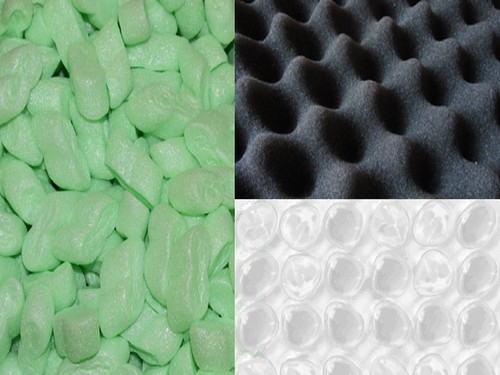 Figure 1.
Polystyrene noodles, synthetic foam, and plastic bubble wrap are problematic as waste.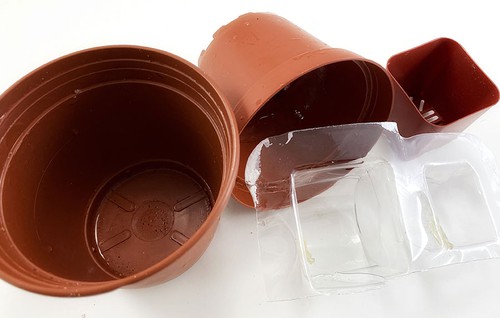 Figure 2.
Plastic plant containers, and plastic molds are two examples of plastics that could be replaced by mycelium composite material.
Mushrooms are part of the kingdom of fungi. The larger part of the fungus is the root system, the mycelium. It is a network of strong bonds, that, when grown in molds around biological waste like wood chips, can create strong, lightweight, biodegradable products. Perform some background research into mycelium composite material. What characteristics could make it a viable candidate for packaging material?
The video shows how mycelium composite material can be grown at home. The process, as well as where to find a starter kit, can be found in the activity Making Everyday Objects Out of Mushrooms: Environmentally Friendly Design. Figure 3 shows a packaging mold grown from mycelium and hemp by Science Buddies staff. It has been designed to hold two fragile bottles. You can mold mycelium composite into any form you would like: a box, an egg-shape, etc. How do you envision your packaging?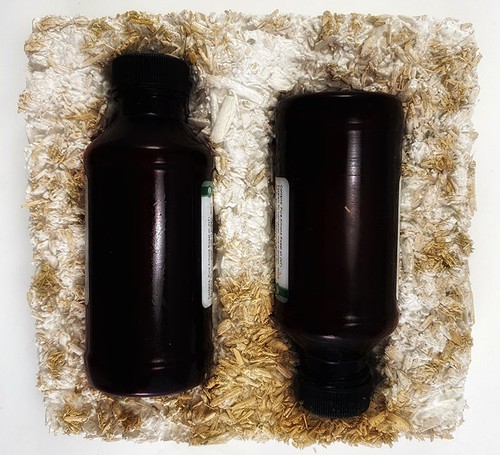 Figure 3.
An example of mycelium composite packaging material.
Before you order mycelium starter kits, decide on your goal: do you want to compare the performance of mycelium composite packaging material to that of other packaging materials, or do you want to explore solutions for transporting a particular fragile object? If you are going to compare performances, use the scientific method, but if you plan to solve a particular transport problem, use the engineering design process. The video Which should you choose: Scientific Method versus Engineering Design Process can help you identify which method works best for your idea. The project Understand Shock Levels and Packaging Principles might help you find ways to quantify the performance. If you choose to use a real object to test, use a breakable but non-precious object, something that is okay to potentially end up damaged or broken. For the transportation problem, consider transporting the object a few times. Does your solution work? Do you need to make improvements?
If you are using the engineering design process, plan to have several iterations or several cycles of growing mycelium composite material. You can use several kits —make the first iteration with the first kit, the second iteration with the second kit, etc.—or buy a few extra filter patch bags and use half or one-third of the contents of the bag to grow your first iteration, and the remainder for future iterations. Always store unused product in a cool, dry, and clean environment. If you use part of a kit, remember to adjust what you need to add to bring your kit to life. For example, if you use one-third of the material, add one-third of the recommended water and flour to bring the material to life.
Your findings can be seen as part of a life cycle assessment. The life cycle of a product starts with the extraction of raw material, and ends with the disposal of the product. It includes manufacturing, distribution, and consumer usage of the product. What would the life cycle of mycelium composite packaging material look like? An evaluation of the environmental impact of the product at each stage is called a life cycle assessment. It provides a more global overview of the environmental impact of the product. The video The Truth About Green Grocery Bags can help you understand what a life cycle assessment is, and why it is important. If you chose to compare the performance of mycelium composite packaging material to that of an other packaging material, can you extend your assessment to include a few aspects of the life cycle of these two packaging materials? If you are solving a particular transport problem, consider including a few aspects of the life cycle of the product you created.

Ask an Expert
Do you have specific questions about your science project? Our team of volunteer scientists can help. Our Experts won't do the work for you, but they will make suggestions, offer guidance, and help you troubleshoot.
Careers
If you like this project, you might enjoy exploring these related careers:
Related Links
Cite This Page
General citation information is provided here. Be sure to check the formatting, including capitalization, for the method you are using and update your citation, as needed.
MLA Style
De Brabandere, Sabine. "Turning Mushrooms into Environmentally Friendly Packaging." Science Buddies, 11 May 2021, https://www.sciencebuddies.org/science-fair-projects/project-ideas/MatlSci_p046/materials-science/mycelium-packaging?from=Blog. Accessed 6 Feb. 2023.
APA Style
De Brabandere, S. (2021, May 11). Turning Mushrooms into Environmentally Friendly Packaging. Retrieved from https://www.sciencebuddies.org/science-fair-projects/project-ideas/MatlSci_p046/materials-science/mycelium-packaging?from=Blog
Last edit date: 2021-05-11
Explore Our Science Videos
Balloon Car: 2015 Fluor Engineering Challenge
Robotics Engineering Project: Use the Force! Push and Pull LEGO® Mindstorms® Robots
DIY Mini Drone Part 3: Arduino Altitude Control