Summary
Areas of Science
Difficulty
Time Required
Long (2-4 weeks)
Prerequisites
Material Availability
Cost
High ($100 - $150)
Safety
Credits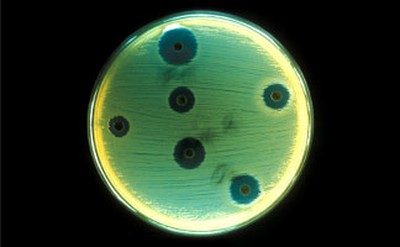 *Note:
For this science project you will need to develop your own experimental procedure. Use the information in the summary tab as a starting place. If you would like to discuss your ideas or need help troubleshooting, use the
Ask An Expert
forum. Our Experts won't do the work for you, but they will make suggestions and offer guidance if you come to them with specific questions.
If you want a Project Idea with full instructions, please pick one without an asterisk (*) at the end of the title.
Abstract
Antibiotics work by destabilizing the metabolism or cellular structure of bacteria, preventing growth, and causing bacteria to die. Some strains of bacteria have mutated and found a way to resist the actions of antibiotics. These are called resistant strains because they resist the actions of available antibiotic treatments. There are many different types of antibiotics that are continually being developed to combat new strains of resistant bacteria. Some antibiotics work better on different bacterial strains than others. Compare the action of different antibiotics on different strains of bacteria. Which type of antibiotic works the best against each strain? Which ones are the most cosmopolitan, and work on the most different strains of bacteria? Can you use genomic techniques and bioinformatics to predict which antibiotics will work best on each bacterial species or strain? (NCBI, 2006; Brown, 2002)

Ask an Expert
Do you have specific questions about your science project? Our team of volunteer scientists can help. Our Experts won't do the work for you, but they will make suggestions, offer guidance, and help you troubleshoot.
Careers
If you like this project, you might enjoy exploring these related careers:
Related Links
Cite This Page
General citation information is provided here. Be sure to check the formatting, including capitalization, for the method you are using and update your citation, as needed.
MLA Style
Science Buddies Staff. "Antibiotic Resistance." Science Buddies, 14 Aug. 2020, https://www.sciencebuddies.org/science-fair-projects/project-ideas/MicroBio_p021/microbiology/antibiotic-resistance. Accessed 23 May 2022.
APA Style
Science Buddies Staff. (2020, August 14). Antibiotic Resistance. Retrieved from https://www.sciencebuddies.org/science-fair-projects/project-ideas/MicroBio_p021/microbiology/antibiotic-resistance
Last edit date: 2020-08-14
Explore Our Science Videos
Robotics Engineering Project: Use the Force! Push and Pull LEGO® Mindstorms® Robots