Interview with Mechanical Engineer, Mark Thies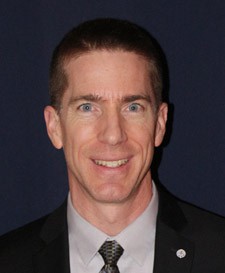 Name: Mark Thies
Current employer: Fluor Corporation
Job title: Mechanical Engineer
Science Career: Mechanical Engineer
Time working in this field: 25 years
What do you do?
Engineers solve problems. Mechanical engineers in my department at Fluor Southern California, design and purchase mechanical equipment (pumps, heat exchangers, pressure vessels, etc.) for use in large facilities such as oil refineries and power plants.
How did you become interested in this area of science/engineering?
Since high school I've enjoyed physics, math, and technical problem solving. Mechanical engineering was a great way to combine all of these interests in the pursuit of a challenging career path.
What are some of the key characteristics that are important for a person to succeed in this type of work?
You need to have an interest and aptitude in technical things. You also need to be a good problem solver, communicate well, and be flexible.
Describe a project that you have worked on that was of particular interest to you.
My first field assignment was to support a fast-track project to help re-design and re-build a carpet factory in Georgia that had been destroyed in a fire. The factory was essential for the production of special carpet that was needed for several US Olympic facilities that were under construction. We worked 24x7 on engineering and design in a warehouse across the street from the construction jobsite, and eventually moved into construction trailers on the jobsite. It was exciting to be a part of the entire project from engineering all the way through construction and start-up of the facility.
What do you enjoy most about your job?
Working with great people to solve challenging technical challenges.
Is there any advice you would give to someone interested in this field that you wish someone had given you when you were starting out?
Gain as much hands-on experience as possible (internships, projects, field assignments).
What do you enjoy doing in your free time?
I enjoy spending time with family and friends. I play sports with my wife and junior high age kids (volleyball, soccer, tennis) and play music (piano and guitar).
Together, these four engineers inspired the 2019 Fluor Engineering Challenge for K-12 students. Read about what each one of them does at Fluor Corporation:
Explore Our Science Videos
Design and 3D Print a Snowflake
Aluminum Foil Boat Design - STEM Lesson Plan
Magic Triangles - Fun Math Puzzles with Increasing Difficulty