Science Buddies Blog: July 2010 Archives
Find out how to use Science Buddies resources in your classroom by joining us on Sunday, August 29th for an hour-long, free guided tour of the Science Buddies website (start times below). In this comprehensive online guided tour of the Science Buddies website, we'll show you how our:
Huge library of Project Ideas and our Topic Selection Wizard tool can help students find a project they are excited about, even if they don't think they are "into" science.
Our Teacher and Parent Resources can help you implement an inquiry-based curriculum or organize a science fair.
Our resources can guide students through the process of creating and presenting a science project, even if they lack parental support.


Date:


Time:


1 p.m. Pacific

2 p.m. Mountain

3 p.m. Central

4 p.m. Eastern


Where:



System Requirements:


PC-based attendees
Required: Windows 7, Vista, XP, 2003 Server or 2000



Macintosh-based attendees
Required: Mac OS X 10.4.11 or newer






If you would like to join us, click on the link below to register.
After registering, you will receive a confirmation email containing information about joining the webinar. Space is limited, so please register ASAP to reserve your slot. The first 5 people to sign in, attend the whole webinar, and complete a post-webinar survey will receive a copy of Norton 360, courtesy of Symantec. At the end of the webinar, we will randomly select attendees to receive a variety of great door prizes. One lucky attendee will win a $100 Best Buy gift card! If you have any questions, please contact Meghan O'Hare at meghan@sciencebuddies.org.
Reserve your seat now at: https://www2.gotomeeting.com/register/389772962
Categories:
---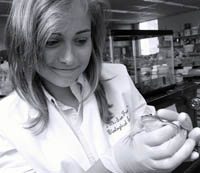 Greetings, fellow "Science Buddies!" My name is Maddy, and I am working this summer for Science Buddies testing project ideas that appear in their directory of more than 1000 science projects. I've been testing anywhere from 5-12 projects a week, so I am constantly busy making messes "in the name of science."
My favorite project this week was Burning Calories: How Much Energy is Stored in Different Types of Food? The basic goal of this project from the Cooking & Food Science interest area is to build a homemade calorimeter to determine the energy (measured in calories) found in foods like cashews, marshmallows, crackers, and even dog food.
The project idea seemed interesting and straightforward to execute, so I dug up some aluminum cans, assembled my food items, and got to work. Of course, the opportunity to eat some of my "extra" food items got me interested as well... Within 15 minutes, I had assembled a nice-looking calorimeter. I had a can for water attached to a wooden rod, an old vegetable canister on which to hang the water can, a cork and wire platform for food items, and a digital thermometer.
I began my testing with the cashews. To determine the energy content of the nuts, I had to light one on fire and calculate the change in temperature of the water in the can hanging above the little flame. With some practice, and a few matches, I developed a technique for igniting a nut and quickly placing it under the water can. As I sat back and took in the "sweet" smell of science, the phone rang...
"Hi, Mom...Oh yes, I'm just burning some food items on your countertop. Nothing to worry about, I promise..."
She wasn't too pleased with the news.
After relocating my project to the garage, I was able to test the rest of the food items and complete calculations to determine the calorie content per gram of each.
I think this project idea is cool because if you follow the directions, you end up constructing your own scientific device that returns reliable results. My only advice? Ask a parent for permission first!
Categories:
---
Note: This month's "Scientist's Pick" is from Science Buddies' staff scientist, Michelle Maranowski. ~ Science Buddies' Editorial Staff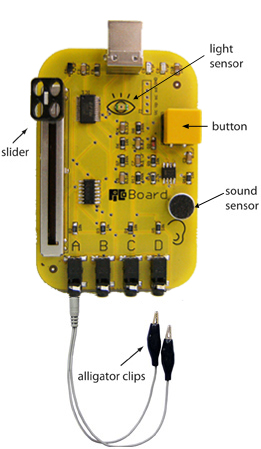 Project:
Pinwheel Magic: Take a Spin with Animation
Scientist: Michelle Maranowski
Science Buddies' Difficulty Level: 5

I have wanted to write a computer science project for Science Buddies for a while. But I didn't want to focus on a conventional project where you investigate clock speeds or learn to write applications with a particular computer language, although those projects can be a lot of fun, too. I wanted to do a project that highlighted the fun of computer science and programming—something where you didn't have to learn a complicated language before being able to do something really cool.
I was really excited when I found out about MIT's free Scratch programming environment. Scratch is easy to learn, and I started programming with it pretty much right after I went through the tutorial examples.
I should confess that I am the kind of person that loves to push buttons to see what happens. At the local science museum, I am always first in line at an interactive exhibition. I really enjoy seeing new information pop up on the exhibition's computer screen by pushing a button or moving a slider. Knowing that there was a sensor board that could be used with Scratch was a big attraction for me when I started thinking about projects. I couldn't wait to get my hands on a PicoBoard!
A PicoBoard is a collection of sensors that allow me to interact directly with my Scratch program. At a push of a button or a puff of air into the PicoBoard's microphone, I can make all kinds of things happen on the computer screen! What's not to love?
Using Scratch with a PicoBoard was fun, and when I started thinking about using real-word input to control my Scratch programs, all kinds of new ideas became possible, from simple things like changing colors of characters by using the slider sensor to making characters on the screen dance in response to music playing in my room.
I was looking for a fun computer science project, and I could tell that combining Scratch and the PicoBoard had potential. The idea of a spinning pinwheel came from the fact that I like to do things outside, and blowing on a pinwheel is a fun thing to do outside.
I am still not done playing with Scratch and the PicoBoard. I am currently working on a project where you can make an on-screen instrument. Stay tuned for more!
~ Michelle
---

For similar project ideas, explore this list of Scratch project ideas or browse the Computer Science interest area, sponsored by Symantec, in the Science Buddies Project Directory.
Categories:
---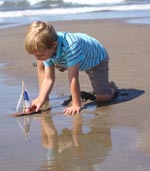 Paper airplanes are popular for all ages, and in my house we're continually at work testing new models or trying to memorize the steps of favorite, tried-and-true designs like the
Nakamura Lock
. Moving outside, however, opens up aerodynamic and hyrdrodynamic exploration even more, making these kinds of hands-on science projects perfect for summer days at the park, near a small stream, or poolside.

Here are a few projects suitable for all ages, with parental guidance and assistance, to try this summer:
Planes:
Paper airplanes offer endless variety for exploring aerodynamic principles, but you can take your flight dynamics to new heights when you add a bit of glue and build thicker and sturdier planes... layer by layer. If you've assembled a balsa wood glider, you'll see similarities in design as you begin modeling your own laminated planes and testing flight patterns to see which features add stability, flight duration, or distance.
What Makes a Good Aerodynamic Design? can help get you started thinking about assembly and designing your trials. (Difficulty 5-7)
Boats:
Switching to water and hydrodynamics, milk cartons put boat design on the radar—and float some recyclables! After watching a PBS DragonFly video, roll up your sleeves, rinse out some empty milk cartons, and find out which features best float your boat. In the Milk Does Your Body and a Boat Good—Design Your Own Milk Carton Boat project, create and test a variety of boat designs, ranging from a simple raft to a boat with a V-shaped hull. (Difficulty: 3)

Hovercrafts:
To switch things up even more, give the science of hovercrafts a whirl! How Does a Hovercraft Work? will walk you through constructing your own small balloon-powered hovercraft from readily available materials: a CD, a recycled bottle, and a balloon. As you might guess, how big you blow up the balloon will be a key factor in the performance of your hovercraft! No water is required, but you might try this one poolside! (Difficulty: 1)


Categories:
---
---