Science Buddies Blog: August 2012 Archives
A top math and science student, fifteen-year-old Jack Andraka swept the 2012 Intel ISEF with his pancreatic cancer screening test. His project involved countless hours in the lab, a determined search for a mentor, and loads of perseverance.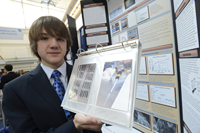 Jack Andraka, winner of the 2012 Intel ISEF, applied nanotechnology in the development of his pancreatic cancer screening test. Jack (pictured above with his project display board) says he is "fascinated" by nanotubes, "specifically carbon nanotubes due to their spectacular properties," and had been reading scientific journal articles on nanotubes for fun before he started his project.
"That is why I knew about the property concerning the distance between nanotubes and its impact on their electrical properties." That property, something he picked up through casual reading, plays an integral role in his screening test. (Photo: Intel ISEF, IML Photography)
Last Spring, Jack Andraka, a 9th-grade student at North County High School in Glen Burnie, MD, took top honors at the Intel International Science and Engineering Fair (
Intel ISEF
), winning the Gordon E. Moore award for his development of a screening test that can detect pancreatic cancer in its early stages. With stories about Jack appearing in publications and media ranging from
Forbes
and
MAKE
to
ABC's World News with Diane Sawyer
and his own
TED Talent Search
talk, it may seem like Jack went from ordinary student to science superstar overnight. In reality, the science-studded path that led him to a sweeping win at last year's Intel ISEF is one Jack has been charting for several years.
In a pre-judging interview at Intel ISEF, Jack referred to the competition as the "Olympics of science fairs." With boy-next-door charm, he said, "it's just amazing to be here, even if I don't get a prize." A hundred thousand dollars in prize money and a game-changing breakthrough in cancer detection later, Jack remains astoundingly down to earth.


A First Fair
Jack began his science fair history with an environmental science project in the sixth grade. "It was on retrofitting low-head dams for safety," says Jack. "Basically there are these dams that allow water to flow over the top of the dam, and they create these dangerous hydraulic conditions that kill many people every year. I found a way to retrofit them to get rid of the dangerous hydraulic conditions," he explains, noting that he later presented the project at the Discovery Young Scientist Challenge 2011 and the USA Science and Engineering Festival. That first science fair experience triggered what Jack refers to as his 'winning streak' and launched him onto the science fair scene. With wins at multiple science fairs, including all three years at his middle school, Jack has tackled a range of increasingly sophisticated science challenges with his yearly science fair projects.
His Intel ISEF science success last year straddles fields of medicine, biochemistry, and nanotechnology, but Jack's interest in science and math is broad ranging and is something his close-knit family shares. "Science pretty much runs in the Andraka family," says Jack. Both of his parents are in scientific fields, his brother was a two-time competitor at Intel ISEF, and many of his other family members, including aunts, uncles, and his grandfather, are involved in science. It was a friend, not a family member, however, that inspired Jack's winning science project last year.

A Personal Connection
When a close family friend died of pancreatic cancer, Jack says he was devastated. As he dealt with the loss, he focused his science acumen on learning as much as he could about the disease. "As I dug deeper into pancreatic cancer, I found that there is really no practical way to detect pancreatic cancer in its early stages," explains Jack. The lack of methods for early detection causes many cases to be diagnosed late, which leads to correspondingly low survival rates. As he assessed the statistics, Jack realized that the timing of detection is part of a widespread medical problem in need of a solution—a solution he might be able to help find. As he finished up his final year of middle school, Jack started down an ambitious path for a rising high school scientist—the development of a reliable early detection method for pancreatic cancer.
Less than a year later, Jack exhibited his project, first at the school fair, then at a string of fairs, including the regional fair, I-SWEEP, and the 2012 Intel ISEF. In a nutshell, what Jack developed is an inexpensive, paper-based dip test that can detect pre-pancreatic cancer. It is a test that, on some level, resembles the kinds of familiar testing strips used by diabetics and home pregnancy tests.
"Essentially what I have created is a paper sensor that can detect a wide array of diseases that have reliable biomarkers," explains Jack. "The sensor works by detecting this one cancer biomarker that is overexpressed in pancreatic cancer, as well as in ovarian and lung cancer, called mesothelin." Jack's quest for a strip-based sensor led him to nanotechnology and the use of carbon nanotubes. "Single-walled carbon nanotubes are atom-thick tubes of carbon that have fantastic properties. In my case, I was using the fact that the distance between neighboring nanotubes in a network highly impacts how electricity is transported in the network." Within the network, Jack explains, a capture molecule that binds only with mesothelin forms a larger molecule, which pushes apart neighboring nanotubes and alters the electrical properties.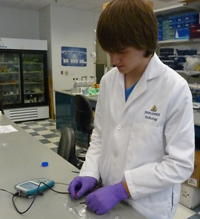 "I did research on the disease and found that there is no inexpensive, sensitive, selective, minimally invasive, and simple assay for pancreatic cancer. So I decided to do a project on a method for the detection of pancreatic cancer."
By measuring the electrical properties, Jack's test can detect pancreatic cancer, possibly even before the cancer becomes invasive.
For a student with no previous experience doing medical research, creating, testing, and troubleshooting a pancreatic screening solution was a major undertaking. As he surveyed areas of scientific interest in previous projects, Jack had explored some biochemistry, including "using bioluminescent bacteria to detect water pollution," and some nanotechnology, including comparing "the effects of nanoparticles versus bulk particles on aquatic organisms." But he admits that he started down the path of pancreatic cancer research knowing next to nothing about cancer and armed with only high-school biology and a fascination with nanotubes. In what may be typical "Jack Andraka style," Jack took the project step by step, starting with extensive research. "Basically, I started by doing tons of research on pancreatic cancer, its biomarkers, how it is currently detected, carbon nanotubes, etc."
Luckily, Jack's previous science projects had given him a solid foundation in lab techniques and procedures, as well as in patience, meticulous attention to detail, and strategies for troubleshooting an experimental procedure.

In Search of a Lab
With the sophisticated project Jack was undertaking, access to a research lab was a necessity. After months of preliminary research, he needed to get into a lab environment to take his project and idea to the next step. When you are fifteen, the road to finding a mentor and lab access, however, isn't always easy. According to Jack, after doing his research and writing up a complete procedure for the project he had planned, he made a list of researchers at local universities and institutions, including Johns Hopkins University School of Medicine and the National Institutes of Health (NIH). "I compiled a list of about 200 researchers who were working on early diagnosis or pancreatic cancer and sent emails to every single one of them with my procedure, materials list, budget, and timeline attached," says Jack. "After introducing myself and giving them my resume and previous experience, I asked if I could conduct my experiment in their lab, and, if they couldn't help me, if they knew someone who could."
Jack received 199 rejections. One contact, however, pointed him in the direction of Dr. Anirban Maitra, Professor of Pathology and Oncology at Johns Hopkins University's Sol Goldman Pancreatic Cancer Research Center. Disheartened by the grim results of his email campaign, Jack says he sent a "plaintive" email to Dr. Maitra who agreed to meet with him. He had his foot in the door, but acceptance to the lab wasn't automatic. Jack first had to prove his mettle to Dr. Maitra and his colleagues. "He finally accepted me into his lab after an intense question session composed of him, another professor, and several post-doctorates grilling me about the specifics of my project." All of Jack's research and preparation paid off. He fielded the questions and landed the mentorship and lab access he needed to move the project forward.
Finally able to put his project in motion, Jack worked through the fall. As his mom, Jane Andraka, recounts, once he got permission to use the lab, he was there every chance he could get. "Every day after school, every weekend, every day over Thanksgiving and Christmas holidays were spent in the lab," says Jane.

The Road to Intel ISEF
The school science fair was just around the corner when Jack's test turned up conclusive results and he knew it worked. "It was a very tight timeline that I had," he recalls, "however, I was insanely excited when it worked, and I was jumping off the walls because of that!" With his initial results in hand, Jack began his preparations for the science fair. After winning the fair, he and eight of his classmates advanced to the regional fair where they would compete for the two spots to move on to Intel ISEF in Pittsburgh. Having consulted Science Buddies' Project Display Board resources in his early science fair years, Jack knows the importance of a strong, well-organized display board and spent the two months between his school fair and the regional fair "refining" his presentation style and display. The time passed quickly, and as he set up his board at the regional fair, he remembers being anxious. "I looked around, and there was some pretty stiff competition," says Jack, who won a grand prize and advanced to Intel ISEF.
Even with a spot at Intel ISEF secured, Jack didn't sit home and wait idly for Intel ISEF. Immediately before the Intel ISEF, he participated in the International Sustainable World Energy, Engineering, and Environment Project (I-SWEEEP), an event he says gave him extra practice for Intel ISEF. "I was ecstatic when I won a gold medal there and brought home lots of goodies including a massive Canadian flag, a hat from Azerbaijan, and scarves from India and Nigeria." He also presented his research alongside graduate and post-doctoral students at the Johns Hopkins Institute for NanoBioTechnology (INBT) symposium.
Despite the string of successes, Jack was pragmatic about his chances as he headed to Pittsburgh for his first Intel ISEF. He is, after all, a math whiz. "When I first looked at all of the projects at ISEF, I was like 'Well only one-third will get an award, so I have no chance of getting an award.'" But during the exhibition hours, Jack says approximately seventy judges visited his board, including judges from other categories like environmental management, mathematics, and physics. He was "blown away" by the interest in his project, but he kept a damper on his excitement—until he won six special awards at the special awards ceremony. "I was like freaking out," says Jack. "All I had wanted was one prize."
That evening ceremony was only the beginning of a tidal wave of recognition for his project. "When I got first place in category, I ran up and was laughing, crying, and screaming with my friend who also got first place.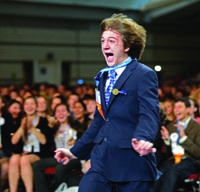 Supporting a Top Science Student: A Parent's Perspective
With two ISEF contenders in the house, it isn't surprising that Jack's mom, Jane, a medical anesthetist, dubs herself a "science fair mom." "I became 'science fair mom' after my boys decided to compete seriously," says Jane Andraka. "I hunted science competitions on the Internet and presented these opportunities to them. They would choose if they wanted to enter or not and take it from there."
With each of Jack's science projects, Jane has played a key role as supporter, chauffeur, and sounding board. Things sometimes go wrong, and Jane can list plenty of examples of stumbling blocks that have appeared along the way, from cultures dying to problems with delivery. Sometimes, says Jane, recounting Jack's seventh-grade project, all she could do was keep buying more cultures and reassuring him that the pitfalls were part of the process.
As his project progressed last fall, Jane took Jack back and forth to the lab where he was conducting his research. He spent all his free time in the lab and often, Jane admits, fell asleep in the car on the way home. With the fair date drawing close, "I begged him to do one test to see if it worked before he left for the day," recalls Jane. "The expression on his face was so wonderful. He was so happy when it worked, and the entire lab was super excited also. I think his previous projects, as well as his math studies, which taught him to solve problems with perseverance and creativity in a step-by-step fashion, helped him succeed."
From Jane's perspective, one of the most important things for top students and their families to keep in mind is to have students choose projects about which they are excited. "Don't try to force a project," advises Jane. "If you have no interest in a subject, don't try to force yourself to do one just because the subject happens to be popular with judges that season. Projects take lots and lots of time, effort, perseverance, and overcoming obstacles and disappointments. Not hard to do if you love your subject; almost impossible to do if you don't have the passion!"
When Best in Category rolled around, I was like 'Pssh, no chance of me winning that,' so I freaked out about that and was jumping around and hugging everyone. When I won the Gordon E. Moore Award, I was flabbergasted. I mean, I didn't think I had a chance at a prize, and here I won the grand award! I would have run much faster and ran all around the stage if the camera crew hadn't told me to slow down. I honestly still cannot believe I won the award."

A Top Science Teen
Competing in a top science fair often requires many hours and many months working in a lab, analyzing data, or doing research. Students like Jack who are dedicated to a particular subject or interest have to work extra hard to balance the time they spend on science projects with the regular rigors of high school and teenage life. For Jack, the key is being selective and being careful not to over-extend himself. "I balance my time by not joining thousands of clubs and activities that I don't feel passionate about. I've limited myself to three main activities: math competition, whitewater kayaking, and, of course, science fair," says Jack. "This way my time is not bogged down with a bunch of commitments that I'm not passionate about."
Depending on the school, many advanced science students find themselves without science peers, a reality that underlies many of the stories in Science Fair Season: Twelve Kids, a Robot Named Scorch . . . and What It Takes to Win,
a collection of profiles of top science students. Jack admits that he isn't surrounded by high school science enthusiasts. "At my school the majority of the students are not even interested in science much less scientific research," he says. Luckily, Jack has met peers at various competitions and camps and has created a network of friends he catches up with online and looks forward to seeing at competitions and reconnects with during summer camps like MathPath (which he attended regularly until this past summer when he was accepted to Idea Math).
As a kid, he was star struck by past winners of Intel ISEF and the Intel Science Talent Search (Intel STS), even collecting and memorizing STS "photo cards," much like other kids collect baseball cards, recalls his mom. Jack, too, remembers being mesmerized by the winners and the idea of following in their footsteps. Today, he is one of those winners, and while his peers at North County High keep him grounded, he's also happy to have a solid group of like-minded friends. "I get my 'science fair fix' from talking with my friends from math and science competitions via Skype or Facebook," says Jack.
When asked who inspires him, Jack cites Sir Andrew Wiles, the mathematician famous for proving Fermat's Last Theorem. "He decided [when] he was a kid that he would prove Fermat's Last Theorem," explains Jack, "and after more than 30 years he did, showing that persistence mixed with some luck and intelligence always will help you achieve your dreams." While Jack's science and math career is just getting underway, his interpretation of the value of an almost whimsical combination of chance and applied knowledge seems right on track for this top student. Indeed, it's a formula and perspective that may have already helped him as he navigated the ups and downs of recent projects.


Moving Forward
High school for the Gordon E. Moore winner goes on. Even after winning last spring, Jack had to finish up the school year. "After winning at Intel ISEF, Jack was fortunate to have so many opportunities that the whole family was just overwhelmed," admits his mom. "First though, he had to finish the school year and take AP tests!" Once he wrapped things up at school, Jane says the family hired a patent lawyer, and Jack continued doing pilot studies. Even as negotiations with lawyers and companies interested in his research continue, Jack will be starting his sophomore year this September.
Winning Intel ISEF comes with both added responsibility and new levels of access to the scientific community. "I am going to use this award to catapult me into doing more scientific research," says Jack, who will be participating in fundraisers and conferences in coming months to raise awareness and funds for pancreatic cancer research. He also hopes to use his experience to help advance science education in his community. In the spirit of giving back, he is starting a science fair club at an inner-city school to encourage more students to explore science.
Using Science Buddies as a resource, Jack hopes to inspire and excite students who may have no science experience or little exposure to hands-on science and who might otherwise not undertake a science fair project. "I plan on helping them come up with an idea and then developing it into a science fair project," says Jack. "I think Science Buddies is the best resource in the world, and whenever I meet a teacher, I always recommend it to her/him to share with their class," says Jack, who used Science Buddies' Project Display Board resource when working on his first science projects. As a top competitor, Jack also used and benefited from Science Buddies' Advanced Project Guide materials and tips on how to succeed at the science fair.
Jack believes Science Buddies will be an important resource for his club because "Science Buddies makes science understandable." In addition to helping students choose projects, Jack hopes to expose students to other areas of science. "I will help to teach them some advanced science materials and about some lesser-known fields in middle school such as materials science and research mathematics," he explains. "I am extremely excited!"
Even with everything else going on, Jack is already planning his next project. "I do plan on doing another science fair project, probably in the medical field, but I'm keeping that a surprise for next year."




Categories:
---
You've heard the phrase, "once in a blue moon"? The phrase often refers to something unusual or rare. A "blue moon" doesn't happen every day—or even every year. As the infographic below from Space.com explains, the name of this event has nothing, really, to do with color.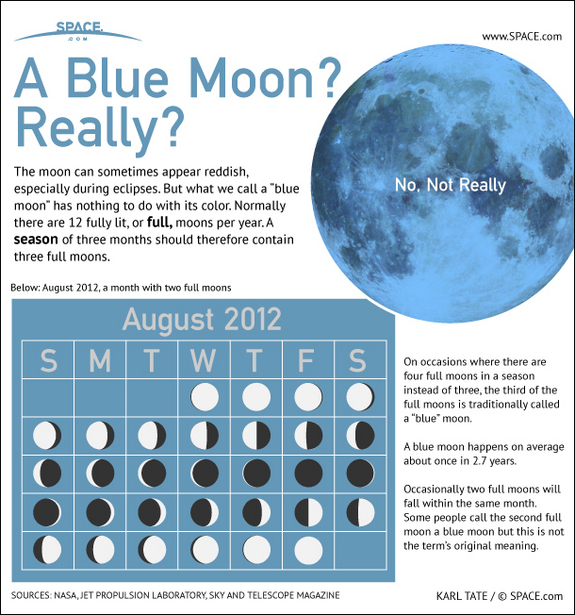 For more information about the history of the "blue moon," see "Last 'blue moon' until 2015 lights up night sky tonight."
View Science Buddies Astronomy Project Ideas.
Categories:
---
A science teacher at Brawerman Elementary School in Los Angeles views Science Buddies as an indispensable classroom partner, especially when it comes to helping students locate quality science Project Ideas—in all areas of interest.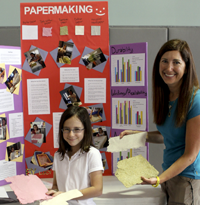 Above: Teacher Lisa Niver Rajna with a student at last year's school science fair. Science Buddies is an important part of Lisa's approach to science education in the classroom. Lisa's students used the Topic Selection Wizard to help them locate exciting projects, many of which have real-world connections and applications that she encouraged them to explore.
Some of the Project Ideas Lisa's students selected last year include:

Students in grades three through six at Wilshire Boulevard Temple's Brawerman Elementary School in Los Angeles all participate in the school's annual science fair. While doing a Science Buddies Project Idea is not a requirement in Lisa Niver Rajna's science classes, all of her fourth, fifth, and sixth grade students begin their search for a science fair project by using the
Topic Selection Wizard
, a Science Buddies tool that suggests science projects to students based on their interests, assignment, timeline, and grade level.

Finding the Right Project
From Lisa's perspective, the project selection phase of the science fair assignment is a "crucial" step in the process. "I want each student to care and be passionate about her topic," says Lisa, who has been using Science Buddies and the Topic Selection Wizard with students at Brawerman for several years. When she talks with her fourth, fifth, and sixth grade classes about the science fair project assignment, Lisa says she "highly recommends" that they choose a Science Buddies project, and she allots valuable classroom time for her students to use the Wizard. Despite the crunch many teachers feel in fitting all the pieces of core curriculum into the hours of a school year, using class time to have students use the Wizard is a process that helps both Lisa and her students.
Students who work on a project in which they are interested typically enjoy the science project experience more than students who are assigned a project topic or are guided to an area of science based on someone else's suggestions or interests. The Wizard's sophisticated algorithm uses student answers to a variety of simple questions like "Do you enjoy discovering new ways to recycle, restore, or reclaim used material and objects?" to recommend a unique group of projects for each student. Because the Wizard's questions touch on a wide range of areas of science, each student's combination of answers reveal individual patterns of possible interest.
With the Wizard's help, Lisa's students discover exciting projects they may enjoy (and might not have found on their own), and Lisa sees students choose and conduct robust science explorations that are scientifically sound and challenging. "I love the Topic Selection Wizard," says Lisa. "It seems to work as a multiple intelligences fit. I am always impressed by the variety of topics and experiments and how well the choices offered fit each individual student."
After answering the Topic Selection Wizard questions, Lisa has her students look over the Wizard's recommendations and pick the three in which they are most interested. "I tell them, 'you are going to be working on this project for a long time.' We start in February, and the fair is in May. We go through each step [of the scientific process]; we do research. I tell them, 'Pick something you want to know more about. Something you like.'" After her students narrow down their lists of possible projects, she talks with them about their choices. "We discuss what would be the best fit for them based on interest, difficulty, and what they did in the past."
According to Lisa, last year, almost all of the eighty fourth and fifth grade science fair projects were based on Science Buddies Project Ideas, as were a large number of the forty sixth grade entries. A number of Lisa's students explored video game-based projects, including a team of students that worked on developing a game for the blind. Other students made their own paint, lip gloss, and markers, explored desalination, built circuits, crystal radios, bridges, and solar-powered robotic creatures, and experimented with the perfect carbonated soda recipe.

Making Real-world Connections
For Lisa, tying science exploration to real-world events, issues, and problems is all part of the science, technology, engineering, and math (STEM) education process. In her classroom, science is not a standalone subject. Instead, Lisa teaches science as a subject that is connected to everything. "I work hard to make sure they see the connections between what we are studying in class and life outside the classroom," says Lisa. Her classroom lessons and discussions include social issues, global concerns, and examples from other countries, steps she takes to broaden her students' understanding and awareness of the world around them. "Making connections between science and real life as well as science and other subjects is a major focus of my teaching," explains Lisa. "I integrate with art, library, and as many teachers as possible. Students need to see how science is connected to everything."
When it came to last year's end-of-year science projects, Lisa's classroom emphasis on real-life connections gave added context to her students' projects. Many of them took additional steps during the research and background stage of the scientific process to learn more about how their research might matter and to get a better understanding of the problem or challenge at hand. For example, a group of students working on developing video games that can be successfully played by blind people visited a local center for the blind. Lisa helped connect a team working on a solar cooking project with a group that has a solar cooker project in Africa.
Rather than simply completing a project to fulfill an assignment, these students emerged with a broader view of the importance of their research—and of the value of science and engineering in the world beyond the classroom. One of Lisa's fourth-grade students, Andrew, researched the dangers of using a cell phone while driving. Andrew conducted his testing using a Wii-based driving video game, but at the end of his project, Andrew felt that he had "gathered data that could save lives."
"When I suggested connections with their science fair projects, most of them were really excited and wanted to add the community connection," says Lisa. "I loved to see the 'a-ha' in their eyes when they saw how their project fit in with something outside of our classroom."

Supporting STEM Teachers in the Classroom
Lisa relies on Science Buddies for her students, but she also appreciates Science Buddies teacher-focused resources and the fact that Science Buddies continues to expand offerings to enable students and teachers to explore cutting-edge areas of science. After seeing a survey from Science Buddies that asked "do you allow engineering projects," Lisa says she learned more about the engineering design process and made a point to incorporate it into her teaching. Similarly, she notes making both environmental science and video and computer game projects a "priority" based on Science Buddies materials.
When asked what is the most important element in exciting students about science and engineering, Lisa boils it down to finding the science (and the science project) in areas of personal interest. "The most important thing to me is that everyone cares about their project. I want them to learn about their passions, to find their passions and to see that science is everywhere. One mom called me and said, 'Really, watching movies is their science fair homework? You have to be kidding me.' She thought they kids had gotten away with a sneak attack. But those two girls worked so hard. They watched movies and made charts and created a PowerPoint. They talked to the music teacher, and I was able to connect them with a friend who is an award-winning film editor. They loved the project, they worked hard, and they had a great time. I wish that every child could enjoy learning as much as they did. If you find a way to reach your students, they will be excited about science or any other topic."
Science Buddies is proud to have been a part of Lisa's classroom solution, and a cornerstone for helping Lisa ignite enthusiasm for science—and for real-world connections—among her students. Lisa is spending the coming school year out of the classroom and traveling in Asia. She will be documenting her journey, and her commitment to global education, on the Wandering Educators site and on her own site, WeSaidGoTravel: A Passport to a Global Community.
Categories:
---
"Distracted driving" accounts for a staggering number of accidents. A fourth grade student in LA put distracted drivers to the test with a familiar video game.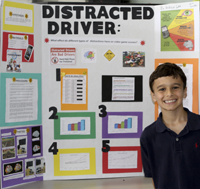 Andrew Lee, pictured above, put questions about cell phone use and driving to the test using a popular driving-based video game. "I collected data that could save lives," he says.
Science Buddies Project Ideas in Video & Computer Games assist students in exploring science and engineering questions both by using video games and by designing their own. Read about other student science successes in the Science Buddies in Action area.
Attention to the Road
Public service announcements warn about the dangers of texting while driving, and the Governors Highway Safety Association® notes that as of July 2012, 39 states have laws against texting while driving. Some states have additional laws regulating other kinds of cellphone usage while driving. California law, for instance, mandates hands-free cellphone use (although even this is not allowed for certain categories of drivers). With an estimated 8000 crashes every day being attributed to what is commonly referred to as "distracted driving," and statistics suggesting that hands-on cellphone use while driving quadruples the chance of an accident, the data seems clear: cellular multitasking while driving is dangerous.
Singling in on texting, Parkview Trauma Center's Dont Text and Drive campaign warns that texting while driving makes you 23 times more likely to have a crash. Alarmingly, statistics even suggest that the risk of accident when texting while driving is even higher than the high rate of accident associated with driving under the influence of alcohol. While accident and fatality statistics related to cell phone usage paint a grim picture, increasingly cellphone-connected lifestyles have turned car-time, for some, into check-in time for voice mail, email, and other cell communications.
Are all forms of phone-based distraction equal? Does using a headset for hands-free talking lessen the risk of an accident? What about other in-car activities that may also compromise a driver's full attention to the road? Have you ever driven by someone who is reading or putting on lipstick while driving? Are all forms of while-driving activities comparable in terms of distraction and risk?

Science Buddies in Action: A Video Game Simulation
As a fourth grade student in Los Angeles, Andrew Lee decided to put "distracted driving" to the test, not on the road but with video games. For his first science fair project, Andrew chose the "Distracted Driver: Do Distractions Affect Driving Video Game Scores?" project because he is interested in how the brain works and he thought it "would be fun to do a science experiment involving video games."
After doing his background research, Andrew used the Science Buddies Project Idea to help design an experiment that would let him observe and evaluate different forms of distraction and how they influence a driver's ability to drive safely within a driving-style video game. Following the steps of the scientific method, Andrew came up with his main hypothesis. "My hypothesis was that driving video game scores become lower (worse) when the driver is distracted," he says. A second hypothesis for his project targeted which kind of distraction might result in the worst scores.

Distracted Drivers
Using Mario Kart for the Wii and the wheel attachment for the remote control to better simulate real-world driving, Andrew observed test subjects playing the game with different levels of distraction present, including no distraction, talking on a cell phone, and emailing using a cell phone.
The data Andrew collected as a result of his testing showed that, while some people handle distractions better than others, and not all distractions are equal, "distraction" can be detrimental for drivers. Andrew observed that players scored highest and took the least amount of time to navigate a course when there were no distractions present. "Every driver got a better score and had less crashes when there were no distractions while they were driving," reports Andrew, reasoning that the players were able to concentrate more fully on the game. On the flip side, every driver performed worst when engaged in one of his "distraction" activities while playing the driving game.
In the end, Andrew proved his hypothesis and observed, firsthand, the ways in which sources of distraction may impact, split, or change a person's ability to focus on the task at hand—all of which may have dangerous implications for drivers at the wheel. "When a driver is holding something (like a phone) their driving gets worse," says Andrew.
Andrew's game-based simulation of distracted driving was low-risk but underscored the potential for similar real-world danger. "When you are playing a driving video game, the worst thing that can happen is that your score is low or you bump another car," notes Andrew. "In real driving, someone could get really injured or worse. I hope everyone learns from this experiment and drives safely in the future."

On the Road
For Andrew, who says he wants to be an inventor someday, his first science fair was a powerful first step. "I collected data that could save lives," says Andrew. But he also had a lot of fun with his science fair project. "It was a great experience, and it was my favorite project of the whole year. I can't wait to participate again next year."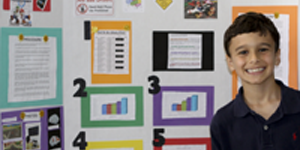 Categories:
---
A 6th-grader combines his interests in chemistry and renewable energy with a particular goal in mind: to save the world with science!
By Kim Mullin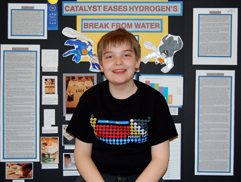 Matthew Early, pictured above, turned his enthusiasm for renewable energy into a winning science project. The "Water to Fuel to Water: The Fuel Cycle of the Future" Project Idea was developed by researchers at Massachusetts Institute of Technology (MIT) as part of a Science Buddies Academic Outreach Partnership. Partnerships like this one help make cutting-edge science, fresh from university laboratories, possible topics for K-12 student exploration.
Student Success Stories
To read about other inspiring student and teacher science project successes, visit the Science Buddies in Action page!

Fueling the Future
From rising ocean levels to extreme weather, global climate change continues to make headlines. As a result, interest in renewable energy, even among elementary and middle-school students, is on the rise. Drawn to the topic, Matthew Early completed his first renewable energy project in 4th grade when he studied salt's effect on the efficiency of electrolysis for hydrogen production. The following year, he continued his exploration of renewable energy by comparing the heat produced by vegetable and petroleum-based oils. Explains Matthew, "I want to use chemistry to try to make the world a better place. I want to save the world with science!"

Inspired by MIT Research
When it was time to choose his 6th grade project, Matthew, a student in Chicago, IL, turned to Science Buddies for another renewable energy challenge. While browsing through the chemistry section of the Project Ideas Index, the "Water to Fuel to Water: The Fuel Cycle of the Future" project captured his attention. This Project Idea, created by MIT as part of the Science Buddies Academic Outreach Program, lets students explore cutting-edge methods for storing renewable energy by breaking up water molecules into hydrogen and oxygen. Matthew was excited about working with such fresh and important research, and despite the complexity of the project, the accompanying video convinced him to give it a try. "After watching the video of the MIT researchers performing this experiment, I felt more confident that I could do and understand this project."
The Project Idea suggests trying cobalt as a catalyst for breaking up water molecules and then exploring other catalyst possibilities. After initial background research, Matthew decided to add nickel, manganese, copper, and iron to his project. Working with the manganese dioxide proved to be tricky. Matthew discovered too late that it is not water soluble, and it is magnetic, so it stuck to the stir bar and was tough to clean up. Another challenge was writing up his results, but throughout the process, Matthew found that Science Buddies made a great lab partner. "The Project Guide was especially helpful for forming my hypothesis and the overall question, and the Electronics Primer was very helpful for learning about breadboards and voltmeters, which were essential to my project."

Project Ignites Student Interest
When asked what he learned from his project, "So much!" is Matthew's enthusiastic response. "I learned all about alternative fuels. Not replacing our current fuels with alternative fuels has a large environmental and social impact.... Some alternatives, such as solar, wind, and hydrogen power have potential as readily available, clean, renewable energy sources, but many production, storage, and delivery issues need to be worked out."
Expanding his awareness of green issues was only part of what Matthew took away from this year's science project. He may have struggled to write up his research results, but when it comes to articulating the value of his hands-on exploration, he's got a ready list. "I learned about electronics...how to hook circuits up to a breadboard and a voltmeter and use them. I learned a lot about chemistry, especially about catalysts.... I also learned that chemistry is a part of everything, including the development of alternative fuels and how plants obtain food by photosynthesis, which is really another fuel. Chemistry is in nature! And, I learned about the importance of good writing and communicating about science...."
Matthew's enthusiasm about renewable energy paid off with a first place ribbon in the 6th grade division at his school. He also entered his project in the Rosalind Franklin Chemistry Contest, co-sponsored by Science Buddies and the Astellas USA Foundation. Matthew won first place in the 6th-8th grade boys' division.

Categories:
---
A Science Buddies Ask an Expert advisor guides a budding microbiologist through a project on the scourge of the teenage years: acne!
By Kim Mullin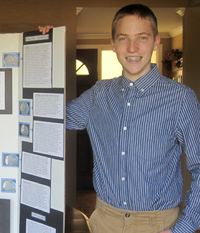 In his senior-year science project, Matthew Brewer (pictured above) tackled a problem familiar to many teenagers—acne. Project Ideas in Medical Biotechnology enable students to investigate questions related to connections between medicine, genomics, diseases, prescription drugs, and more.
Read about other student science successes in the Science Buddies in Action area.
Acne is an unhappy rite of passage for most adolescents, and as a twelfth grade student, Matthew Brewer of Lafayette, CA, was no exception to the rule. When the Science Buddies Topic Selection Wizard suggested the
"Which Acne Medication Can Really Zap That Zit?"
project from Science Buddies' Medical Biotechnology section, Matthew felt like it was a natural fit for him. "I am interested in microbiology, and I want to help acne sufferers of all ages because I know what a negative effect it can have on self-esteem."
The resources in Science Buddies' Medical Biotechnology section are designed to help students investigate the ways in which drugs and medications work in the body—and the impact of individual biological and genetic differences. Matthew's project, which involved testing the antibacterial properties of a variety of acne medications, proved to be both interesting and challenging for him and his project partner. When Matthew needed help pinpointing the similarities between E. coli bacteria and P. acnes, the bacteria commonly found in acne, he visited the Science Buddies Ask an Expert forums. It was Donna Hardy, a longtime Ask an Expert advisor from Bio-Rad Laboratories, who guided him to resources that could answer his questions.
As the project progressed, Matthew confronted several hurdles: finding the right antibacterial agents to test, nutrient agar plates that didn't grow bacteria as expected, and water pooling on plates in the incubator. As he and his teammate faced each new challenge, Matthew continued to correspond with Donna via the forums. "We could not have completed the project if it weren't for all the support I received from Ask an Expert and Donna," says Matthew, "and the project would not have received the awards that it did."
The project required a lot of hard work and long hours, but Matthew says he is glad that he did it. "The experience I gained from this will last a lifetime. This project taught me to be patient, to deal with the obstacles that life throws you, and to never give up." In addition to the personal lessons learned from his senior science project experience, Matthew's project won third place in the Contra Costa Science and Engineering Fair (CCCSEF) and two other special awards: a Chevron Innovation Award and a John Muir award for the Advancement of the Future of Health Care.
Categories:
---