Science Buddies Blog: October 2012 Archives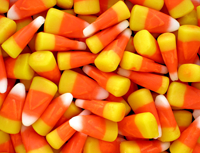 With a bit of planning, you can turn a pile of Halloween loot into an engaging science activity!
Yesterday we posted
a round-up of spooky, creepy, and candy-filled blog posts
from years past to help you and your students find the science in Halloween tricks and treats. Especially with all the candy that may be spilled from a bag to the living room floor tonight after a stroll through the neighborhood, there is much to be said for the hands-on approach.
After the sampling, divvying, trading, and general post-Halloween assessment, what can you do with all of the goodies that ended up in a trick or treat bag? With a bit of ingenuity, your trick or treaters can refocus their energies for some sweet science. Here are some starter ideas for home and class: Count some of it. Use some of it for a survival game. Investigate candy colors. Explore the relationship between candy shape and volume. Do some of your experimentation by the glow of a waning light-up stick and with the vestiges of your pumpkin patch playlist wafting in the background, and you've got the makings of post-Halloween science fun.

A Closer Look
Before the moon rises and skeletons rattle tonight, you can put a visual face on Halloween (beyond the flickering pumpkins) by carving your way through a Halloween-themed infographic or two. With the popularity of the infographic form, there are many floating around. These two, with their spill of numbers to ponder in relation to today's frightful festivities, caught my eye in the wee hours of morning, the pumpkin watching eerily from the kitchen counter, and the strains of the Monster Mash
queued up and ready to go for the morning procession to school. (I Want Candy
is somewhere in the mix, too.)

Keep in mind that anyone can make and post an infographic. Most contain sources so you can do your own checking and additional research.
Categories:
---
From glow sticks and colored candies to haunted house-worthy music, there is plenty of Halloween science to uncover!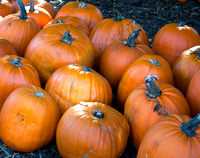 Tap in to student excitement about Halloween to make engaging connections to science. There is plenty to talk about in class—and plenty they can put to the test!
Preparing for Halloween? Before or after the tricks and treats, the following collection of posts from Halloweens past may help you tie science concepts (and hands-on science projects) into all kinds of spooky and sweet discussions at home
and
in the classroom:

What is your favorite science project using leftover candy? We'd love to know! Email blog@sciencebuddies.org to share your story.
Categories:
---
Life Technologies' InnovatioNation helps introduce students to biotechnology and to the role of science in addressing global concerns. Teachers participating in InnovatioNation use Science Buddies to help support the science curriculum and their school science fair.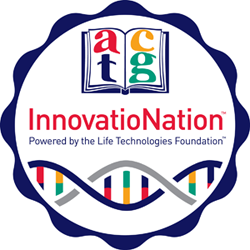 Life Technologies Foundation's InnovatioNation Program helps teachers introduce biotechnology in their classrooms and connects Life Technologies' employees to the "future scientists" in their communities. Judith Carlstrom was one of seven teachers who participated in the InnovatioNation pilot program.
When North Broadway School received their state test scores from last spring, the impact of the increased science curriculum was dramatic. The school's science score showed tremendous improvement, increasing from 65% to 86%. "Our principal is ecstatic," says Judith. "We are the stars of the school. Life Technologies foundation made a big difference!"

To support teachers who are taking part in InnovatioNation, Science Buddies has created a dedicated resource with suggested projects that fit the InnovatioNation modules for 5th, 7th, and 9th grade classrooms.
For Judith Carlstrom, a teacher at North Broadway School in Escondido, CA, teaching science curriculum to prepare students for state-mandated testing has become a focus for her and her colleagues who also teach fourth and fifth grade. Responding to the national call for increased science, technology, engineering, and math (STEM) education, Judith says she and the other teachers "have made a concerted effort" to meet STEM curriculum requirements, including hiring a lab teacher who meets with fourth and fifth grade classes each Friday. The materials and hands-on exposure the students get on Fridays in the lab is reinforced in their classrooms throughout the week, which supports an active-learning model that Judith feels is particularly important for elementary learners.
Despite their efforts to boost science literacy, Judith says she and the other teachers were "overwhelmed" when they realized that one of the requirements for taking part in Life Technology's InnovatioNation program is to hold either a family science night or a school science fair. The program, designed for fifth, seventh, and ninth grade teachers and classrooms, supports teachers looking to enhance their STEM curriculum by introducing students to the world of biotechnology and exposing students to areas of life sciences, including genetics, agricultural engineering, and regenerative medicine. In addition, InnovatioNation helps students better understand what it is like to "be" a scientist, highlights the importance of philanthropy through service, and shows students how science can be used to address both global and community challenges. Through InnovatioNation, Life Technologies encourages employees to volunteer in their communities and to make connections with the students who will become the scientists of tomorrow.
Invited to participate in the InnovatioNation pilot program, Judith and the teachers at North Broadway School were excited by the prospect of InnovatioNation. The science fair requirement was a concern, but Life Technologies assured them that schools like North Broadway can successfully organize a science fair and guide students in preparing science fair projects. Up to the challenge, Judith spearheaded the school's participation in the program.

On Board with InnovatioNation
The InnovatioNation program is designed to intersect with a teacher's regular curriculum during a twelve-week period. In the semester before the InnovatioNation pilot began, Judith met with Life Technologies to fine tune North Broadway's fifth-grade science curriculum in preparation for the science that would be covered as part of InnovatioNation. To help support Judith in the integration of the fifth-grade InnovatioNation science module, the program provided a full set of classroom materials. "I received a full binder complete with timelines, pre- and post-tests, lessons, and information about Science Buddies," says Judith.
Judith's class studied cells and cellular function during the Fall semester as part of their regular science curriculum. They were then ready to tackle introductory genetics in the Spring, when Judith taught two InnovatioNation-provided genetics lessons involving Punnett squares, a diagram that helps visually represent principles of Mendelian inheritance. This was entirely new material for Judith's students, and material that would not ordinarily have made its way into her classroom. But her students responded eagerly.
"My students were fascinated by the idea of constructing an individual but became predictably riotous when I asked if anyone wanted to volunteer as 'Mom' and 'Dad' to determine the eye and hair color of their offspring." Familiar with this typical elementary-school response to "boy/girl" issues, Judith wasn't fazed. Drawing from a jar of "name sticks" she uses as part of her classroom environment, she randomly paired up the students so they could track through the genetics. The activity was a success. "They loved it," says Judith.
Judith's class then took a sponsored field trip to Life Technologies. Due to budget limitations, this was her class's only field trip of the year, so there was plenty of excitement as the students boarded busses for their on-site tour of Life Technologies in Carlsbad, CA. During the three-hour tour, Judith's students wore lab coats given to them as part of the field trip and rotated between three different stations created to highlight science careers, community service, and what a science company and lab really looks like. "The fact that not one in ninety students ever asked to use the bathroom or said they were hungry during that time speaks highly of their level of engagement," says Judith. "I can't tell you enough how unusual that is."
One of the stations Judith's students visited at Life Technologies engaged them in a community service project where they helped package high-protein meals. "They worked in an assembly line, and teams of ten raced each other," says Judith. "They managed to package over 7,000 meals." Beyond the satisfaction and reward of helping with a large-scale community service project, Judith says she and her colleagues thought the assembly-line experience "would convince them of the value of higher education." Instead, the food packaging project "was their favorite activity," she notes, "which reminded us of how ten-year olds still prefer 'doing' to 'listening.'"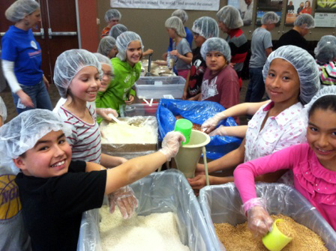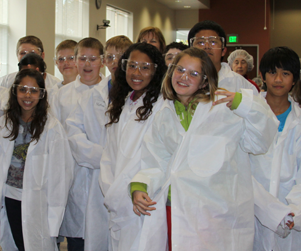 Despite the fun they had racing each other to package foods, Judith says the students were enthusiastic about the other stations, one of which involved a tour of the Life Technologies labs and one which gave them a chance to interview scientists to find out more about their day-to-day work and what it really "means" to be a scientist. After the field trip, Judith and the other teachers had their students write about the experience, about the stations they visited, and about what they learned. From their comments, Judith says it was clear that the field trip was eye opening and meaningful. "Their writing revealed many ways in which their understanding of a scientist's daily life was altered," by what they saw and learned at Life Technologies, and what struck them was wide-ranging, says Judith. Things that stood out for her students included "the fact that employees walked on treadmills during meetings, the fact that every item in a lab station was outlined in blue tape, the fact that everything had to be kept clean to the point of having sticky mats at the doorways, and the way in which bacteria is 'grown.'"
After the field trip, Life Technologies volunteers came to the school and presented a one-hour lesson to each class focused on the problem of producing enough food in certain parts of the world to feed the local population. After a presentation on the problem, the students were divided up for a hands-on activity that both encouraged global thinking and social consciousness and also highlighted the role of biotechnology in helping address problems like world hunger. Each small group was "given the life story of a child with a description of his/her particular town or village somewhere in the world where the people are struggling to find a way to grow crops in their particular climate and habitat," explains Judith.
Using materials brought in by Life Technologies, "the students [studied] the growing requirements of various food crops to determine which traits would be a good match for the given habitat." After identifying the kinds of crops and traits that might succeed in the environment, they used "cloning scissors" to make a paper-based "clone" of a genetically engineered crop suited to the environment. The final component of the lesson involved having the students count bacteria on live trays so they could observe the results of cloning, a hands-on experience that offered a concrete look at the kind of biotechnology they had been talking about and hypothesizing using their paper-based crop models.

The Value of a Science Fair
The final activity related to InnovatioNation was the school science fair, the first for Judith's school, and the source of Judith's initial concern about taking part in InnovatioNation. "Our students did not yet understand how to formulate a testable question or how to conduct a controlled experiment," explains Judith. "But we knew that these skills were critical to understanding what it is to be a scientist, so we carved out the time to guide them through the process."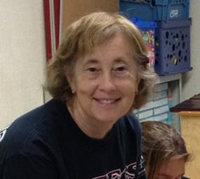 "We very much appreciated the support that the Science Buddies website gave to us, both in presenting a plethora of experiments to choose from and [providing] thorough explanations of the components of an experiment."
Part of the solution for teachers at North Broadway, involved their students spending time in another lab—the computer lab—and using resources available at Science Buddies. "My students used the Topic Selection Wizard and truly enjoyed looking for an experiment and printing it out," says Judith. As her students learned more about the scientific process, Judith handed out copies of key resource pages from the Science Buddies Project Guide, like how to construct a hypothesis statement, to help as they moved through the steps of the scientific method.
The science fair was held in conjunction with the school's end-of-year Open House. Volunteers from Life Technologies were on hand to judge the entries from the three fifth grade classes, using Science Buddies' Project Judging Scorecard for Elementary School. (See other project scoring and grading rubrics.) Judith says the students were very excited about presenting their projects at the fair and "wore their lab coats from the Life Technologies field trip all day long." Following review and judging of all projects, three awards and a "special award" were presented in each class. "The students who emerged as winners, with the clearest explanation of the science behind their experiment, were not those you might have predicted," says Judith. "Their awards were possibly the highlight of their entire school year."

Looking Forward
For both the students and the teachers, the science fair was a success, and teachers at North Broadway plan to hold a science fair again next year, making it part of a school-wide Family Science Night. "I believe that hands-on science is the only way to teach in fifth grade, and I believe that it needs to be elevated to a position of importance in the eyes of both students and parents," says Judith. "A science fair does just that."
Judith's experience with InnovatioNation and her school's first science fair has given her concrete ideas for ways they will modify their approach next year. For example, she says they may focus next year's fair on Life Sciences projects to better complement their work with InnovatioNation. They also hope to modify their Friday science lab time so that it follows the process students will use in their own projects. "We are going to ask our lab instructor to begin all of her labs with a form of testable question or hypothesis and close the lab with a conclusion. This way they will be better prepared for their own experiments," explains Judith.
Judith and North Broadway School will again be participating in InnovatioNation this coming year. "I am truly excited that our school has been chosen to work for a second year with Life Technologies and Science Buddies!"




Categories:
---
Science Buddies welcomed students back to school with a bright new site design aimed at making the site's award-winning science and engineering resources even easier to use.
When students, teachers, and parents returned to Science Buddies last month as they began talking about classroom science and engineering projects and this year's school science fair, they were greeted by a completely redesigned Science Buddies. Just in time for "back to school," Science Buddies released its new site design, a move dedicated to meeting the needs and expectations of its key users. The fresh new look gives Science Buddies an updated feel, but, more importantly, the redesign and restructuring of the award-winning K-12 science education site make Science Buddies even easier to use.

A Vast Science Education Resource
Science Buddies offers more than 1,000 scientist-authored Project Ideas in over 30 fields of science and engineering and extensive Project Guides to assist with steps of science and engineering projects. As both Science Buddies' online resources and website traffic has grown, site visits topping more than 12.3 million in 2011 and projected to set a new record of approximately 15 million by the end of this year, Science Buddies recognized the need to reassess the architecture, user interface, and visual appearance of the site.

An Improved User Interface Eases Student Use
Return visitors to Science Buddies will immediately note changes in the visual appearance of the site's buttons, icons, and navigation system. Just as quickly, students, teachers, and parents visiting Project Ideas and other key resources will discover that the information has been broken down into multiple pages for easier viewing. In the past, entire "Project Ideas" were displayed on a single page. Given the amount of background information provided and the complexity of many Experimental Procedures, Project Ideas could easily appear overwhelming, a reality which might dissuade students from trying projects they might really enjoy. The new design divides Project Ideas into more manageable sections. The "key information" about a Project Idea, including the objective, the estimated timeline, and the difficulty, are now shown on the "Summary" tab of a Project Idea. Students interested in delving deeper into the project can find the other elements of the Project Idea on sub-tabs, including Background, Materials, Procedures, and Make It Your Own (suggestions for variations).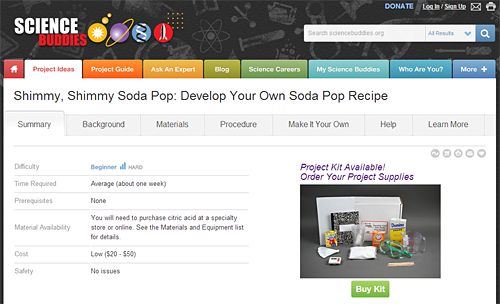 Robust New Architecture
Behind the scenes, the redesign of the site is coupled with a move to a new, in-house content management system that offers greater flexibility and control of the large repository of Science Buddies resources. Though transparent to users, the new content management system affords Science Buddies increased flexibility in managing the site's more than fifteen thousand pages of science, technology, engineering, and math (STEM) resources, enabling easier updates and quality assurance. The content management system also puts Science Buddies in position to proactively deliver resources to users based on the devices they are using when they visit Science Buddies. The new design, which involved a restructuring of the site's categories and tab-based navigation systems, works hand in hand with the content management system to create a flexible design that renders appropriately on a wide range of systems and devices.

Science Buddies Anytime, Anywhere
Science Buddies serves a large number of students who are browsing science and engineering Project Ideas, consulting the Project Guide, or taking the Topic Selection Wizard survey from a classroom or school computer lab, or on a home computer, but a growing number of site visitors are using mobile and tablet devices. The number of mobile users at Science Buddies has grown significantly in recent months, more than doubling in the last year. "Today's students are accessing online resources from their phones and tablets, not only computers, so we need to be able to provide them with an accessible mobile resource," says Claire Hubbard, Science Buddies Product Design Engineer. "As we designed the website, we kept the need for a future mobile design in mind."
The new Science Buddies site works on all devices, and tablet users (which accounts for about a third of the site's mobile traffic) will find browsing Science Buddies similar to using a traditional computer. The recent redesign, however, marks only a first step in addressing the smart phone community and optimizing site delivery and the user interface for handheld devices like the iPhone or iPod Touch. In coming months, the product and web development team at Science Buddies plan to introduce "a mobile-specific version of the site that will make the delivery of Science Buddies resources even more efficient and convenient," says Hubbard, noting that this version will limit scrolling and zooming in and out on pages during mobile visits.
"In talking with teachers, they made it clear that recognizability is of key importance for students," adds Hubbard, who has spent time talking with teachers and observing students using Science Buddies over the last two years in preparation for improving the site's user interface for student users. "If a student visits the Science Buddies website in school on the computer, she expects to see that same resource when browsing her tablet at home," continues Hubbard. "It is important that the students know where the information is and how to find it."

Looking Ahead
With the new site design and architecture in place, the product and web development team is working on the mobile version of the Science Buddies website. "Translating the Science Buddies user experience across different devices is something our users expect," says Hubbard. Once the design of the mobile-specific site is finalized, the new content management system will make it easy to pull the appropriate site components and information into place, creating a seamless experience for users—however they choose to browse.
Categories:
---
Science and engineering projects often involve many steps, many trials, many materials, and may take many weeks. Help your students learn critical organization and recordkeeping skills by requiring a science project lab notebook!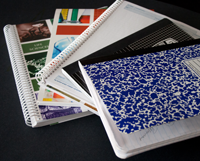 Good recordkeeping is a skill that is valuable in many academic areas. The time your students spend making a lab notebook a routine part of their science and engineering project experience may be useful in other classes as well!
The first step of the
scientific method
may be
"Ask a Question,"
but the first step you might require before your students even think about questions or take the
Topic Selection Wizard
survey is to get a lab notebook. Keeping a lab notebook is an important part of the science, engineering, or research project process. With a lab notebook as a requirement for even science projects in the middle grades, students who keep a lab notebook gain valuable experience as they learn to organize their research, manage their time, and document all steps of a project.
With many science and engineering project assignments spanning a number of weeks, or even most of a semester, there are lots and lots of details that a student needs to remember about her project. From the project's initial conceptualization or invention sketches, to the exact materials purchased and the experimental design, to the day when a shoot first emerged in a plant biology project or a field of bacteria showed signs of antibiotic resistance, you want to encourage your students to write it all down.

Helping Keep Science Projects on Track
If left to sticky notes and student memory, a lot of important detail about a project may be lost or forgotten, including reasons behind certain changes, specific observations, solutions to problems encountered, and data collected. Students who use a lab notebook may find it much easier to write a final research report, prepare a classroom presentation, or put together a science fair project display board.
Science Buddies "Keep a Great Science or Engineering Project Notebook" resource offers great information to help your students get started using a lab notebook for a science project. By following the recommended tips and techniques, students can quickly get into the habit of documenting their science and engineering projects. They will stay more organized and be able to better negotiate the many phases of the project or of the scientific or engineering method. Plus, if your students are using lab notebooks, you can require check-ins at key points or dates in the process to ensure that everyone is on track, that projects are proceeding as planned, and to intervene or redirect if problems are detected.

Choosing a Lab Notebook
Part of the perennial school supplies market, there are many kinds of lab notebooks available. The standard composition book is a classic and inexpensive option. Its lined pages and durable cover make it an easy option for students, and this style of lab notebook can work well for tracking and organizing K-5 and middle school student projects. But there are other styles of lab notebooks available, some of which are specifically for science and engineering projects. (See our summary of lab notebook styles and recommended users.)
A line of specialty notebooks from Hayden-McNeil, for example, is designed to meet the needs of students working on science and engineering projects—and to make it even easier for teachers to oversee the lab notebook component. These notebooks feature carbonless duplicate pages so that each entry a student makes is also recorded on a duplicate page that can be removed and turned in. While having thirty or more students all turn in a lab notebook once a week can add up to an unwieldy pile of notebooks for a teacher, having students tear out and hand in "copies" of their notebook entries makes it easy and convenient to evaluate lab notebooks throughout the science project process. Even if the teacher evaluation is only a check that students are routinely and completely documenting their projects, the requirement can help ensure successful and on-time science and engineering project assignments.
Hayden-McNeil's duplicate lab notebooks come in a number of variations and formats. Lab notebooks are available for specific areas of science, including life science, environmental science, chemistry, and physics. In notebooks specific to an area of science, handy reference material for that area is conveniently located on the back cover and on the plastic divider (used when making a new entry). The notebooks come in both spiral-bound and hardbound versions, and are available in 50-page and 100-page formats. Other well-thought features include: numbered pages, quad-ruled paper, fields at the top and bottom for labeling and dating, and a blank table of contents for easy organization. Duplicate pages are clearly marked "copy" and are perforated for easy removal.
These specialty notebooks are available online at Amazon.com.
Here are a few of the variations:

Teachers and schools interested in purchasing carbonless duplicate lab notebooks can find additional information and request samples on the Hayden-McNeil website. (Hayden-McNeil does not sell directly to students or general users.)

How to Get Started?
If you haven't required a lab notebook as part of your science or engineering project assignments before, consider adding it as a requirement this year. Encourage your students to review the following Science Buddies resources. These resources offer easy-to-follow strategies that can help your students make the most of keeping a lab notebook:
The best way to help your students get into the habit of good recordkeeping and documentation is to clearly articulate your expectations. Do you want the pages numbered? Do they need to date each entry? Is ink required? With the mechanics clearly stated, encourage them to use their lab notebooks! Recording an entry each day for a period of days is one of the best ways to help them make utilizing the lab notebook part of their daily routine. Consider assigning initial brainstorming sessions as a lab notebook assignment to get them used to recording their notes in their lab notebooks. Pre-project assignments like this can also help familiarize students with your expectations and requirements for entries.

Teacher Giveaway: Share Your Lab Notebook Tips!


What tips do you recommend to students? What strategies do you find help them stay organized? What suggestions do you have for teachers who plan to require lab notebooks this year for the first time?
Email a comment to blog@sciencebuddies.org to share your best tip, strategy, or class assignment for using lab notebooks with K-12 students, and we will enter you in a drawing for specialty duplicate notebooks for your class (up to 30 notebooks), courtesy of Hayden-McNeil. Please include your school name, and the grade you teach in your email entry. Drawing open to teachers in the U.S. only. Entries will be accepted through October 18. Only one entry per teacher will be counted. One winner will be randomly selected from all complete entries.



Categories:
---
---