Science Projects for Trick or Treat
From glow sticks and colored candies to haunted house-worthy music, there is plenty of Halloween science to uncover!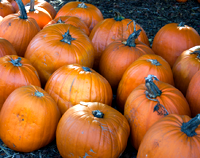 Tap in to student excitement about Halloween to make engaging connections to science. There is plenty to talk about in class—and plenty they can put to the test!
Preparing for Halloween? Before or after the tricks and treats, the following collection of posts from Halloweens past may help you tie science concepts (and hands-on science projects) into all kinds of spooky and sweet discussions at home
and
in the classroom:

What is your favorite science project using leftover candy? We'd love to know! Email blog@sciencebuddies.org to share your story.
Categories:
You Might Also Enjoy These Related Posts:
Explore Our Science Videos
DIY Mini Drone Part 2: Altitude Control Circuit
DIY Light Up Unicorn Headband
Why Won't it Mix? Discover the Brazil Nut Effect