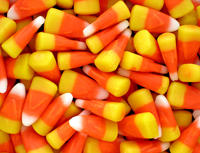 With a bit of planning, you can turn a pile of Halloween loot into an engaging science activity!
Yesterday we posted
a round-up of spooky, creepy, and candy-filled blog posts
from years past to help you and your students find the science in Halloween tricks and treats. Especially with all the candy that may be spilled from a bag to the living room floor tonight after a stroll through the neighborhood, there is much to be said for the hands-on approach.
After the sampling, divvying, trading, and general post-Halloween assessment, what can you do with all of the goodies that ended up in a trick or treat bag? With a bit of ingenuity, your trick or treaters can refocus their energies for some sweet science. Here are some starter ideas for home and class: Count some of it. Use some of it for a survival game. Investigate candy colors. Explore the relationship between candy shape and volume. Do some of your experimentation by the glow of a waning light-up stick and with the vestiges of your pumpkin patch playlist wafting in the background, and you've got the makings of post-Halloween science fun.

A Closer Look
Before the moon rises and skeletons rattle tonight, you can put a visual face on Halloween (beyond the flickering pumpkins) by carving your way through a Halloween-themed infographic or two. With the popularity of the infographic form, there are many floating around. These two, with their spill of numbers to ponder in relation to today's frightful festivities, caught my eye in the wee hours of morning, the pumpkin watching eerily from the kitchen counter, and the strains of the Monster Mash
queued up and ready to go for the morning procession to school. (I Want Candy
is somewhere in the mix, too.)

Keep in mind that anyone can make and post an infographic. Most contain sources so you can do your own checking and additional research.
Categories:
You Might Also Enjoy These Related Posts:
Explore Our Science Videos
How Much Weight Can Boats Float?
Test Your Foods for Starch
How to Build a Unicorn Art Bot