Science Buddies Blog: February 2014 Archives
Giant metal traffic control robots installed on busy streets in Africa remind students that robotics engineering tackles projects and issues that may require very big OR very small solutions.
Recent robotics engineering projects at Science Buddies have shot my perspective on robotics with a shrinking serum, something that's taken my preconceived ideas about robots, drawn largely from growing up with the Jetsons on television and C-3PO and R2-D2 on the big screen, and tossed them down a long Alice and Wonderland-styled tunnel where they have emerged miniaturized and decidedly non-humanoid. Think of the skittering crew of cookie robots in Despicable Me (2010). Small. Fast. Stealthy. Focused. Hungry. Bots on a mission.
This is a new class of bots, a far cry from bots like The Iron Giant (1999), Johnny 5 in Short Circuit (1986), and Wall-E (2008). Whereas those bots won us over with their human-like qualities and similarities, not all bots are built at that scale. Both on- and off-screen, the bots that have been crossing my radar lately have been small, and smaller, and then even smaller, reaching coin-sized proportions most recently in my interview with Dani Ithier, a student in Harvard's Microrobotics Lab, where they are working on bug-inspired bots.
Smaller and smaller, a tale of shrinking robots, until a CNN story and images of the "Robo Cops" installed in Kinshasa, the capital of the Democratic Republic of Congo, crossed my desk.
Two towering aluminum bots have been installed in the middle of congested highways to help alleviate traffic flow problems. Those two bots, eight feet tall and bearing familiar human facial features, remind me, visually, of bots from old-school science fiction. These traffic cops look like the kind of (non-functional) bots kids construct out of cast-off parts from the garage and cardboard boxes salvaged from the recycling bin, but these bots represent sophisticated engineering. The traffic robots are reportedly powered by solar panels, have on-board surveillance cameras, and can talk. This is high-tech, robotic traffic control being conducted by robots that "come sporting sunglasses like real cops," reports India Today Online. From up high (eight feet plus the pedestals on which they stand), these robots are taking on the combined roles of traffic cop, streetlight, and pedestrian walk signal, all in an effort at reigning in a mounting traffic problem.

An Infinite Number of Designs—and Functions
The story (and image) of Kinshasa's robo cops is an excellent reminder about the breadth of functionality and design for robotics engineers. Smaller is not always better and it not always the solution. Many robots are designed to do a very specific task. They may or may not need to have a full set of "humanoid" body parts and appendages. A robotic hand, for example, may be developed to do a single, focused task, and the parameters of that task—What needs to be picked up? How heavy is the item? How far does it need to be moved?—may guide the design. Specifying the requirements of a solution is an important step in the engineering design process. Students can explore this kind of design and the engineering issues that arise in projects like Grasping with Straws: Make a Robot Hand Using Drinking Straws and Squishy Robots: Build an Air-Powered Soft Robotic Gripper.

Robots for Safety
Looking at the Kinshasa robo cops also highlights the use of robotics in ensuring safety, through prevention, through ongoing presence and monitoring, and through disaster relief. Students can explore safety-related robotics engineering and design in hands-on science projects like these: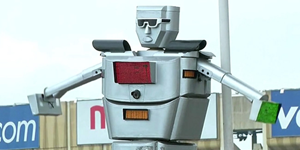 ---
---
Science fair projects let students learn, use, and demonstrate important science and reasoning steps, and the benefits of hands-on and active exploration compared to more passive modes of learning or rote memorization are well-documented. So why do so many parents scowl at the science fair project assignment? What makes the science project a stressor for many families rather than an anticipated and positive learning experience? Is it simply a matter of perspective or an incomplete understanding of what a science fair project is and should be? There are many steps teachers can take to help transform the science fair project experience, but what does it take, at home, to transform the science project assignment from something parents dread into something parents celebrate as a critical and invaluable step in their student's learning?
Social Media Lashes Out at the "Science Fair Project"
Have you seen it? The GoldieBlox Super Bowl ad, yes. The LEGO® Movie, yes. The tongue-in-cheek project display board bemoaning the science fair project process and citing a more than 75% dissatisfaction rate among students and parents, as measured by the number of students who cry and the number of parents who yell during the process? Probably.
You may have seen the project display board crop up on your favorite social media site. You may have been surprised to see it pop into your stream from distant corners of the country or globe, from parents and grandparents alike. You may have been surprised to see it crop up in the stream of a parent or friend who you know has a very engineering- or science- or technology- or math-oriented kid, a parent you know spends countless hours encouraging, lauding, and supporting her student's hands-on science and engineering projects—and proudly sharing those same projects with her friends and followers.
It happened to me. I first saw the "science project turmoil" project display board shared by the parent I would least expect to spare it a second glance, much less share it. The next morning, I saw the photo shared by someone else in a completely different part of the country, someone who doesn't even have school-age children. As friends of those friends weighed in with a comment or a thumbs-up on the post, notifications kept popping up (accompanied by a 'beep' on my system) letting me know how much "support" the photo was getting from other people who saw the photo and agreed enough to click 'Like,' or leave a comment, or share the photo on their own stream. I didn't see anyone rebutting the image or standing up on behalf of the virtues and values of hands-on science education—at least not in those two shares of the photo. Even from teachers, I saw "likes."
Puzzled by the near-instant wave of people latching onto the image and issue, I went to the source—the original photo posted in March 2011.
It is both fascinating and frightening to read through the comments on the original photo. There are, thankfully, some people who weighed in noting the positive nature of hands-on or active science education. There is, in fact, a comment by the board creator where it seems that, in part, her complaint is really aimed at the way science fair is presented in elementary school—at the fact that the "competition" aspect of science fair may overshadow the point of hands-on science and turn the science fair into something else, something that invites and encourages far too much parent involvement. Her comment (#48) is there, but as the turmoil board picked up steam anew last week, it appears that by and large, people saw the "turmoil board" and were compelled to join the wave of "why do a science project" comments, a tidal wave of anti-science education sentiment that took on new life with each new like.

Why Do a Science Project?
What gave the "turmoil board" steam when it resurfaced? What prompted people from all corners to share, reshare, like, and comment? If many of those people are people who actually support, encourage, and even enjoy hands-on science and engineering activities with their kids, you have to dig deeper to see what's really at issue here.
Take the science (or engineering) out of it, and the "project" stands alone, with the assumed "assigned" or "fair" being the silent partner in crime, the elephant in the room. The board creator even suggests that without a competitive fair, science projects could be approached differently for elementary school children, done more as family projects and explorations. In other words, it is specifically the school science fair project that is being projected as the cause of family turmoil.
The board, with its googly eyes overlooking the hand-drawn results diagram, goes on to explain why.
The photo got under my skin, maybe because it was shared (and liked) by people that I didn't expect to share (and like) it. It was shared and liked by people who I know value science education, people who I know are proactive and publicly involved in the education systems in their areas.
So why the widespread jump on the anti-science fair project bandwagon? What buttons did the "turmoil board" press?

Kids Doing Science
At Science Buddies, I am one of the non-scientists. I am exactly the kind of parent that might seem to fall into the "science projects cause family turmoil" camp simply because "science fair" isn't my forte—science fair puts me well out of my comfort zone.
Before Science Buddies, maybe I would have been drinking the science-causes-turmoil Kool-Aid. It is hard to know how I might have approached a science fair assignment before Science Buddies. I can't go backwards and manipulate the variables or set up a control to see how my family would have weathered science fair season without the benefit of knowing about the project ideas and resources available at Science Buddies.
Thankfully, there is Science Buddies.
As a parent of elementary and middle school children, I have, over the last few years, done and witnessed a wide range of science and engineering projects with my kids, ones that have been completed for science fairs and ones that we have done together as family activities.
toothbrush robots
,
light-following Bristlebots
, a
crystal radio
,
pencil dimmer switches
,
play dough electronics
, and more. That doesn't mean I didn't wonder with each project if I knew enough to guide the activity or help troubleshoot problems that might come up with the independent (science fair) projects. But, all in all, science fair projects in my house have gone smoothly and been positive experiences all around.
So, where was the turmoil?
There was much more angst with the "build a mission" project, a California History assignment in the 4th grade and a clay roof that took hours with a hair dryer to try and harden. There was plenty of angst any time an assignment to "dress up as your historical subject" came home. (We didn't happen to have Ben Franklin-suitable attire on hand.) Making a half dozen artifacts to go along with a history research project certainly took as much time as the science fair project. Indeed, there have been flurries and scurries with a wide range of creative and "craft"-oriented exercises and assignments.
So what's the problem with the science fair? And, more importantly, what does it take to turn a standard science fair assignment into a positive, successful learning experience for students and a positive parenting experience for the grown-ups?

Helping Students (and Parents) Enjoy the Science Fair Project
As I watched the fervor over science fair mount, triggered by a marker-drawn project display board, I wanted to pass out Science Buddies stickers to every person who clicked "like" or "share" or wrote a comment commiserating with the horrors of science fair.
I wanted to grab some markers and make my own Project Display Board of all the things I know that Science Buddies offers that can help remedy the problem, all the tools and guidance that can transform the science project into something students and parents look forward to as a fun way to get really hands-on with a cool science question.
If only all of those parents knew about Science Buddies, I kept thinking. Of course, I work for Science Buddies. So I have an inside view. I know that more than fifteen million other people, including students, teachers, and parents also know about Science Buddies and count the non-profit and its free, online resources as a trusted source. I know they visit the site each year when science fair rolls around.
I can only assume that the "turmoil board" creator may not know about Science Buddies and may not know about the Topic Selection Wizard.
We need Science Buddies stickers. We need a badge kids can sew on to a troop uniform. We need to go viral in the same way that the "turmoil board" went viral.

Science Buddies and the Student Science Fair Project
Science Buddies has a whole set of keys that can help transform the science fair "turmoil" into a successful experience for students and parents. In part, parents have to get beyond their own fear of science and their own assumptions about science fair. You don't have to be a science expert to help an elementary student do a school science project. But you do have to have the right idea about what a science project is, what it can be, and how to approach it to maximize the learning experience—and enjoyment—for your student. You also have the right to expect that a science fair project isn't simply a homework assignment, something sent home with a due date several weeks in the future and not integrated at all in the day-to-day classroom.
For science fair projects to be successful, teachers have to ensure that projects are integrated into the classroom learning and monitored with clear schedules and check-ins that help students stay on track and also teach students how to break a big project down into doable parts. Science fair projects should not be done the night before they are due. Ever.
There are a number of ways in which teachers can (and should) help smooth the science fair project experience. But in responding to the "turmoil board," the following reminders for parents and students can make a big difference in how the process goes at home:
Plan ahead. This is a big stumbling block for many students and parents. Waiting until two days before the project is due to select a project or buy supplies is a guaranteed recipe for disaster (and family stress). Plus, waiting too late in the process limits what kind of project your student can do. The project your student might be most excited by might take weeks to complete. That doesn't necessarily mean it is a more difficult project, but projects in certain areas of science may take more time—plant biology projects, for example, or setting up and testing a microbial fuel cell for an environmental science project.

Note: proper scheduling of the project and assessing a student's progress throughout the project window is a teacher's responsibility and can really help alleviate science project stress, procrastination, and confusion. When properly scheduled and managed with in-class due dates and timelines, parents should not suddenly learn from a panicked student that the science fair project is "due tomorrow" and has not been started. (See the Science Fair Scheduler Worksheet in the Teacher Resources area.) Parents can help students set up calendars and put time to work on various parts of the project on a schedule to help reinforce the time management and planning skills students are learning and using.

Pick a great project idea. A half-baked project idea should not be the cause of science fair angst. At Science Buddies, there are more than 1,200 scientist-authored project ideas in more than 30 areas of science. Most of these project ideas offer background information to help kickstart a student's research and a full experimental procedure that has been tested and reviewed by a team of scientists.
Hook into student interests. A student who does a project that fits in with an existing area of interest is far more likely to enjoy the science project process than a student who picks a project because it fits a parent's area of expertise or somehow fits what a parent thinks a science project "should be." This doesn't mean that your student needs to know if she is interested in biotechnology or aerodynamics. If she knows that, great. But if she doesn't, what are her hobbies? What does she like to do in her spare time? Are there issues she cares about?

Finding a science project related to an interest may immediately set the stage for a more exciting and engaging science fair project. Not sure where to look? The Topic Selection Wizard at Science Buddies helps match students to projects they may really enjoy—even in areas of science they might not have initially considered. Respond to a few simple statements that help the Wizard better understand your interests, and the Wizard will show you a set of projects that you might like. From video gaming to sports to robotics and zoology, there are great student projects in every area of science.

Think beyond the box about what qualifies as a science fair project. Your student is not limited to doing the same project everyone else does, the same project an afterschool program demonstrated, or the same project you remember from your own science class. There are an infinite number of possible questions your student might ask and around which a science project may be built. Students are not limited to exploding volcanoes or seeing whether plants grow better with this liquid or that one. Here are a few examples of great science projects that might not sound like what you expect:

Those are just a few of the many, many projects that students might choose, projects that sound like a whole lot of fun!

Pick a project that fits with the student's grade level/experience. Not every science fair project will results in a Nobel Prize-worthy conclusion or data set. School science projects are not supposed to be equivalent to what adult scientists are doing in the field or in research labs. Instead, a student's science project gives the student the chance to enact the scientific or engineering method and answer a science question. What is learned or observed by the student may be something small, but the student will have learned by doing, by putting the question to the test and gathering and analyzing data. Picking a project that is too hard is certain to cause problems, and choosing a project that is too simplistic for your student will not challenge her to really dig in and get involved in the process and project.
Understand the role of the parent and the role of the student in the science project process. Your student's science project should not be your own project. Depending on your student's grade and age, you may need to be more or less involved in helping your student facilitate the experiment. But if an appropriate project is selected, your student should be able to work through the steps on her own. Your student needs to come up with the hypothesis (her words, not yours). Your student needs to decide what the project display board looks like and how the information gets presented. Your role may be that of driver (to the library) or buyer (materials, glue, and a project display board). Or maybe your role is to help your student talk out loud about what is happening in the project so that she is better able to understand and articulate what she observes, what problems she encounters, what questions she has, how her variables are related, or what else she may need to do in developing her procedure or analyzing her data. (For more information, see How to Help Your Science Student.)
Review the basic steps of the scientific method or engineering design process yourself. Your student should be learning and reviewing these steps in class, but refreshing your memory about what is involved will help you feel more confident about the step-wise approach that most projects follow. Bookmark the Science Buddies Project Guide. It is your friend.
Remember that being "right" is not the goal. A science project may not turn out the way your student expects. A hypothesis may not turn out to be supported by the experiment. It may seem like exactly the opposite of what your student thought was going to happen happened. This doesn't mean the project failed. If your student worked through the appropriate steps and learned something by doing the experiment, then the project may, in fact, have been a success. Teachers look to see that students have used and understood the scientific steps, understand what they were testing and why, and understand what the data showed—even if it is different than what the hypothesis predicted. Do not think your student has failed if the project takes an unexpected turn!
Go to the science fair. Make an effort to go to the science fair to see your student's project on display, one project display board among all the others, and to celebrate the hard work and learning that went on as part of the project. Everyone who completes a science fair project deserves recognition for participation!



Here's to Science Fair Project Success in Your House!
Share Science Buddies with your student's parents, with your friends, colleagues, and family. Science Buddies can make a difference in how students and families perceive the science fair project.
While your students finish preparing their science fair projects for this year, I may work on a few project display boards of my own. As the "turmoil board" shows, you can certainly make a statement and communicate information about a project or a process using a project display board! That students learn to share their project results in this way is a great exercise at the end of the science project process!
---
A Google hangout this week gives students and teachers a chance to find out more about space exploration and to talk with astronauts and leaders from Virgin Galactic about some of the many, many reasons "why" space science matters.
Do you look up at the night sky and see, simply, the stars, the imaginary outlines that link stars to form constellations, the blinking lights of planes as they pass, bright speck of Venus, the shifting clouds on the moon making the face in the moon that appears in children's stories? Do you look up, and see the brave new frontier heralded, traveled, explored, and inhabited in popular television series like "Star Trek," "Dr. Who," and "Firefly"? Or maybe you look up and see something in between.
Maybe you hope to be an astronaut, or maybe you are just curious about what potential exists beyond our atmosphere. Maybe when you look at a photo from the Hubble Space Telescope, you realize that every one of the dots you see, really, is a galaxy or a cluster of galaxies. Maybe you contemplate that reality, and your head spins, just a bit, and you think, too, of the Milky Way and that, in fact, our spinning-armed galaxy is just a dot in the vastness of space. Maybe you are fascinated by photos from the International Space Station that show astronauts looking back at Earth, a completely different perspective on our planet.
In a TEDx talk in January, Will Pomerantz, a graduate of the International Space University and Vice President of Special Projects for Virgin Galactic, talked about space and the "why" of space exploration. "From Yuri Gagarin in April 1961 until today, 542 human beings have been in outer space," said Will. "And I can guarantee you that every one of those 542, plus all of the hard working men and women who have helped put them up there, all the people who work on the great robots like Mars Curiosity, like the Hubble Space Telescope, every single one of them has been asked at some point by a friend or by a loved one—'Why? Why is it worth it? Why do we go to outer space?'"
Maybe you have similar questions, questions about the time and money involved in space exploration, questions about what we can learn, as a society and as a planet, by exploring space, questions about how space exploration can make a difference in life on Earth.

Space Education, Hangout Style
Virgin Galactic, a sponsor of the 2014 Google Science Fair, is all set to answer questions about space exploration in an out-of-this-world Google hangout this week titled "Why Go to Space." Gavin Ovsak, a former Google Science Fair finalist, will lead the hangout and pass along questions submitted by the audience to Sam Branson and Will Pomerantz. Sam, already known for his adventures in the Arctic, and son of Virgin founder Richard Branson, is training to be part of Virgin Galactic's first commercial spaceflight scheduled for later this year. Together, Will and Sam will join forces at the hangout to answer questions about space travel and give you their perspective on "why" we should consider going to space—why we should consider continued space exploration important.
As Will puts it, there are an infinite number of possible answers to the question. "I don't think you can give the top 10 reasons why we go to space, because, after all, there are 7 billion of us" and who "knows how many planets and stars and reasons out there."
Drop by this week's hangout to hear what questions others have about space, to ask your own questions, to hear Sam and Will as they talk about some of the reasons "why," and to think about your own answer to the question: "Why go to space?"
The hangout will take place on February 28, 2014 at 18:00-18:30 GMT (1PM EST/10AM PST). To join the hangout, visit http://goo.gl/6ZpZMG.
Read more about this week's Virgin Galactic hangout in this article on the Virgin Galactic site.

Making Connections
Students interested in space exploration can explore relevant ideas and concepts in engaging astronomy science projects like these:
---
---
With open source software and guided directions from Science Buddies, students can explore the ways in which robotics engineers test designs before choosing which designs to prototype. This student put her own robots to the test—on her computer—and walked away with a blue ribbon at a local fair.
ArtBot
or
BristleBot
make it easy for families to tackle a robotics building activity at home with fairly easy-to-come-by supplies like toothbrush heads, coin cell batteries, and plastic cups.
While making a cute bot that shuttles about on toothbrush bristles can be empowering and rewarding for kids, designing effective robots involves more than just the mechanics of assembly. Being able to test different approaches to a robot design or its materials before investing time and money in building offers many advantages for engineers. If the goal is to create a robot creature that can move quickly from Point A to Point B, which design will work best?
Building three different working models, each with different approaches to mobility, is not always a practical approach given issues of time, materials, and money. If, instead, an engineer can do some preliminary testing and gauge the benefits or drawbacks of various design options, she may be able to save time and money and invest energy working on the design that shows the most promise for a given challenge or need. One approach to evaluating designs involves using computer software, like VoxCAD, to simulate various designs and conditions. VoxCAD is an open source, cross-platform physics simulation tool originally developed by Jonathan Hiller in the Creative Machines Lab at Cornell University.
In the field, using simulation software can be an important pre-build and testing step for robotics engineers. In the classroom, simulation software allows students to explore robotics without prior engineering experience. With a suite of VoxCAD Project Ideas at Science Buddies, students can experiment with robotics engineering at the virtual level, no circuits, batteries, or soldering required.
"The neat thing about VoxCAD is that kids can jump straight in to the deep end," says Dr. Sandra Slutz, Lead Staff Scientist at Science Buddies. "It takes a lot of mechanical engineering, electronics, and even programming know-how to create robots with different mobility strategies, but using VoxCAD, a student whose curiosity is sparked can start designing those robots in just a few minutes without all the time it takes to develop those skills."
With robotics simulation, exploring robotics and comparing designs doesn't require building multiple robots. Instead, students can get started right at their computers. After mocking up, visualizing, and testing their three dimensional ideas using VoxCAD, students who want to learn more about hands-on robotics engineering can explore circuit-based robot building projects in the robotics area at Science Buddies and move from virtual to real-world robotics design, building, and engineering.

Thinking 3D: Student Robotics
Laura was in 4th grade when her mom showed her a new VoxCAD project at Science Buddies. Laura, who wants to be a website developer in the future, was fascinated by the idea of designing three-dimensional robots and decided to give the introductory "Robot Race! Use a Computer to Design, Simulate, & Race Robots with VoxCAD" project a try.

"My mom showed me a VoxCAD video, and I became attached," says Laura. "I liked the way the creatures moved. I thought that was very interesting that the computer was able to bring them to life. And I wanted to learn how to do that."
When her mom told her about VoxCAD, Laura didn't have a science project assignment due. She chose to experiment with VoxCAD on her own. "I just thought it looked fun and wanted to try it," says the budding engineer, noting that robotics engineering wasn't an area of science she was already interested in or had explored before.
Laura enjoyed working with VoxCAD and trying different robot designs. In a video she created to accompany her project, Laura describes the movement of each design as the three-dimensional block-based robots move around on screen. She refers to the three models she created and tested as the "fastman snail," the "shimmier," and the "sidewinder," and her testing shows clear differences in the effectiveness of each. Using VoxCAD, she was able to bring the three robot designs to life on the screen and put them in motion to see how they would move and which would move farthest.

The best part of the experience, says Laura, was watching her creations move in the VoxCAD Physics Sandbox. "I learned to think in 3D," she adds. After finishing her project, Laura entered it in the science division of the Alameda County Fair where she won a first prize blue ribbon.
Congratulations to Laura!

Further Exploration
To learn more about VoxCAD and to experiment with your own three-dimensional robot design and testing, see the following Project Ideas:
For suggestions about family robotics projects and activities and ways to engage your students with introductory robotics exploration, see: Bot Building for Kids and Their Parents: Celebrating Student Robotics, Create a Carnival of Robot Critters this Summer, Robot Engineering: Tapping the Artist within the Bot, and Family Robotics: Toothbrush Bots that Follow the Light.

Today, February 20, 2014 is Girl Day, part of Engineers Week. Don't miss the chance to make a difference in a student's life and future by taking the opportunity to introduce students to the world of engineering today and every day.

---
The LEGO® Movie puts engineering on the big screen in the hands of an assortment of plastic master builders and superheroes from various time periods and realms who come together to challenge Lord Business and the superior threat of Kragle. What they engineer in their quest to stop the Kragle will inspire students, teachers, and parents. If you aren't singing the awesome virtues of engineering yet, you should be!

If you've seen the LEGO® Movie, then you know, "Everything is awesome. Everything is cool when you're part of a team." And, maybe... everything is awesome when you trust yourself, build what you want, imagine what isn't already written in a manual, and see yourself as special.
With Engineers Week this week, the timing for the smash LEGO Movie feels pretty, well, awesome. The importance of strengthening and encouraging science, technology, engineering, and math (STEM) education for K-12 students is an important topic of discussion, and on the heels of the great GoldieBlox ad during last month's Super Bowl game, a movie devoted to highlighting what is possible when you celebrate and combine ingenuity, innovation, and the spirit of engineering has all the makings of a blockbuster.
No matter what angle you approach it from, there is something to like in the LEGO Movie, even if a toddler seated behind you stands up the entire movie with his face wedged on the back edge of your seat and babbles throughout. There is something to like even if you think you have a toe a bit too far into teenhood to still play with LEGO. This is a feel-good movie that budding engineers, creative types, parents, kids, vehicle enthusiasts, and all fans of pink unicorn kitties are sure to enjoy.
Maybe you really love the fact that the first master builder who whirls into quick-as-a-flash building view is Wyldstyle, aka Lucy, a perfect big screen moment for inspiring and applauding girls interested in STEM. Maybe you love Batman's wry persona and his comment about building only in black, and sometimes a very, very dark grey. Maybe you like Emmet's morning routines, all by the instruction manual, including some pretty fierce jumping jacks. Maybe you really liked the appearance of a floating, dangling, glowing-eyed, Ghost Vitruvious. Maybe you really liked Benny the astronaut who can snap together a space ship out of whatever parts are on hand. Depending on where you live (or in which realm), maybe you chuckled over the overpriced coffee.
Or maybe you liked the aha moment when you finally realized what the "piece of resistance" really is in the context of the story.
The movie is full of great moments that may strike a chord with viewers of all ages in ways both obvious and subtle. As a parent, I liked the movie on many levels. We have zillions of bricks in the house from years gone by, and I fondly remember our days of "instruction manual" building as well as our days of free-form building. I loved the way master builders in the movie looked around at piles of bricks and pieces and saw, instantly, the different kinds of elements they needed, complete with the LEGO part ID numbers.
Watching the master builders in the movie quickly assess the problem, the moment, the dire necessity, and whip up something amazing from salvaged and reclaimed bricks was very cool. But Emmet's solution for the broken wheel axle during an early wagon escape scene was also right on track for the way engineers think on their feet (or with their heads) as they create and innovate needed solutions. His double-decker couch may have inspired some laughter, but in the end, it helped Emmet and a core group of characters escape, its real functionality emerging as an accidental discovery—something that happens in science and engineering all the time!
Ultimately, throughout the movie, viewers see the engineering design process in action. Things are built and rebuilt over and over and over again—with or without a manual. Engineering is fun and awesome.

Making Connections
If the movie inspired you and your kids and made you think about the buckets, bins, and baskets of LEGO bricks that have wound their way into the basement or storage or a closet, pull them out again and see what happens when you encourage your kids to take a fresh look and think and build beyond the instruction booklet.
The following science project ideas can be turned on their heads to give students new building experiences and challenges:
Building the Tallest Tower: this one is a vertical exploration, but what happens if you change the orientation? Or, by all means, build up! What do you need to do to keep climbing higher?
Mixing Mystery: Why Does Tumbling Sometimes Separate Mixtures?: use LEGO to build a science tool that can help sort out a mixture. If you love the kinds of ideas you find in a Lego Crazy Action Contraptions-style book, this one might be right up your alley!
Gears-Go-Round!: working with gears and understanding the relationship between the number of teeth and a gear's functionality will help students refine their building skills and strengthen their "how will this connect with that" know-how. What are all the ways you can reuse the collection of gears you have?


If your older kids are using LEGO Mindstorms,
don't miss the great array of Mindstorms projects in the robotics area at Science Buddies.
Follow these, as written, or use the ideas as starting points for launching your own building projects and engineering or robotics investigations:
(These projects work with older Mindstorms kits or the new EV3 model.)
What you build will be awesome—because you build it!

Science on the Dark Side
Did the Kragle in the movie make your brain buzz? Did you spot the scene at the end where the humans are un-gluing structures that had been super-glued in perfect place? Did you cringe at the sad moment when Good Cop, Bad Cop's good face was wiped clean?
These moments invite all kinds of science questions about glues, adhesives, and solvents. Get started!

Explore science connections with other movies and popular culture examples.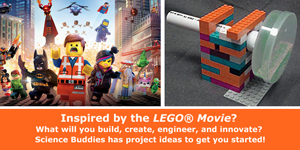 ---
What can engineers learn from studying the ways in which bugs and insects move? A great deal! Robotics labs like the Harvard Microrobotics Lab are using bio-inspired research and observation to design and test new approaches to designing and building small robots. Meet a female engineer working in the lab. She may not be keen on bees, but when it comes to coin-sized bots, she is excited by the challenge of taking what insects already do well and creating better, faster, and more efficient microrobots.
Kids who grow up building and tinkering grow up loosely using and enacting principles of the engineering design process. While these systems play a key role in facilitating childhood creativity and innovation, many kids outgrow their interest, snap-together building blocks and circuit kits being replaced by other activities and hobbies. For girls, the drop-off rate in interest in engineering toys may be even more dramatic.
Luckily, there are female engineers like Dani whose interest never wanes. She started out building, and she hasn't stopped yet.

Supporting Student Engineers
Thanks to support from her family, Dani's childhood passion was nurtured and encouraged. Today, she is applying, exploring, and expanding her interest as part of her undergraduate studies at Harvard where she works in the Harvard Microrobotics Lab, an electronics and robotics lab that specializes in research related to microrobots inspired by real-world bugs and insects.
"Growing up, support from family, friends, and teachers really helped me get more involved and excited about engineering and math and science in general," says Dani. "I had always been interested in building things, and my family encouraged me to do so despite the fact that they had no engineering or technical knowledge. They would buy kits for me where I would get to build model engines or play with magnets and circuits, and my uncle would hang out with me on weekends and teach me how to use power tools." In addition to lots of great engineering projects and kits at home, Dani participated in summer programs that let her continue to explore engineering and robotics.
At school, Dani says her teachers helped encourage and feed her interests by giving her extra challenges to work on, by helping as mentors in the after-school robotics program, and by making her aware of opportunities like the BAE System's Women in Technology Program. Dani was fortunate to have strong support, support that extended beyond the boundaries of in-class curriculum. "These opportunities helped compensate for what I saw as a lack of hands-on [science and engineering] activities in classes at school," she recalls. "We had lab periods in school and did several projects, but not nearly the amount I would have hoped for. I think it was really important for me to work on projects out of class to help me learn."

Making Room for Girls in Robotics
Programs and clubs like FIRST® robotics are often integral for students like Dani and help support the engineering spirit during middle and high school years. Dani recalls doing summer programs devoted to LEGO® Mindstorms, but she cites her participation in FIRST robotics as a powerful force in her development as a young engineer. As a young woman, however, her four years in robotics club also highlighted the disproportionate number of girls pursuing engineering by the time high school rolls around.
"There were very few girls on the robotics team I participated on in high school," admits Dani. "Over my four years on the team, only a handful of us actually participated in designing and building the robot." Though she categorizes the gender imbalance as discouraging, her team was fortunate to have a female mentor, which gave her and other teammates a role model and source of inspiration. Even so, "I do wish more women were encouraged to be involved in the sciences and join teams like robotics teams," says Dani.
The relationship between gender and engineering that Dani saw play out in robotics club is something she has continued to see in her college studies. "By looking at the demographics of the classes I'm in, the professors I've had, and the make-up of the engineering-related extracurriculars I'm involved in, I do feel like robotics and mechanical engineering are male-dominated fields. Often, I am one of the few women and people of color in these spaces."
engage more girls in STEM
.
"While things are getting better, I think these fields have a long way to come in terms of gender, racial, and class balance and that awareness of this and outreach are important steps to start changing this."

Inspired by Insects
Dani isn't a fan of cockroaches or bees and says she really would not want to work on projects that involve handling or close observation of either. But, in fact, Dani's work at Harvard centers on the design and development of robotic insects, robots inspired by the biology of other creatures. "Our lab models much of our work off of organisms and structures that already exist in nature. Why try to recreate the wheel when you can look at something that works amazingly (which so many things in nature already do) and mimic it to obtain good results," Dani explains. "Plus, it's fun to work with bugs and try to learn from them!"
Taking their cue from nature, Dani explains that research teams in the lab are working on both flapping-wing and ambulatory microrobots—bugs that fly and bugs that crawl. Both approaches to mobilizing a robot have different challenges. "Because both types are on extremely small scales (about the size of a quarter or smaller), mass is a huge issue," says Dani.
"Ambulatory robots need to remain light so that their transmissions are able to provide enough force for the robot's legs to lift the body's mass," explains Dani. "Flapping-wing robots need to remain even lighter so that they are still able to fly. This makes it difficult to put power supplies on board (batteries are heavy!)." Flapping-wing robots also present challenges for navigation and orientation systems, notes Dani. Flying bots have "lots of complicated control and sensor challenges because the robot needs to know its orientation in air so that it can continue flying under control."
Though cockroaches are not her thing, Dani has been working on a current version of the Harvard Ambulatory MicroRobot (HAMR) that models the design of a cockroach and is about the size of a quarter. Having worked on both ambulatory and flapping-wing robotics projects, Dani says she especially enjoys exploring the kinds of design issues and questions raised by ambulatory robots.
"I think I prefer ambulatory robots because I'm not particularly interested in fluid dynamics or control, which is what a lot of the work on flapping robots is. Rather, I like thinking about the dynamics and locomotion of ambulatory robots. For example, how does the leg gait affect how the robot moves, what kind of leg designs will allow the robot to climb walls, will changing leg materials increase speed?"
In addition to tackling challenges related to the physics and engineering of ambulatory microrobots, Dani says size is always an added variable and consideration. "It is hard to put things in the right place at that scale!"
The size may make building these robots a challenge, but it also makes things interesting when it comes to keeping track of them. With robots the size of a coin, it seems inevitable that they might wander or scuttle away, out of sight, or under something, never to be found again. But Dani says it hasn't happened. "Fortunately we have not lost any bots so far! It can be difficult though," she admits. But what do engineers do when things are difficult? They find solutions!
"With the ambulatory robots I'm currently working on, we put up little 'guard-rails' on the table that it walks on for experiments to make sure that it doesn't run off," explains Dani. "We also are pretty careful about keeping track of the robots when we are done using them and putting them in the drawer we keep them in."
To further help them keep track, Dani says the engineers give the robots names. "Currently we have Elle, Manny, and Actin."
Once they have a name, they are less likely to get overlooked during a daily robot roll call!



Supporting Student Interest in Engineering, Robotics, and Computer Science
February 16-24, 2014 is Engineers Week, and February 20 is Girl Day (formerly "Introduce a Girl to Engineering Day").
Help excite your students—male and female—about engineering and introduce them to what engineering means and what engineers do. Students like Dani are quick to credit the support of teachers, family, and programs that help enable student exploration. The following resources contain ideas, projects, and links that can help kickstart student interest and exploration—you don't have to be an engineer, a programmer, or a robot designer to help your students pursue their own interest!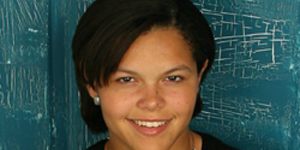 ---
February brings us both Valentine's Day and heart awareness month. That's two great reasons to take a closer look at the hard-working muscle thump-thump-thumping in your chest!
By Kim Mullin

Matters of the Heart
While Valentine's Day might have you thinking about hearts of the sweet variety, there are many interesting reasons to learn about the science of your own heart. We've gathered a few ideas below to get you started.
Ending on a Sweet Note
Because chocolate and Valentine's Day go hand-in-hand, here are two projects related to the science of sweets:

Show Your Heart Some Love
Your heart is an amazing part of your body, so keep it healthy by exercising, eating right, and not smoking. It will pay off in spades!
---
---
A car museum turned into a tragic no parking zone this week when a sinkhole opened up, wiping out a fleet of prized automobiles. Sinkholes apparently have no regard for the caliber of car or building that may be sitting on the surface, but what happens below the surface to account for sudden and catastrophic openings? With hands-on science projects sponsored by Chevron, students can experiment to learn more.
If you are a car aficionado, headline news today about the fate of eight cars in the National Corvette Museum in KY might make you cringe. A sinkhole appeared in part of the museum, reportedly swallowing a set of corvettes whole. Among the cars lost when the floor disappeared: a 1993 ZR-1 Spyder and a 1962 Black Corvette.
Whether you mourn the loss of the cars or not, sinkholes are scary. They are scary because they seemingly appear out of nowhere. The sinkhole that created an instant no-parking area at the museum is reportedly 40 feet wide and approximately 25 to 30 feet deep. What causes a section of ground cavernous enough to simply eat whatever was sitting on top of it to suddenly open up?

Sinkhole Geology
Sinkholes can be triggered by a number of different geologic processes, movements and reactions that are often unpredictable, unavoidable, invisible, and disastrous. In some cases, the reactions take years of time; in other cases, extreme conditions can create rapid change. As this video explains, earthquakes can trigger seemingly instantaneous sinkholes by causing temporary liquefaction of water-logged loose soil.
Liquefaction is one way a sinkhole may form, but other geologic processes contribute to and are responsible for sinkhole phenomena.
In the case of the missing corvettes, limestone may have something to do with what happened to the ground floor of the museum.

The Power of Water
Over time, the pH of water that runs over rocks can destabilize the structure of an area. We know that rocks are gradually eroded by many natural processes, but under certain conditions—and in the presence of specific kinds of liquids—some rocks actually dissolve and, ultimately, disappear. It may seem hard to believe that rocks that are big and hard can be conquered by simple, flowing liquids, but in the case of certain sedimentary rocks, that is exactly what happens.
Over time, or in the case of prolonged or extreme precipitation and flooding, water can build up in soil systems. In other cases, rocks are located in a place that receives frequent or periodic water. If the water is acidic, it may begin to destabilize the structure of rocks that contain carbonate compounds, rocks like limestone. The dissolution of rocks due to the pH of water can cause changes in the topography of an area, including sinkholes. (These changes are referred to as karst topography.)
Sinkholes may take years to silently form, or, they may appear suddenly, swallowing buildings, houses, trees—or even corvettes.
Note: Sinkholes propelled by pressure and resulting liquefaction may solidify again, cementing structures in the ground where they've been half-swallowed. Sinkholes created by erosion or dissolution of rock, on the other hand, won't suddenly seal back up as if the hole never happened. The hole becomes a new part of the topography of the landscape.

Making Connections
The corvette museum in Bowling Green, KY, is about thirty miles from the opening of Mammoth Cave, a system of more than 300 miles of mapped underground cave passages—caves full of limestone. The area surrounding Mammoth Cave is littered with visible sinkhole depressions and is referred to as the Sinkhole plain.
Students curious about sinkholes can experiment on a small-scale basis using the "Now You See It, Now You Don't! How Acidic Waters Make Rocks Disappear" Project Idea. In the project, students learn more about the ways in which acidic water conditions may appear and conduct a hands-on test to observe the impact of vinegar on limestone over time.
Students can explore related science in the "Factors that Affect the Transfer of Force through Saturated Soil" project.
---
---
Later this week, amazing athletes from around the world will converge on Sochi, Russia for the 22nd Olympic Winter Games. Beyond practice and determination, what affects a gold-medalist's performance? The answer is simple—lots and lots of science.
By Kim Mullin
2014 Olympic Winter Games
in Sochi, Russia, February 7-23.
Olympic athletes dedicate countless hours to perfecting their skills and building their strength. By the time they make it to the Olympic games, you might say that they've got their craft down to a science! The truth is, scientific principles are behind all of the jumping, spinning, shooting, and sliding that they do.

Competition on Ice and Snow = Speed
As you watch the Olympics, expect to see hockey pucks flying over the ice at close to 100 mph, downhill skiers travelling 80+ mph, and bobsledders flying down their icy tracks much faster than we are allowed to drive on the freeway! Where does all of this speed come from? In part, it is due to the loss of friction we experience when we find ourselves on ice, or on snow with the right equipment. If you have ever slipped on a patch of ice (ouch!) or tried out a sled (wheeee!), you have experienced this loss of friction firsthand.

Spinning and Sliding and Jumping, Oh My!
But there is more to the Olympics than speed. The various games involve balance, aerodynamics, gravity, and many other ideas that you might hear about in a science classroom. While we can't all be Olympic athletes, we certainly can explore some of the forces that affect an athlete's performance. Here are a few ideas to get you started:
Where Science and Athletics Intersect
The Olympics offer a fun opportunity to cheer on amazing athletes. And as you enjoy the games, remember that from the physics of athletic performance to the materials science involved in creating and improving helmets, sleds, and aerodynamic suits, science is everywhere at the Olympics!
---
If you were watching the Super Bowl on Sunday with an eye especially tuned to the ads, you were not alone. Super Bowl Sunday is big business for advertisers. Chips. Beverages. Condiments. Cars. More cars. You might see ads for all of these in 30-90 second spots between turnovers. But this year, you also saw the promise and potential of a future generation of girl engineers.
As a result of the "Small Business Big Game" contest sponsored by Intuit, GoldieBlox won an all-paid ticket this year to Super Bowl advertising history. The fledgling, Kickstarter-backed company scored big on Sunday as the first small business to have airtime during the Super Bowl. With a hefty price tag for a few seconds of face time with the millions of eyeballs glued to the set throughout the game and during the half-time show, Super Bowl Sunday tends to be an all-pro game. Like the Goldilocks character the company's name brings to mind, GoldieBlox got a chance yesterday to try out the big field and maybe make a game-changing play for girls and science, technology, engineering, and math (STEM).
"Construction toys get kids interested in math and science and help develop spatial skills," says Debbie Sterling, founder and CEO of GoldieBlox. "We don't have a national shortage of princesses," she continues, countering that "only 11% of engineers in the U.S. are women, and this is a problem." To tackle this shortage and the gender imbalance in STEM fields, and to make engineering something that isn't automatically perceived as a boy's club, GoldieBlox is setting out to show that girls are "more" than just princess material—and that princesses can, absolutely, be engineers.

Making the Play
Helping feed and enable girls' interest in engineering, the GoldieBlox line of integrated engineering and storytelling products
aims to inject the princess aisle in the toy store with a much-needed boost of STEM. But GoldieBlox's Super Bowl ad didn't really focus on their product. The girls in the ad are not sitting around after having a miniature tea party with a bunch of stuffed animals and building pastel-colored dioramas or dollhouse furniture. Instead, to the beat of a Quiet Riot parody, the girls build a rocket and blast a bunch of their "girly" toys (including a bunch of stuffed animals) to space (or at least "out of the park").
The thirty-second ad is largely conceptual, but the engineering is there, as are the GoldieBlox components. To get a toy rocking horse out of an upstairs window, a few girls use an ingenious pulley system. Take a closer look. Pause the video at about three seconds. What do you see? The girls have rigged a purple bicycle as part of their system. Next up, girls attach a skateboard to a bike to help them move an oversized dollhouse as they run and ride to the rendezvous point with masses of other girls (all with their own toys) singing "Come on ditch your toys. Girls make some noise. More than pink, pink, pink, we want to think."
In the final seconds of the ad, the rocket is blasted into space by a girl who, from a safe distance away (smart!), uses a plunger-style mechanism built from GoldieBlox elements to initiate liftoff. It's a great, if fleeting, integration of the product in the commercial.
What's going on between the lines of the ad? The girls' parody of Quiet Riot's lyrics help spell it out, but you don't have to look far into the commercial to realize there are no adults on hand helping pull off this goodbye party, rocket building, and launch. You don't have to dig too deep to see what they are putting on that rocket and casting aside. These girls combined mechanical and engineering skills with innovation and creativity to make a bold statement about what they are being "given" and what they "want."

Another Classic GoldieBlox Video
A GoldieBlox video last year used a parody of a Beastie Boys song as backtrack for a group of girls who, bored with the TV lineup and a room of pink toys, design, build, and activate an amazing Rube Goldberg contraption. The video has since been edited to remove the backtrack, but even without a modern spin on the Beastie Boys' "Girls," the video is a compelling look at the issue of toys and entertainment marketed to girls, and the ways in which engineering is presented (or not) for girls starting at a young age.

Engineering for Fun
A Rube Goldberg machine is a machine that is designed to do a simple task, but it does so through a series of complicated, interrelated, and interdependent movements and exchanges between ordinary objects. The classic Mouse Trap game is a familiar example of a very simple (and contained) Rube Goldberg-style machine. This Wikipedia description of the "mouse trap" in the game walks through the steps of the chain reaction. If all goes as planned,

"the player turns the crank, which rotates a vertical gear, connected to a horizontal gear. As that gear turns, it pushes an elastic-loaded lever until it snaps back in place, hitting a swinging boot. This causes the boot to kick over a bucket, sending a marble down a zig-zagging incline (the "rickety stairs") which feeds into a chute. This leads the marble to hit a vertical pole, at the top of which is an open hand, palm-up, which is supporting [another marble]. The movement of the pole knocks the ball free to fall through a hole in its platform into a bathtub, and then through a hole in the tub onto one end of a seesaw. This launches a diver on the other end into a tub which is on the same base as the barbed pole supporting the mouse cage. The movement of the tub shakes the cage free from the top of the pole and allows it to fall."
If everything works correctly, if the contraption is set right and operates without any unexpected hiccups or misfires, the mouse is trapped in the cage, and the player who triggered the "mouse trap" machine wins. In the GoldieBlox video, the girls start out staring at a swathe of pink programming on TV. Frustrated, they get out their tools, and they take care of business. They create a machine to turn off the TV. They don't just get up, walk the few feet to the TV, and press the knob. Instead, they turn their "need" into an opportunity to innovate, engineer, build, and have fun.

Put it in Action
If you saw Sunday's GoldieBlox ad—with or without your kids—and you got inspired about girls and engineering, then it's time to get creative! As the earlier video shows, there is a lot of brilliant engineering at play in a fun and unexpected Rube Goldberg machine built from ordinary materials. Build a machine with your kids? Or suggest that they design one? Exactly!
A Rube Goldberg design can be amazingly complex in design, timing, and detail, but it is a simple machine made of many individual parts. Watching one play out can be inspiring and exciting, but can you and your kids make one? You and your students? You? Yes!
To learn more about the engineering and science involved in a Rube Goldberg design, check the following projects:

The above projects won't walk you through setting up a specific Rube Goldberg machine, but they do, taken together, offer insight into the toolbox of engineering and science principles needed to design a successful, jaw-dropping, high-five-worthy chain reaction. The more you know about simple machines, gears, torque, trajectory, force, potential and kinetic energy, gravity, pull-back and launch angles, velocity, and motion, the better you will be able to design, troubleshoot, and engineer your contraption.

To get started, figure out what you want to accomplish, and then start scavenging materials from around the house (be sure to check the toy box and the junk drawer). Pool together as many items as you can that might help you move your chain reaction from start to end point. Then start hooking them together in a series of reactions.
We would love to see what you come up with!

More Girls and STEM from the Science Buddies Blog

Stay tuned! Introduce a Girl to Engineering day is coming up, February 20, 2014, part of DiscoverE's Engineers Week.
---
---