Science Buddies Blog: May 2014 Archives
---
Twins Nick and Tesla launch a homemade rocket right into the heart of an unexpected mystery in book one of this fun science and engineering-themed series for middle readers. Sent to stay with an uncle for the summer, the kids quickly find their DIY spirit and engineering wits are going to be key tools in helping unravel what's going on—and keeping them safe from the jaws of some very unfriendly guard dogs!


When a book for readers in grades 4-7 starts out with a Danger! Danger! Danger! Danger! warning page, you know something is up. Four all-caps danger alerts on an all-black page can only mean that turning the page can not be a good thing, right? Of course not! For kids who pick up the first Nick and Tesla book by Bob Pflugfelder and Steve Hockensmith (Quirk Books), the introductory danger warning probably ups the ante tenfold in terms of anticipation of the story and projects that follow. Lucky for them, the story lives up to the ominous warnings, providing a fast-paced tale of intrigue, engineering, danger, and zany science. The plot may not be entirely believable, but the combination of exciting elements and innovative DIY projects in action yields a guaranteed pager turner.

Thumbs Up for Science and Engineering
When you meet Nick and Tesla in the opening pages of Nick and Tesla's High-Voltage Danger Lab: A Mystery with Electromagnets, Burglar Alarms, and Other Gadgets You Can Build Yourself
(book 1 in the Nick and Tesla series), the 11-year-old twins have just landed in California and are on their way to stay with an uncle they barely know because their parents have suddenly been whisked away to work on an urgent science project (studying soybean irrigation) in Uzbekistan. Readers get their first glimpse of the twins through the eyes of a taxi driver who thinks something about the pair signals trouble. He notices that one of them is holding A Brief History of Time and one is holding Theory of Applied Robotics: Kinematics, Dynamics, and Control. He notices the black SUV that follows them from the airport to Half Moon Bay. He senses that these are no ordinary kids. Even so, he drops them off at a house where an automated lawn mower contraption is running amuck, and the first Nick and Tesla adventure begins.
These kids may have gotten ditched by their parents for the summer (the details remain mysteriously murky), but they have clearly landed in a wonderland of science and engineering, the kind of no rules, no parents, and junk food galore summer break scenario of which some kids dream—with a fully stocked science lab and workshop at their disposal. The doorbell at their Uncle's house chimes before they touch it, and although they debate about the possibility of a motion detector, they poke around and track down a pressure sensor plate. As they walk into Uncle Nick's house, they enter a world of chaos, something that sounds like an engineering junkyard, science lab, Petri dish, and compost bin combined, all guarded by a cat that has clearly licked the icing off of their "welcome" cake.
The zany scene only gets crazier when they hear someone calling for help and go to the basement lab to discover their uncle is trapped in a blob of orange goo—a spray on clothing experiment that still has a few kinks to be worked out.

Nick and Tesla's first project in the book is the Low-tech Bottle Rocket and Launcher from PVC Pipe. This one may just be a boredom buster for the twins, but it effectively launches them right smack in the middle of intrigue. The nice thing about the projects is that these are not simply paper plate projects. These are DIY projects that have a bit of oomph to them, and while there are some ordinary materials in the mix, readers will need some specialty parts (and possibly a trip to the hardware store) to complete some of them. Even so, with a bit of adult assistance, these projects feel "doable" by kids. The projects are also nicely woven into the story. When the PVC pipe rocket flies over the fence, and their initial attempts to retrieve it are foiled by a pair of dogs, the pair whips up a RoboCat Dog Distractor, a clever adaptation (on wheels) of the classic Mentos/Coke reaction.
With the stage set, the story continues to unfold as the kids work to solve the mystery of the abandoned house, the ghostlike girl, and a lost pendant. They spout Occam's razor even as they design their Christmas-is-over Intruder Alert System for peace of mind. And in the end, when they really are stuck exactly where they should not be, with seemingly no way out, their resourcefulness again pays off as they scrounge together the parts for the Do-it-yourself Electromagnet and Picker-upper and put it to surprising but good use as part of a last-ditch escape plan.
As the book wraps up, all the kids safe and sound and plenty of food in the house, you know that summer has just started.... Stay tuned for our in-depth look at book two! If you can't wait, check out Nick and Tesla's Robot Army Rampage: A Mystery with Hoverbots, Bristle Bots, and Other Robots You Can Build Yourself,
Nick and Tesla's Secret Agent Gadget Battle,
and Nick and Tesla's Super-Cyborg Gadget Glove: A Mystery with a Blinking, Beeping, Voice-Recording Gadget Glove You Can Build Yourself
(coming this fall).

Highlight on a Good Read
For the parent reader, the story verges into the lane of far-fetched, especially when the kids decide to trail the pseudo-construction workers' van. The gizmo they use, however, is undeniably nifty. Nick and Tesla set up a low-tech Semi-invisible Nighttime Van Tracker using a highlighter and a black light. Though you don't want to think of kids trying to follow bad guys with a contraption like this (much less on bikes and at night), the concept of the tracker is cool. This is certainly a simple and low-tech project the kids might try at home for other reasons. (You can see the project, and others from the book, in action in Bob Pflugfelder's videos on the Nick and Tesla site.)

More Summer Science Reading
If you have a favorite science-themed book—for any age—let us know!

Update: See our in-depth look at book 2, Nick and Tesla's Robot Army Rampage: A Mystery with Hoverbots, Bristle Bots, and Other Robots You Can Build Yourself, and book 3, Nick and Tesla's Secret Agent Gadget Battle!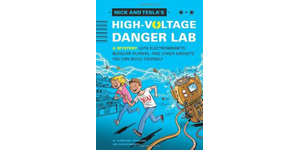 ---

To investigate the science question above regarding quantities of Vitamin C in different kinds of juices or drinks, see the following resources and projects:
For other Science Buddies Project Ideas involving titration, see:


(Note: The projects above can be done using the Orange Juice titration kit from the Science Buddies Store.)
---
For this year's Pritzker Prize winner, cardboard and paper have proven to be key materials in designing disaster relief housing. Examples of Shigeru Ban's work force a reconsideration of design, materials science, and civil engineering. Can using recyclable materials make a cost-effective and sustainable difference in the way architecture is approached? With cardboard tubes, paper, straws, and other everyday materials, students can experiment with principles on a small scale that the award-winning architect uses in humanitarian structures around the world.
Architecture is a science
and
an art form, a field in which form and function meet at a point where materials are turned into buildings and structures that may be used for business, housing, or social gathering. Throughout history, there have been chains of evolution in architectural style and tradition, approaches to design that often mirror trends in society. But when you think about architecture today, you probably think about big buildings, skyscrapers, and towers that create skylines in some of the world's most well-known cities. You may also think of unusual examples of architecture, like the circular Guggenheim Museum in New York, Lloyds Building in London (often called the "Inside-Out Building"), Sydney Opera House in Australia (a series of interlocking shells), or a Frank Lloyd Wright building like Fallingwater, which appears to grow out of a hillside and sits atop a waterfall.

Unique examples of architecture may make headlines, and city skylines make postcards, but even when it comes to everyday construction—ordinary houses—buildings usually involve strong materials, materials designed for permanence. These materials are often costly, and construction may be time consuming.
But what exactly is a strong material? If a typhoon blows through, will the structure withstand the force? What happens to a "strong" material during an earthquake? If the material doesn't hold up, what options are there for fast, inexpensive solutions for residents displaced by disaster?

Strong as Paper?
Out of what materials is your own house built? Depending on where you live and what unique properties architects and civil engineers have to take into account in your area (like the risk of earthquake, climate, or the composition of the ground), your house might have a framework of wood, steel, or concrete. The structure and walls of your house are likely made from materials expected to stand up to environmental factors over time.
What about a house made out of cardboard?
The idea may sound surprising, but for Japanese architect Shigeru Ban cardboard is not only a viable building material but a material he has used in dozens of buildings designed to provide relief housing for victims of natural disaster.
Ban was recently awarded the 2014 Pritzker Prize, one of the most prestigious prizes given each year in architecture. Ban has a history in commercial architecture, but in recent years, he has donated his skills to helping design and build structures in disaster zones. Most notable about his volunteer work on behalf of disaster victims is that his buildings are made primarily using recyclable materials.
Cardboard may seem incongruous to building in an area where natural forces have destroyed permanent housing, but Ban has shown, around the world, that materials like shipping containers and paper can be used to create fast, low-cost temporary housing and social structures that are sound, protective, and can be erected quickly.

A Paper-based Approach
It is hard not to be awed and inspired by images of Ban's designs (like the ones shown above). Repeatedly, his work shows ingenuity in design and materials that tackles a problem (the need for a certain structure) with a simple, recyclable solution.
After the 2008 Sichuan Earthquake, Ban designed temporary classrooms, a "paper nursery school," that volunteers were able to quickly build from cardboard tubes. In Rwanda, in 1999, he designed paper refugee shelters. In Italy, after the 2009 L'Aquila earthquake, Ban designed a concert hall from a combination of materials, including cardboard, a social structure designed to pay tribute to the musical heritage of L'Aquila and to rekindle the spirit of residents. In both Turkey and Japan, Ban designed paper log housing. Ban's Japanese Pavilion (built for an Expo, not in the wake of disaster), was created from paper tubes. The structure took three weeks to build from thousands of paper tubes and spanned more than 236 feet across and 50 feet high.
In some cases, Ban's structures are designed to be able to be taken down and rebuilt, as needed. In other cases, Ban's designs become a lasting part of the community. The Cardboard Cathedral he designed after the 2011 earthquake in Christchurch, New Zealand, for example, was initially envisioned as a temporary replacement structure, but before construction began, plans changed. The beautiful cardboard, steel, and glass A-frame church is immediately recognizable as a place of worship, despite the fact that the roof is constructed from cardboard tubes.
Unexpected Materials
So, why paper? And "how" paper?
In an interview with CNN after the Pritzker Prize was announced, reporter William Lee Adams asked Ban about his use of paper. "The strength and durability of a building has nothing to do with the material," Ban told Adams. "Even a building built in concrete can be destroyed very easily. There can be a permanent building made out of cardboard tubes."

Beyond Card Houses
Students intrigued by Ban's work, by architecture, or by the ways in which Ban's design approach contributes to disaster relief solutions around the world can explore design and engineering concepts in civil engineering and materials science project ideas like these:

To see more examples of Ban's architecture, visit: http://www.shigerubanarchitects.com/works.html
---
Ready or not... into the summer break we go. With school (almost) out for the summer, take stock of some great science activities and challenges that are perfect to help keep kids engaged and actively learning during the break. Science may be even more fun when it is "just for fun"!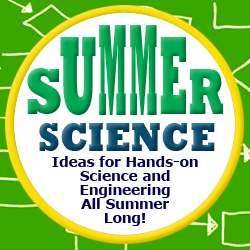 The long summer break can feel bittersweet for parents who worry about their students whiling away countless hours on the couch or in front of a screen and losing academic ground. Beyond the buzz of vacations and camps, and after the novelty of sleeping in and staying up late wears off, the summer sprawl can even begin to feel, at some point, a bit amorphous for students. There are a lot of hours to fill!
Luckily, there are loads of engaging science and engineering activities that can be done at home for fun or as independent summer projects and can tie in with other summer pastimes and hobbies.

Great Science on the Schedule
Every year, we pull together suggestions for summer science activities and experiments. Our roundup lists from the last two years contain many wonderful suggestions for projects kids can do during the summer and ways parents can inject a bit of science into summer planning.
This year, we will be unveiling a new area of Science Buddies in June that will be a great resource for family summer science—and family science all year long! But there are lots of projects at Science Buddies that students can enjoy even when they don't need to do a "science fair project" or complete a science project assignment.
As you look ahead to summer, remember, doing science doesn't have to be for school! You and your kids can earn an A++ this summer by exploring science and engineering at home.
Here are some of our picks for this summer:

More Great Choices for Science at Home
Don't miss these other roundup lists of great "what to do over the break" science, technology, engineering, and math projects as well: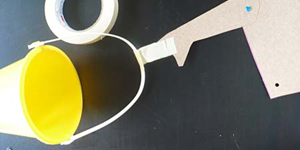 ---
---
Joints give paper dolls added life and let little fingers manipulate characters as they play out their roles in an imaginative storyline. But joints also add potential hot spots for damage. A plastic toy figurine may lose its arm, head, or hair, but the life of a paper doll may be even more short-lived! A new hands-on science activity helps kids experiment with paper dolls by putting the durability of certain design and materials choices to the test. Once the best approach is scientifically determined, kids can make and decorate a paper doll with greater understanding of how the materials affect how well the doll will last.

Choose Your Own Character
Paper dolls are a low-tech, inexpensive, and open-ended activity at home. With a bit of paper, some coloring tools, and imagination, kids can turn any character into a paper doll. You can find examples, templates, and inspiration online for all kinds of exciting paper dolls, from ninjas, robots, and fairies to dragons, pirates, and mermaids. The possibilities are endless, but not all paper dolls are constructed the same and, as the saying goes, not all paper dolls are made equal.

Choose Your Materials and Design
Some paper dolls are made from single pieces of paper. These dolls sometimes are designed to fit into a stand, and kids make costumes and wardrobes that can be attached using tabs, tape, buttons, or bits of Velcro. Other paper dolls kick construction up a notch and are articulated or jointed. These dolls may only have one set of clothing, but they contain moving parts like arms and legs. The number of moving parts may vary. You can certainly find paper doll creations with numerous jointed parts, but you can also make a basic articulated paper doll that only has movable arms and legs.
Articulated paper dolls offer more flexibility for positioning the doll during storytelling or play, but having multiple moving parts also makes the dolls subject to different kinds of wear and tear.

Testing Paper Doll Construction
In a new materials science project at Science Buddies, students (and families) can turn paper doll-making into a hands-on science project. There are a number of ways that the joints of an articulated paper doll may be assembled. Do the various approaches to constructing a paper doll affect how well the doll will last? How much wear and tear can the joints take? In addition to articulation, there are a number of other design options that may make a difference in how well a doll lasts or how durable it is.
The Get Crafty—Create Your Own Durable Paper Doll project focuses on the issue of articulated joints and explores two design options, the weight of the paper you use for the doll and what you use to attach the arms. The project guides students in doing a quantitative test of the various combinations to see which is strongest (or which can support the most weight before an arm is ripped off the doll). This quantitative approach helps students see the value in doing an assessment that can be measured rather than just doing a subjective assessment. After doing a scientific experiment with dolls made from two kinds of paper and with joints attached using two different methods, students will be able to see from their data which approach was most durable.

Making Connections
A hands-on project like this can be used to talk with kids about design, engineering, materials science, and the value of scientific product design and construction testing. Even when it comes to toys, science can be used to explore what works and what doesn't work and to come up with solutions and improvements that will lead to longer-lasting toys—and happier kids!
---
Assembling a simple wooden train and track with cleverly placed magnetic strips lets kids experiment with a train that levitates off the track and zips effortlessly from one end to the other when pushed. What happens when you add a bit of weight? Put the science question to the test in this fun hands-on science activity and experiment.
The allure of a magic trick is something pretty cool to most kids. The quarter pulled from behind the ear. It's a classic sleight of hand passed down by generations. The finger that appears to be separated into two parts at the knuckle, able to be slid side to side. (That one has been used to gross out and entertain plenty of kids.) Card tricks. Bunnies from hats. People that vanish from a cube. Magic appeals to us on some level where suspension of disbelief wars with our intellect, our logic, and our puzzle-solving skills. Part of enjoying a trick may, in fact, be trying to figure out how it was done, how it is possible, what really accounts for what we saw, and how to do it ourselves!
That science is full of everyday things that seem magical is a cool twist on sleight of hand and illusion. The more you understand science, the more you can explain what is going on in a process that seems "magical."
In the Harry Potter books, the train that transported the kids to and from school each year involved walking right through a wall to reach the 9 3/4 platform at King's Cross Station. That's a special kind of magic—the fantasy kind. Science can't explain it. The train on the other side of the wall, the shiny red Hogwarts Express, appears to be fairly normal, a fast-moving steam locomotive on tracks.
But there are other real-world kinds of trains that may seem to have a bit of magic to them. Maglev trains are ones that seem to hover or float above a track rather than rolling across it. Maglev trains may look similar to monorail trains, but a maglev train specifically levitates and is powered by electromagnetic forces. Plus, a maglev train doesn't have wheels!
It may look like magic, but it isn't. A maglev train is lifted by the way magnetic fields positioned a certain way repel one another. As the fields push away from each other, the train lifts off of the track and floats above the rail. Because it floats, when the train moves, there is no friction of train wheels against train tracks, so a Maglev train can go faster than a traditional train that rolls on wheels. There are still air forces (like drag) to take into account, but some maglev trains are capable of speeds greater than 300 mph.

Bringing the Magic Home
Studying magnets and magnetism is often exciting for elementary students. The way magnetic fields can be oriented to repel or attract one another can provide lots of entertainment value as students explore magnetism and learn more about how magnets work. You can extend magnetism discussions with a wide range of hands-on science projects and activities that can be done at home or at school. From testing the strength of an electromagnet to building a simple motor, students can explore magnetism with projects that remove the "magic" but still have plenty of "wow" factor.
For a different spin on magnetism, building a simple Maglev train is a fun way to couple a creative project with a science activity. The Magic Bullet Train kit, available in the Science Buddies Store, is a great way to get kids talking about and actively exploring magnetism and the real-world application of magnetic fields in levitating trains. Two generic magnets on a table may push away from one another, but they probably don't move far. That the same principle can be used to lift a train is pretty cool science!
Using the do-it-yourself maglev train kit, students first make their own bullet train by sanding down and painting a wooden block that will be the "train" in the experiment. How far you go with this step is up to you and your kids. It isn't easy to sand the rectangular block into something that really looks like a bullet, but spending time sanding, shaping, and then painting, decorating, and personalizing the train is part of the fun of the project! Just be sure that you don't sand the "bottom" of the train. You want to leave the bottom edge untouched.

All Aboard for Magnetic Science!
When using the Magic Bullet Train kit as a family science activity, the "building" of the train is the bulk of the activity. The small directions booklet that comes with the train kit walks you step by step through assembling the wooden rail system, adding the magnetic strips, and attaching the girders to your painted wooden train. Be careful during assembly to line things up as shown, to adhere the magnetic strips on the proper sides of the wooden rails and train, and to attach the girders as low to the bottom of the train as you can to ensure the train hovers as high as possible above the wooden rail.
Unlike a real-world maglev train, the wooden train kit relies on the standard magnetic field between the magnetic strips. There is no electromagnetism adding to the field, so don't be surprised if the train doesn't hover as high as you expect—or does not seem to hover the first time. It can take some fiddling with the placement of the girders to ensure the train hovers properly. But once you get things set up properly, a simple push of the train sends it gliding smoothly across the track. Your kids will see and feel the lack of track friction as the train glides across!
It looks like magic!
Having built the system, your young engineers will be in on the trick and able to explain how the magnetic strips work hold the train off the track. You can talk, too, about the design of the train and what holds the train "on" the track and why certain aspects of the train's design are important so that it won't fall off—design factors that help prevent accidents.
Because of the small size of the experiment and the limited number of parts (just the train and the track, once assembled), this is a great science experiment to take to school and show off. Check with your teacher first, but chances are that a small demonstration of magnetism in the form of a maglev train will be welcome and can be squeezed in during some part of the day.
Building the train is a great hands-on experiment in and of itself, but if there is a science fair assignment on hand, a student can use the train kit as the basis for a full science investigation. The The Amazing Floating Train: How Much Weight Can a Maglev Train Hold? project at Science Buddies guides students in an exploration of the relationship between weight and a maglev train's ability to levitate. It makes sense that a floating train will have maximum weight limits. But what happens when those limits are exceeded? In the The Amazing Floating Train science project, students put it to the test with their own maglev train and plastic cups filled with varying amounts of water.
You might find other ways to vary the project, too. Could you experiment with stronger magnetic strips? What would happen if you did? The "Make It Your Own" tab also contains a challenge to student engineers—install a magnetic "brake" system at the end of the track!
---
---
Sometimes it only takes a tiny spark, a chance meeting, or, maybe, running into an unknown word to ignite an interest that may guide a student into the future. With a string of astronomy science projects and a passion for the night sky that well exceeds the scope of her small telescope, this young scientist shows that elementary school is not too young for astrophysics.

Diving In to Astrophysics
Demonstrating the same passion and diligence she does for other areas of interest, Ashleigh began pursuing astroscience, first through the works of Dr. Tyson. "The first book by Dr. Tyson that I read was The Sky Is Not the Limit.
I loved that book and thought it was so cool to read about his journey," says Ashleigh. She followed that one with Space Chronicles
and then The Pluto Files
.
Later that year she saw Dr. Tyson speak at the University of North Carolina in Chapel Hill, Ashleigh, still in the 3rd grade, had all three books with her to be signed. Her autographed copies are prized possessions and tangible reminders of an inspiring event, one that further fueled her interest in space science. "It was such an exciting night," recalls Ashleigh whose mom had managed second-row seats for the lecture. "The best part was that I got to ask Dr. Tyson the last question of the night. I asked, 'What is your favorite thing about being an astrophysicist?' Dr. Tyson came over to my side of the stage and sat down right in front of me to answer my question. He said he was 9 years old when he first visited a Planetarium.... just like me!!"
Thanks to the school spelling bee, a whole new world of possibility had opened up before Ashleigh, galaxies, solar systems, black holes, and all kinds of questions about physics and astronomy.

The School Science Fair
In the 3rd grade, Ashleigh channeled her new interest in astronomy into her school science project. Her class had done a project on the phases of the moon, which she enjoyed, and she has a small telescope she uses to look at craters on the moon. Everything was in alignment when she started thinking about her science fair project. "It was easy to come up with an idea because I had been reading so much about space. I knew I wanted to do something about the moon. I started searching for ideas and found the Craters and Meteorites project at Science Buddies."
Using the Science Buddies procedure as a starting point, Ashleigh conducted her experiment, which she titled "Bouncy Ball vs The Moon." With her study of the relationship between the mass of a meteorite and the resulting size of a crater, Ashleigh won her school science fair and moved on to both the regional and state science fairs. "I think I talked the judges' ears off at Regional and State...I had read so much about space and loved talking about it!"
The next year, for her 4th grade science project, Ashleigh drew upon one of the books she had read for inspiration. "After reading Dr. Tyson's book, Space Chronicles, I knew I wanted to do a project on Apophis, but how and what would I do? I kept thinking about the prediction that the asteroid would land in the Pacific Ocean in 2036," says Ashleigh. "I thought about this project for a long time, and then it just hit me... would it matter if the asteroid landed in deep water versus shallow water?"
With this burst of scientific insight, Ashleigh had a science question and needed a way to put it to the test. Sometimes, translating astronomy questions into hands-on, testable science projects is difficult because the subjects are not physically accessible. You can't always simply take a space-oriented question into a typical lab and put it to the test.
Ashleigh took an innovative approach. "I went to Science Buddies once again and found the Tsunami project. The Project Idea was perfect, and I was able to make it my own project about an asteroid!"
Adapting the ocean sciences project about water depth and tsunami wave velocity to a hypothetical study about an asteroid landing in the ocean, Ashleigh conducted her "Earth vs Apophis" experiment. Again, the young astrophysicist found science fair success. Ashleigh took her experiment all the way to the state competition again, where she received the "Young Scientist" award.

Fifth Grade Science
With two successful school science fair projects behind her, Ashleigh moved on to fifth grade (this year). She again wanted to focus on space, and she was hoping to return to the state fair. As a more advanced student, however, finding ways to turn astronomy questions into grade-appropriate hands-on experimental tests becomes more difficult. Advanced astronomy projects are often data-driven, involving publicly available datasets that allow students to study and analyze historical astronomy data. To meet her school fair requirements, Ashleigh needed a project with a concrete experimental component.
"I had a lot of trouble deciding on a project this year," says Ashleigh. "I had read a lot about Juno and its mission to Jupiter and had also read a lot about Cassini." Because of her involvement in her school's Science Olympiad and the Sky Quest event, Ashleigh's interest in space had broadened to encompass more than the natural galactic objects. "Because of Science Olympiad, I became interested in man-made satellites and what they are discovering," says Ashleigh. "Juno is fascinating because it will operate under solar power."
With her interest in Juno and Cassini brewing, Ashleigh went to see the movie Gravity. "I loved Gravity! I saw it the first night it was in the theaters, and I saw it in IMAX 3D! I thought it was a good representation, but I did notice that Sandra Bullock's hair did not stand up like most of the astronauts do on the Space Station! I knew after I saw the movie that doing an experiment on gravity was what I wanted for sure!"
According to Ashleigh, everything fell into place after that. She designed a project to explore the relationship between the speed of a satellite required to orbit a planet and the planet's gravitational pull. Once again, Ashleigh returned to Science Buddies, this time for guidance on steps of the scientific method.
After her school science fair, Ashleigh advanced to the regional competition with her "Juno vs Cassini" project. There, she received an honorable mention but did not move on to state. Though disappointed by her results, Ashleigh gained new insight into the scientific method and the gathering and analysis of data. She realizes that even though the multiple trials she did all showed similar data, additional trials of her experiment might have strengthened her project, a reality she will take into account when designing next year's project!
And there will be a next science fair for this young scientist. Ashleigh says she loves science fair and competition. "I love competing in just about anything...especially science." Of the projects she has completed so far, Ashleigh has a soft spot for the "Earth vs Apophis" project. "That was my favorite topic," says Ashleigh, "because I loved talking about and reading about the asteroid." But her favorite project was her first one, "Bouncy Ball vs The Moon."
"It was fun," says Ashleigh, "but also I could imagine those craters being formed on the moon every time I dropped that ball! I loved the measuring and plotting of my data too!"
Ashleigh really gravitates towards projects that involve a hands-on test or way to demonstrate a space-oriented concept using ordinary materials. "It is important for my projects to be hands-on because I tend to be a kinesthetic learner," says Ashleigh. "I do better if I can feel something. Space has some hard concepts to understand, so if I can do a hands-on experiment it is that much easier to grasp. The problem I am finding with my goal to become an astrophysicist is that it is hard to find projects like this."
This year, Ashleigh designed her own, adapting a project she found online to enable her to simulate a planet's gravitational pull on a satellite with a hands-on experiment. Science Buddies' scientists are now developing a Project Idea for Science Buddies based on Ashleigh's experiment. This new addition to the astronomy area will be live at Science Buddies this summer.

A Journey Just Begun
Although there is a long summer break standing between Ashleigh and the start of next year's science fair season, there are plenty of opportunities for Ashleigh to continue pursuing her interest in astronomy by tackling independent astronomy projects at home, including some data-driven projects like Finding the Center of the Milky Way Galaxy Using Globular Star Clusters and Asteroid Mining: Gold Rush in Space?.
Thanks to support from her mom, Ashleigh takes advantage of as many space-themed opportunities as she can. At Astronomy Days at the North Carolina Museum of Natural Sciences, Ashleigh got the opportunity to "look through a telescope and see the solar flares on the sun." At the same event, she also learned more about NASA's Curiosity Rover. She attended a camp at the Morehead Planetarium at UNC and just recently completed a physics-themed camp at Duke University. This summer, she plans to attend a camp at the Kennedy Space Center.
In the future, she hopes to see Dr. Tyson speak again. But until then, she will keep looking to the sky, staying current with astronomy news through some of her favorite iPad apps and websites, and watching COSMOS: A Spacetime Odyssey.
For this fifth grader, the galaxy is the limit, and she has plenty of questions to keep her busy. A bigger telescope would, of course, make a difference, she says. "There are a lot of great ideas out there, and I just wish I had a large telescope in the middle of my backyard. That would make things easier in terms of research!"
In addition to her growing science acumen, Ashleigh competes in the spelling bee, is a gymnast for a USAG team, and has a number of hobbies, including guitar, piano, singing, and reading.

Making Connections
Students interested in astronomy, like Ashleigh, can get started exploring space science with hands-on projects from Science Buddies astronomy area like these:

Update: The Satellite Science: How Does Speed Affect Orbiting Altitude? project idea based on the Ashleigh's fifth grade astronomy experiment is now part of the Science Buddies directory of free project ideas!
---
---