Cardboard Houses: The Pritzker Prize and Inspiring Architecture from Surprising Materials
For this year's Pritzker Prize winner, cardboard and paper have proven to be key materials in designing disaster relief housing. Examples of Shigeru Ban's work force a reconsideration of design, materials science, and civil engineering. Can using recyclable materials make a cost-effective and sustainable difference in the way architecture is approached? With cardboard tubes, paper, straws, and other everyday materials, students can experiment with principles on a small scale that the award-winning architect uses in humanitarian structures around the world.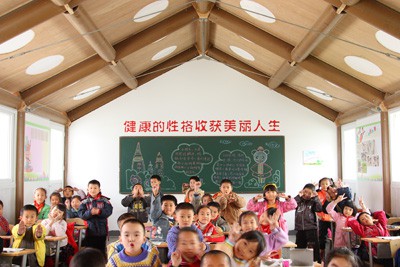 Paper Nursery School, Ya'an City, Sichuan, China, 2014. Photo by Shigeru Ban Architects.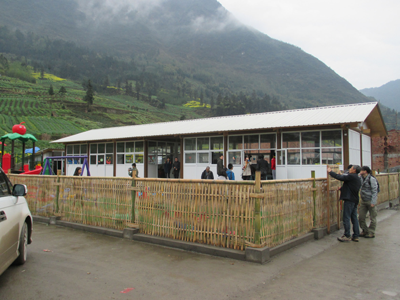 Paper Nursery School, Ya'an City, Sichuan, China, 2014. Photo by Shigeru Ban Architects.
Architecture is a science
and
an art form, a field in which form and function meet at a point where materials are turned into buildings and structures that may be used for business, housing, or social gathering. Throughout history, there have been chains of evolution in architectural style and tradition, approaches to design that often mirror trends in society. But when you think about architecture today, you probably think about big buildings, skyscrapers, and towers that create skylines in some of the world's most well-known cities. You may also think of unusual examples of architecture, like the circular Guggenheim Museum in New York, Lloyds Building in London (often called the "Inside-Out Building"), Sydney Opera House in Australia (a series of interlocking shells), or a Frank Lloyd Wright building like Fallingwater, which appears to grow out of a hillside and sits atop a waterfall.

Unique examples of architecture may make headlines, and city skylines make postcards, but even when it comes to everyday construction—ordinary houses—buildings usually involve strong materials, materials designed for permanence. These materials are often costly, and construction may be time consuming.
But what exactly is a strong material? If a typhoon blows through, will the structure withstand the force? What happens to a "strong" material during an earthquake? If the material doesn't hold up, what options are there for fast, inexpensive solutions for residents displaced by disaster?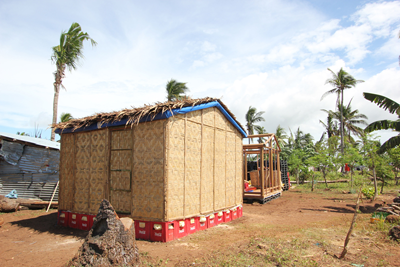 Paper Log House, Cebu, Philippines. Photo by Shigeru Ban Architects.

Strong as Paper?
Out of what materials is your own house built? Depending on where you live and what unique properties architects and civil engineers have to take into account in your area (like the risk of earthquake, climate, or the composition of the ground), your house might have a framework of wood, steel, or concrete. The structure and walls of your house are likely made from materials expected to stand up to environmental factors over time.
What about a house made out of cardboard?
The idea may sound surprising, but for Japanese architect Shigeru Ban cardboard is not only a viable building material but a material he has used in dozens of buildings designed to provide relief housing for victims of natural disaster.
Ban was recently awarded the 2014 Pritzker Prize, one of the most prestigious prizes given each year in architecture. Ban has a history in commercial architecture, but in recent years, he has donated his skills to helping design and build structures in disaster zones. Most notable about his volunteer work on behalf of disaster victims is that his buildings are made primarily using recyclable materials.
Cardboard may seem incongruous to building in an area where natural forces have destroyed permanent housing, but Ban has shown, around the world, that materials like shipping containers and paper can be used to create fast, low-cost temporary housing and social structures that are sound, protective, and can be erected quickly.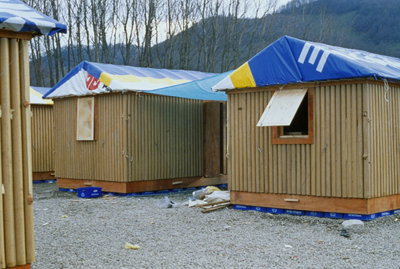 Paper Log House, 2000, Turkey. Photo by Shigeru Ban Architects.

A Paper-based Approach
It is hard not to be awed and inspired by images of Ban's designs (like the ones shown above). Repeatedly, his work shows ingenuity in design and materials that tackles a problem (the need for a certain structure) with a simple, recyclable solution.
After the 2008 Sichuan Earthquake, Ban designed temporary classrooms, a "paper nursery school," that volunteers were able to quickly build from cardboard tubes. In Rwanda, in 1999, he designed paper refugee shelters. In Italy, after the 2009 L'Aquila earthquake, Ban designed a concert hall from a combination of materials, including cardboard, a social structure designed to pay tribute to the musical heritage of L'Aquila and to rekindle the spirit of residents. In both Turkey and Japan, Ban designed paper log housing. Ban's Japanese Pavilion (built for an Expo, not in the wake of disaster), was created from paper tubes. The structure took three weeks to build from thousands of paper tubes and spanned more than 236 feet across and 50 feet high.
In some cases, Ban's structures are designed to be able to be taken down and rebuilt, as needed. In other cases, Ban's designs become a lasting part of the community. The Cardboard Cathedral he designed after the 2011 earthquake in Christchurch, New Zealand, for example, was initially envisioned as a temporary replacement structure, but before construction began, plans changed. The beautiful cardboard, steel, and glass A-frame church is immediately recognizable as a place of worship, despite the fact that the roof is constructed from cardboard tubes.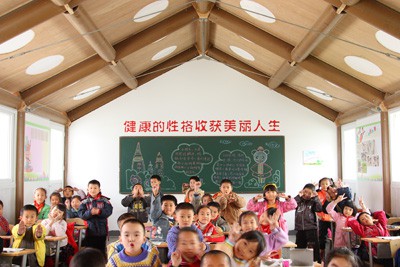 Cardboard Cathedral, 2013, Christchurch, New Zealand. Photo by Stephen Goodenough.
Unexpected Materials
So, why paper? And "how" paper?
In an interview with CNN after the Pritzker Prize was announced, reporter William Lee Adams asked Ban about his use of paper. "The strength and durability of a building has nothing to do with the material," Ban told Adams. "Even a building built in concrete can be destroyed very easily. There can be a permanent building made out of cardboard tubes."
Paper Emergency Shelter for Haiti, 2010, Port-au-Prince, Haiti. Photo by Shigeru Ban Architects.

Beyond Card Houses
Students intrigued by Ban's work, by architecture, or by the ways in which Ban's design approach contributes to disaster relief solutions around the world can explore design and engineering concepts in civil engineering and materials science project ideas like these:
Paper Temporary Studio, 2004, Paris, France. Photo by Didier Boy dela Tour.

To see more examples of Ban's architecture, visit: http://www.shigerubanarchitects.com/works.html
Categories:
You Might Also Enjoy These Related Posts:
Explore Our Science Videos
Race Through Space with Gravity Assist Maneuvers
Build a Self-Driving Arduino Car
Build a Solar-Powered Car for the Junior Solar Sprint