A Super Science-filled Summer Break
Ready or not... into the summer break we go. With school (almost) out for the summer, take stock of some great science activities and challenges that are perfect to help keep kids engaged and actively learning during the break. Science may be even more fun when it is "just for fun"!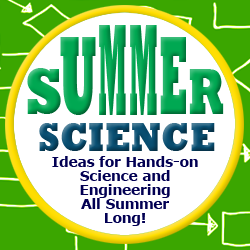 The long summer break can feel bittersweet for parents who worry about their students whiling away countless hours on the couch or in front of a screen and losing academic ground. Beyond the buzz of vacations and camps, and after the novelty of sleeping in and staying up late wears off, the summer sprawl can even begin to feel, at some point, a bit amorphous for students. There are a lot of hours to fill!
Luckily, there are loads of engaging science and engineering activities that can be done at home for fun or as independent summer projects and can tie in with other summer pastimes and hobbies.

Great Science on the Schedule
Every year, we pull together suggestions for summer science activities and experiments. Our roundup lists from the last two years contain many wonderful suggestions for projects kids can do during the summer and ways parents can inject a bit of science into summer planning.
This year, we will be unveiling a new area of Science Buddies in June that will be a great resource for family summer science—and family science all year long! But there are lots of projects at Science Buddies that students can enjoy even when they don't need to do a "science fair project" or complete a science project assignment.
As you look ahead to summer, remember, doing science doesn't have to be for school! You and your kids can earn an A++ this summer by exploring science and engineering at home.
Here are some of our picks for this summer:

More Great Choices for Science at Home
Don't miss these other roundup lists of great "what to do over the break" science, technology, engineering, and math projects as well:
Categories:
You Might Also Enjoy These Related Posts:
Explore Our Science Videos
Transform Yogurt into Spheres With Reverse Spherification
Build a Solar-Powered Car for the Junior Solar Sprint
Finding Pi Using Everyday Objects