Free Resources Support Teacher's Innovative STEM Academy
This teacher's school-within-a-school STEM program requires a continuous stream of exciting project-based learning ideas. Free resources at Science Buddies are a perfect fit to support this innovative program at an Ohio elementary school.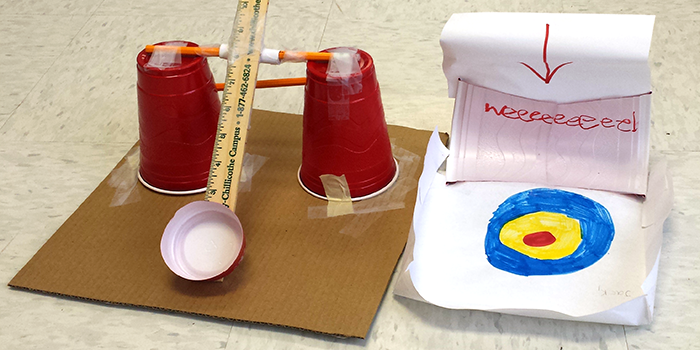 Above: A ball launcher made by SCOPES Academy students for the 2018 Fluor Engineering Challenge
Jenni Domo, says that after 27 years as a teacher, she is the "grumpy gourmet" of educational resources, so when she says Science Buddies is "awesome," we know she means it. Describing herself as a STEMist, Jenni is passionate about the value of hands-on STEM education in preschool and elementary school settings. Using community support and as many free resources as she can access, Jenni has created a STEM learning environment that is shaking up science education at her school.
Meeting the Needs of High-achieving Students
Jenni is the force behind SCOPES Academy, a STEM school-within-a-school program at Unioto Elementary School in Chillicothe, Ohio. SCOPES, which stands for the Science Co-Operative of Physicians and Elementary Students, offers high-achieving students a full day of hands-on STEM instruction once a week during school hours. According to Jenni, these are students whose needs were not being met by the schoolwide curriculum. "SCOPES is a pull-out program for students who have already mastered the NGSS and all other grade-level standards for the grade they are enrolled in for the school year," explains Jenni. Students who participate in SCOPES Academy are invited to the program based on teacher recommendations, grades, and test scores.
"I was basically the 'solution' to an engineering design challenge within the Union Scioto School District," Jenni says about the start of SCOPES Academy in 2013. "I began this academy with a few pencils in the desk drawer and a few second-hand posters in the cabinets. From there, I proceeded to write grants and proposals to create a 'dream STEM classroom' using little to no district funds, as the funds were not available."
Now in its fifth year, SCOPES Academy has 140 students and is thriving. At Unioto Elementary, SCOPES Academy is a STEM education opportunity in addition to regular science instruction. All students at the school are taught science by their grade-level teacher. Students also have STEM as a special class, like music or PE. And then top-performing students are recommended to SCOPES Academy where they have the opportunity to go beyond standards and dive more deeply into STEM. Each day, Jenni works with SCOPES Academy students in a single grade (1-5). Once a week, these students spend most of their school day doing hands-on, project- and inquiry-based science, technology, math, and engineering with Jenni. (Students have to be recommended to the program again each year, which Jenni says motivates students to continue to work hard.)
"Free educator resources like those at Science Buddies are absolutely essential to the success of my program."
Jenni Domo, SCOPES Academy
The Value of Quality Science Lesson Plans and STEM Activities
Projects and curriculum in SCOPES Academy are based on student interests, and Jenni is always looking for engaging resources to use with SCOPES students. With its library of free projects, activities, and Lesson Plans, Science Buddies has become an important and trusted part of her toolbox. "It is the STEM teacher's ace in the hole," she says, noting that she uses all aspects of the Science Buddies website at SCOPES Academy. "Free educator resources like those at Science Buddies are absolutely essential to the success of my program," she says.
The structure of SCOPES Academy gives students extra time to engage in project-based science and engineering learning, and they do a lot of projects. Jenni says she especially appreciates the background information included with Science Buddies' projects and Lesson Plans. This information helps her respond to student interests and lead projects and activities in STEM areas with which she says she might "need a refresher."
Earlier this school year, Jenni used a pair of educator lesson plans for teaching the scientific and engineering methods with hands-on paper airplane and paper rocket activities. Jenni says that both activities were easy to adapt for use with the different grade levels of her students. Her students also use the Topic Selection Wizard as a starting point for the annual science fair, and STEM projects like the Fluor Engineering Challenge offer students an intensive engineering project they can work on over time, fully engaging in the design, testing, and modification of their solutions.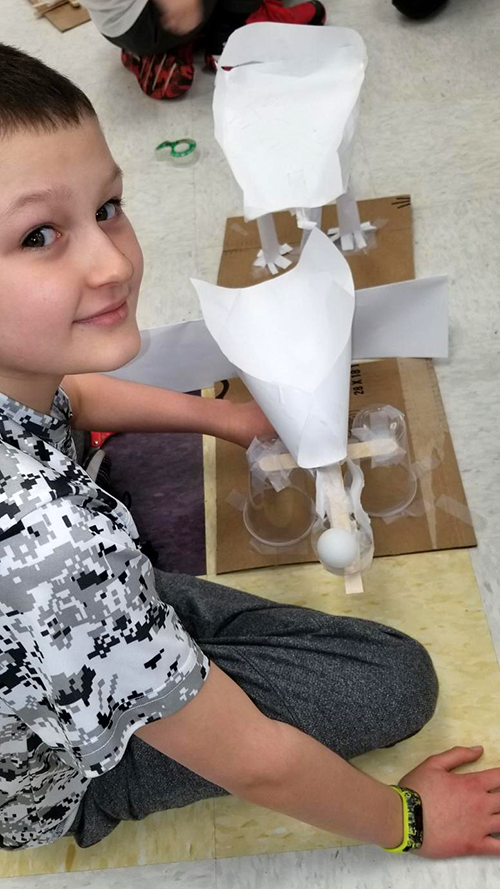 Above: Brandt, a 3rd-grade student in the SCOPES Academy program, works on his volleyball machine for the 2019 Fluor Engineering Challenge.
The Fluor Engineering Challenge
This is the second year Jenni's students have participated in the Fluor Engineering Challenge. The Challenge, designed as a fun, hands-on engineering activity to encourage students in grades K-12 to explore engineering, is a perfect fit for SCOPES Academy. Jenni says the engineering design challenge works especially well because it has real-world context. "Every child can relate to volleyball," says Jenni of the 2019 Volleyball Machine Challenge. "[These students] love things that emulate the real world in their designs, and so do I. So, the Fluor Challenge is a real win-win for me in my classroom, no matter what grade level I am teaching. As a matter of fact," she adds, "the students that are currently in first place with the maximum number of volleys are first graders."
"Science Buddies is the STEM teacher's ace in the hole." Jenni Domo, SCOPES Academy
In addition to teaching elementary school students at SCOPES Academy, Jenni teaches graduate and undergraduate courses at Ohio University. She serves on the Ohio Department of Education Working STEM Committee, a group working on rubrics for STEM/STEAM schools in the state of Ohio.
Share Your Science Buddies Story!
Have you used a science project, STEM activity, or Lesson Plan from Science Buddies in your class or program? We would love to hear your story! Email us at scibuddy@sciencebuddies.org and tell us how you use Science Buddies with students.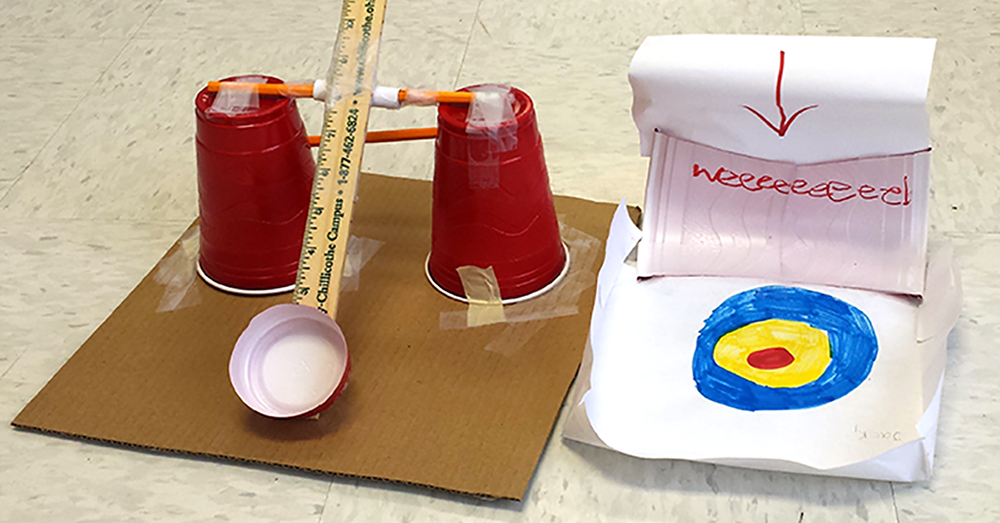 Categories:
You Might Also Enjoy These Related Posts:
Explore Our Science Videos
Walking Water Experiment | STEM Activity
Make a Self-Starting Siphon