An Apple for the Science Fair
Apples are perennial favorites for pies, but how about for science experiments? Absolutely! From chemistry to food science and beyond, apples are the perfect vehicles for scientific exploration.
By Kim Mullin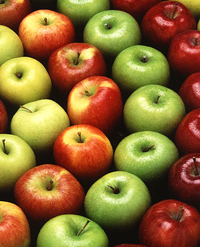 With fall apples weighing down local trees, the timing is just right for apple-based hands-on science! Gather a few apples and sit down with your students for some hands-on fruit science. (Image: Wikipedia)
Crunchy fresh apples, apple pie, apple cider... can't you just smell these delicious reminders of fall? Over the last two weeks, friends and family from California to Virginia have been telling me about their apple-picking adventures in local orchards. That must mean it is the perfect time for...
apple-related science experiments
!
Here are a few apple-oriented hands-on science project ideas, ripe for the picking:

Fall into Science
Any time of the year is a great time for scientific exploration, but fall certainly offers some fun opportunities. Ask kids about changing leaf colors, cooling weather, or "pumpkin guts." And don't forget the apples!

Making Connections
For a more advanced look at science questions and science news related to pests that continue to cause problems for the apple (and oranges) industry, see: "Citrus Science Crisis: From Fruitful to Fruitfall."
Categories:
You Might Also Enjoy These Related Posts:
Explore Our Science Videos
Slippery Slopes - STEM activity
Explore the Wet Sand Effect – STEM activity
Video: Paper Airplane Launcher