Checking Out Cybersecurity: Summer Science at the Library
Libraries are not only for borrowing books! Many libraries offer free educational programs that let patrons "check out" a wealth of information, including STEM! Student patrons at a Pennsylvania public library recently got an inside look at the ins and outs of denial of service attacks, thanks to a free summer STEM workshop.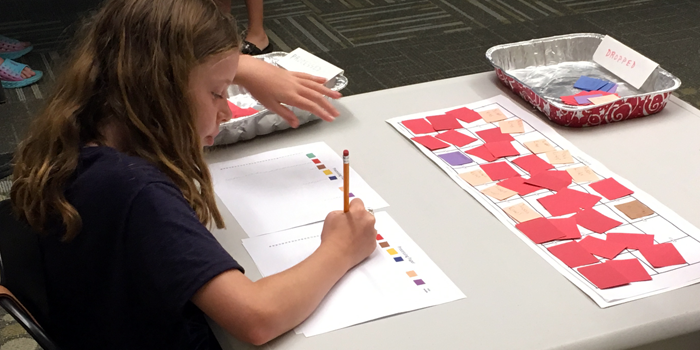 Above: Meagan, a 10-year-old student, had the role of "server" during a Denial of Service cybersecurity workshop at the Manheim Township library.
Libraries Support Community Learning
For people of all ages, public libraries offer access not only to books and technology but also to educational and community programs. Beacons of open-door learning and accessibility, public libraries have become an important and vital community tool in extracurricular programming. For some students, supplemental and out-of-school learning happens solely through library offerings and special "teen" or "maker" spaces at the local library. Many students participate in summer reading programs designed to encourage and inspire kids to continue reading all summer long, but many libraries also offer free educational workshops, programs, and activities for students throughout the year. Public libraries rely on local funding, but the driving force behind library enrichment programs is often a dedicated librarian or a team of library staff who believe in the power of community programming.
Sharon Roche, a youth services library program facilitator at the Manheim Township Public Library in Pennsylvania, is exactly that kind of library worker and is dedicated to creating engaging, educational content for young library patrons. Thanks to Roche's innovative planning, students in Manheim Township and surrounding communities recently had the opportunity to take part in a free summer cybersecurity workshop about denial of service (DoS) attacks. This one-hour program for students in grades 3-5 was part of the "Stem-Sational Summer" series Roche is coordinating this summer at the library. The series involves three themed workshops that enable participants to explore cybersecurity, robotics, and electronics.
Families in the service area for the Manheim Township Public Library are fortunate to have a committed library staff bringing quality educational programs to the community all year long. From time with alpacas and alligators to forensics, robotics, and physics, the library offers a diverse range of exciting content for students. During summer months when school is out, the library's free workshops are a great way for parents to add science to the summer calendar.
Signing up for the workshops at the Manheim Township Public Library is first-come, first-serve, and Roche's "DOSA" workshop in June was full. Twenty elementary school students participated, with a few parents and siblings looking on.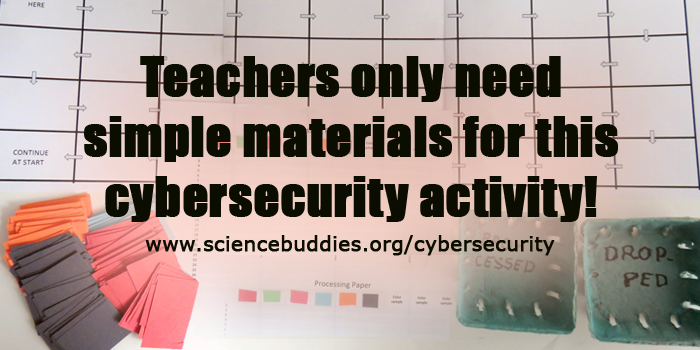 Demystifying Denial of Service
The Denial-of-Service classroom activity at Science Buddies is designed as an interactive, hands-on activity in which students enact the process of a client-server network system. With students taking on roles of computer clients, the server, the Internet, and a gateway, students see firsthand how servers respond to incoming requests under normal circumstances and what happens during a denial of service attack, a cyberattack in which hackers attempt to flood a server with fake requests. The hands-on cybersecurity activity requires only construction paper and something with which to write, making it easy for teachers or coordinators to prepare.
According to Roche, students who attended the workshop greatly enjoyed it. "These are 'library kids'...they are all highly motivated, and their parents eagerly pursue enrichment during the summer," she adds. To best facilitate the activity with students in multiple grades, Roche set aside some of the special roles in the exercise for older students. "I reserved the role of 'server' for fifth graders and 'Internet' for fourth," she notes. "The third graders were still excited to be 'clients' and write their names on different color paper." Roche also left room in her plan to accommodate particularly excited younger students. These students she assigned the role of "attacker" in the simulated DoS exercise, an approach she says worked out particularly well.
Learning by Doing
Before the activity, students and parents in attendance were unfamiliar with Denial of Service attacks. Even if they had heard the phrase, and it was frequently discussed with the popularity of Pokemon Go last summer, they were unsure of the specifics of this kind of cyber threat. But after doing the exercise and shuffling requests back and forth between clients and the server, and watching the system get overwhelmed during a DoS attack, everyone had a much clearer understanding of what happens during a DoS attack. Not only did they understand the problem, but after doing the activity, the students had great ideas about how to prevent and protect against DoS attacks. Roche and the students talked about strategies that might be used to counter DoS, a discussion ranging from completely shutting down the Internet to better handling suspicious requests. After brainstorming with students and talking about ways servers might better evaluate and respond to client requests, the group ran their simulation again with modifications designed to help prevent the failure of the system during a DoS attack. Their strategy worked, to the excitement of everyone involved. "Kids actually applauded," said Roche. "They were totally invested in their solution!"
Roche says she added cybersecurity to the summer STEM calendar to mix things up. Through the library's STEM program, Roche has covered a wide range of science topics and fields, including physical science, chemistry, biology, forensics, and computer coding. In addition to summer workshops, the library offers year-round technology-centered programs. "We have a big group of teen and tween patrons who can't get enough," says Roche.
These teens and tweens are fortunate to have a local library like the Manheim Township Public Library and a group of dedicated library staff like Roche. Roche contacted Science Buddies when planning her cybersecurity workshop to fit in the available time slot. Her dedication to her young library patrons and to planning and facilitating exciting educational programs for students and their families, programs that offer enrichment and exposure to topics, skills, and hands-on opportunities that might not be available otherwise, is inspiring. According to Roche, the entire staff at the Manheim Township Public Library shares her commitment to public programming.
"Our programs of this type are very popular and typically fill to capacity. The kids are always excited to have new hands-on experiences," says Roche. "I believe that many kids don't have enough opportunities in school to really 'play' and practice with STEM concepts. Libraries help to give them these experiences as part of our mission."
Science Buddies is always excited to hear from teachers, educators, volunteers, and other community members who share our mission of ensuring science literacy for all students. Be sure and check your local library's website for information about upcoming events. Or, even better, ask your librarian about enrichment programs the next time you are at your local branch.
Cybersecurity
Developing safe practices for online behavior is important for everyone, and understanding cybersecurity is not just businesses. The Cybersecurity special interest collection helps students learn more about cybersecurity through hands-on science projects. The collection also highlights related STEM careers and features activities that teachers and educators can use with students in the classroom or in groups. The curated Cybersecurity collection was developed with support from Symantec.
See also: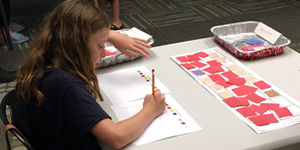 Categories:
You Might Also Enjoy These Related Posts:
Explore Our Science Videos
How Strong Is Your Hair? – STEM Activity
Magic Triangles - Fun Math Puzzles with Increasing Difficulty