Take the Fluor Challenge for Engineers Week
Celebrate engineering during Engineers Week and every week with hands-on STEM activities in the classroom. Submissions for the 2019 Fluor Challenge are now being accepted!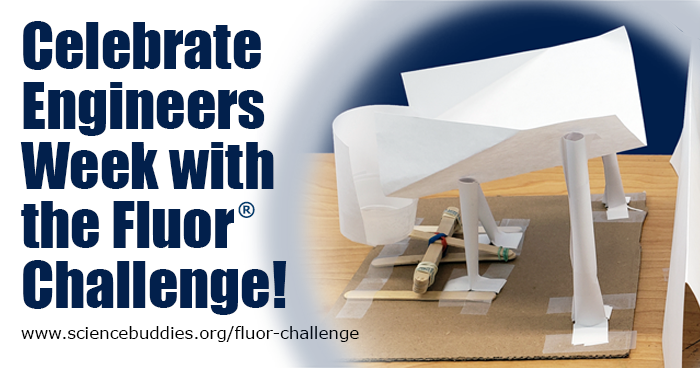 Celebrate Engineers Week with the Fluor Challenge! www.sciencebuddies.org/fluor-challenge
February 17-23, 2019 is Engineers Week! Hosted by DiscoverE, the annual week-long celebration puts engineering in the spotlight, and students and teachers are encouraged to do hands-on engineering activities and learn more about the many ways in which engineering helps shape our world. The theme of Engineers Week 2019 is Engineers: Invent Amazing.
DiscoverE hopes that Engineers Week provides an opportunity to introduce students to engineering and begin a process of learning and exploration that will continue beyond the week. Engineers Week also includes Introduce a Girl to Engineering Day (Girl Day) on February 21. Girl Day is a day dedicated to showcasing women in engineering and helping girls see themselves in engineering careers.
Science Buddies is proud to support the spirit of Engineers Week, and we encourage teachers to devote class time this week to talk about engineering careers and to do hands-on engineering activities with students that let them experience, firsthand, how exciting it can be to brainstorm, create, innovate, and test their own designs and solutions using the Engineering Design Process.
The Fluor Engineering Challenge
The annual K-12 Fluor Engineering Challenge is a great way for teachers to celebrate engineering with students and inspire them to think like engineers. This year's challenge is the Volleyball Machine Challenge. Using simple materials, students are challenged to design a set of devices that can volley a ping pong ball back and forth across a paper net.
Student Volleyball Machine solutions for the 2019 Fluor Engineering Challenge can be submitted between February 17 and March 15, 2019.
The spirit of the Fluor Challenge is to support as many students as possible in trying the engineering project. Students don't have to have the best or highest scoring solution to enter. Every complete submission in eligible locations will be entered in random drawings for a chance to win $1,000 (USD) for a qualified school or organization. This year, there will be more winners than ever before. In celebration of this being the 5th year of the K-12 Fluor Engineering Challenge, Fluor Corporation has doubled the available prize money to $20,000 (USD)! (For full rules and eligibility requirements, see sciencebuddies.org/fluor-challenge.)
The Fluor Challenge is always fun for students and challenges them to think creatively, to collaborate with others, to practice problem solving skills, to use the engineering design process, and to innovate. To help educators lead this year's Fluor Challenge with students, we have Lesson Plans available for the following grade ranges:
All Lesson Plans are NGSS-aligned and contain supplemental material for educators, guided discussion prompts for use in the classroom, and grade-appropriate worksheets. Note: the rules for the 2019 K-12 Fluor Challenge are the same for students in all grades, but worksheets in the individual Lesson Plans have been developed to help teachers effectively present the challenge at the different grade levels. A standalone project version of the Volleyball Machine Challenge is available for students working independently on the Fluor Challenge. A video overview is also available that we encourage teachers to show in class or assign to students to watch at home.
Other Engineering Projects
The previous Fluor Challenge activities are also available and are fun for students at any time of the year! Students can create their own solutions for the Balloon Car, Marble Machine, Water Flow, and Ball Launcher engineering design challenges. Middle school Lesson Plans are also available for the Ball Launcher and Balloon Car. Thanks to our partners at DiscoverE, the Marble Machine project is now also available in multiple languages.
More Support for K-12 Engineering
For additional project suggestions and educator resources to support hands-on engineering in the classroom and at home, see the following: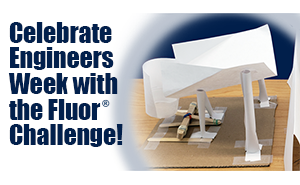 Categories:
You Might Also Enjoy These Related Posts:
Explore Our Science Videos
Balloon Car: 2015 Engineering Challenge
Marble Machine: 2016 Engineering Challenge