There are two birthdays coming up in my house, two boys who thought it would be funny to wrap their births (quite symmetrically) right around Valentine's Day so that the middle of February will always be a conglomeration of treats and presents for them.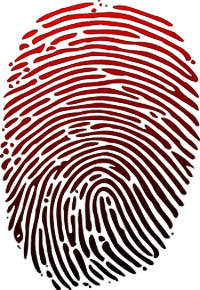 Despite the fact that they are siblings, they probably don't think too much (yet) about the ways in which that shows up in their appearance, likes, dislikes, and personalities. That several years separate them is maybe more noticeable to them than the ways in which strands of DNA mark them as unmistakably and indisputably related.
In browsing Project Ideas in the Science Buddies' library last week, I ran into a study on fingerprints that I find quite intriguing. We all know that fingerprints are unique. You may not have realized that the development of epidermal ridges that become fingerprints begins between weeks 10 and 24 of gestation. But you most likely know that no two sets of fingerprints are identical.
Similarly, while our fingerprints stretch as we age, they don't "change" in pattern or shape. The individual and permanent nature of fingerprints has, of course, led to them being used as a rapid source of visual identification and even to the exploration of fingerprint readers as a component of various forms of "biosecurity" or "biometric" security systems. (You may have even read science fiction books or mysteries in which biometric systems come into play.)
Because our fingerprints stem from our DNA, there is the possibility that the fingerprints of siblings will exhibit similar patterns when classified according to the three primary categories of fingerprint patterns: loops, arches, and whorls.
The "Are Fingerprint Patterns Inherited?" project idea offers a science fair project based on this premise. The project takes only a few days, so if you are curious about the patterns that can be detected from prints within a family and within classroom settings, grab an ink pad and some paper, and get to work.
While the project calls for a black ink pad, there's no reason you can't have some color-based fun with your prints. (Note: Black ink may make the prints easier to see and study. For a formal science fair project, stick with black.)
If you try it out, let us know what you discover! Do you have sets of twins in your family or classroom? Great! That adds an additional twist to the project and to the kinds of results you may see.
---

Interested in other project ideas like this one? Check our Genetics and Genomics interest area.

Categories:
You Might Also Enjoy These Related Posts:
Explore Our Science Videos
Tallest Tower: 2021 Engineering Challenge
Identify Road Signs with Google's Teachable Machine
DIY Glitter Surprise Package with a Simple Circuit