Which way does your house face?
In which direction do you sleep?
Your school is which direction from your house?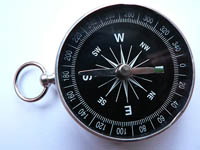 Learning to read a pocket compass - a long-lost art? (Image: Wikipedia)
If you don't know the answers, offhand, to those questions, you are likely not alone. We all know the sun rises in the East and sets in the West. And if you live on a coast and within view of the water, you can probably orient your sense of cardinal direction based on the water. Beyond that, however, your sense of North, South, East, and West may be entirely dependent on a gadget of one form or another.
With GPS becoming more and more commonplace, finding one's way has been reduced to an exercise in inputting starting and ending points and then listening carefully to turn-by-turn directions. Similarly, the availability of print-on-demand directions from a myriad of online mapping services has displaced the act of tracing a route on a printed map, highlighting the highways to take for a vacation or travel, and the art then of later refolding the map so that it can be stowed and used another time.
With technology at hand to manage navigation for us, it's easy to lose track of direction... where we stand, what we face, from which angle the sun hits our yard or bedroom windows.
Getting a better understanding of positioning and learning to "read" and understand natural clues will slow you down enough to really look, think, and process what's involved in knowing "where we are" at any given moment. Even if you don't have a camping trip (or a treasure hunt) planned anytime soon (where you might be able to show off your navigating skills), the following projects are perfect for the long days of summer and good for classes as well.
Categories:
You Might Also Enjoy These Related Posts:
Explore Our Science Videos
Make a Water Strider - STEM Activity
Why Won't it Mix? Discover the Brazil Nut Effect
Build a Simple Electric Motor