Fluor Engineering Volleyball Machine Challenge Overview Video
The 2019 Fluor Engineering Challenge submission window opens February 17, 2019. Watch the introductory video with students to learn more about this year's Volleyball Machine challenge for K-12 students.
Take the 5th Annual Fluor Engineering Challenge!
The video above provides a short overview of this year's exciting Volleyball Machine Fluor Challenge. Watch the video with students to talk about the Challenge objective and get everyone brainstorming ideas for ways to solve the hands-on engineering challenge. The video shows a few examples, but students are encouraged to use the engineering design process to innovate, create, and test their own solutions (within the rules).
Ready to Get Started?
The Volleyball Machine Challenge project (for students working independently) and Lesson Plans to support educators doing the Fluor Challenge with elementary, middle, and high school students are available now. Students can begin working on their solutions at any time, but submissions are only accepted during the challenge window, February 17-March 15, 2019.
All students are encouraged to enter their Fluor Challenge Volleyball Machine solutions. All eligible entries will be entered in random drawings to win part of $20,000 (USD) in prize money for a qualified school or organization. For more information about the 2019 Fluor Engineering Challenge, including project rules, eligibility requirements, and other guidelines, view the Fluor Challenge page.
The annual K-12 Fluor Engineering Challenge and associated prizes are made possible through generous support from Fluor Corporation.
Fluor is a registered service mark of Fluor Corporation. All rights reserved.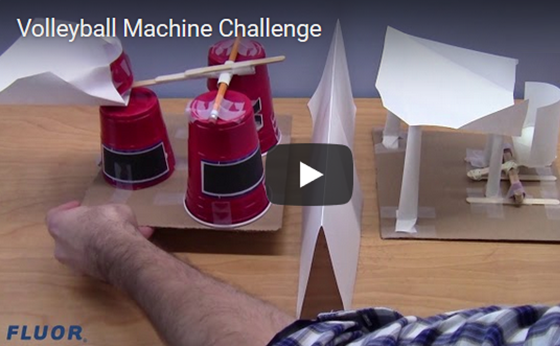 Categories:
You Might Also Enjoy These Related Posts:
Explore Our Science Videos
Build A Solar Updraft Tower!
Design and 3D Print a Snowflake