Science Buddies Teams up with PPG Volunteers to Improve Crime Scene Chemistry Project
With help from a team of PPG volunteers, Science Buddies updated a popular science project to ensure a positive science learning experience for high school students curious about the way luminol is used at a crime scene.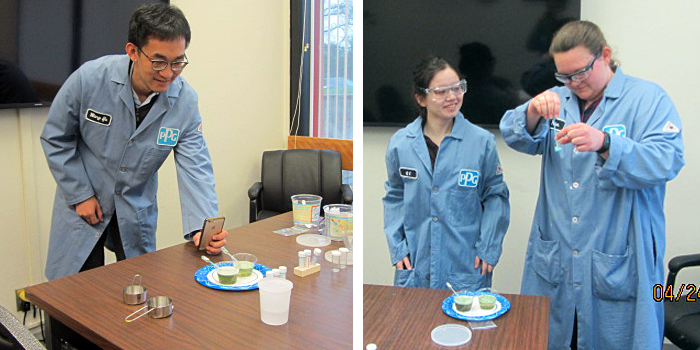 The Challenge—A Large Directory of Projects Requires Ongoing Maintenance
Science Buddies has more than 1,100 free science, technology, math, and engineering (STEM) project ideas and activities for K-12 students. The depth of the free project library on the Science Buddies website makes it possible for thousands of students to find projects of interest each year and has made Science Buddies a recommended resource for students looking for project ideas. In feedback to Science Buddies, teachers and students frequently list the range of projects available as a favorite part of the site.
The downside of having such a large catalog of projects is that ongoing maintenance is required to make sure that materials, links, information, and procedures remain current and effective. Science Buddies wants every student to be able to find a project of interest, but Science Buddies is also committed to helping students succeed with their projects. Routinely re-testing and re-evaluating older projects and procedures is important. Science Buddies' staff scientists work year-round developing new materials and updating existing projects and resources, but the number of projects and the time involved in testing, retrofitting, and updating older projects is an ongoing challenge for the small non-profit.
"At Science Buddies, we are committed to making sure our projects are high quality and engaging for students. We know that matching students with projects that are intrinsically interesting to them is key to sparking long-term interest in STEM," says Sandra Slutz, Science Buddies Vice President of STEM Education. "To have that level of personalization, we are always working to develop new materials to bring cutting-edge and real-world science experiences to students. It's equally important though that we go back and continually evaluate our older projects. The scientists on our team spend over a thousand hours every year making sure older projects are up-to-date, work well, and resonate with today's students."
To help streamline the process of assessing and updating older projects, Science Buddies draws upon the expertise of volunteers from sponsor and partner organizations like PPG. Feedback from volunteer testing helps Science Buddies evaluate project procedures and identify updates that may improve and strengthen the student experience. Project testing also offers volunteers the opportunity to help develop STEM learning materials that will have direct impact in their communities and in classrooms around the world.
"The scientists on our team spend over a thousand hours every year making sure older projects are up-to-date, work well, and resonate with today's students. Working with volunteers from companies like PPG makes a real difference in how many projects we can address each year."
Sandra Slutz, Science Buddies Vice President of STEM Education
A Chemistry Problem
With its tie to crime scene chemistry and TV-show forensics plots, the Crime Scene Chemistry—The Cool Blue Light of Luminol project draws a great deal of student attention each year. Because luminol exhibits chemiluminescence when it reacts with certain factors, including the iron in blood, the telltale blue glow from the luminol reaction can be very helpful when gathering forensics evidence, evidence that might otherwise be hard to detect. In this chemistry project, students explore the luminol reaction and the effect of temperature on the reaction.
The project is popular each year with students, but Slutz and her team of scientists wanted to evaluate the procedure to see if there were ways to improve or expand the student investigation of luminol. According to Slutz, the project was an excellent fit for testing by PPG volunteers.
"When the luminol chemistry project came up as one we should put on the list to re-test this year, I groaned a bit. It's a fun project. It's relevant to the real world, very cool looking, and really popular. None of that means simple science though," says Slutz. "I knew that if we wanted to make real improvements, it was going to take hours of work. When I heard that our PPG super volunteers were willing to tackle a new testing project for us, I immediately knew this was the perfect project for their expertise. PPG scientists think about chemical principles as part of their everyday jobs. It was a no-brainer that they would know exactly where to start to make the reaction brighter and the data more robust. Could the Science Buddies staff scientists have gotten to those answers on our own? I'd like to think so! Definitely not as quickly though. The testing PPG provided was a tremendous help in making this popular project even better."
The Solution—Drawing Upon the Expertise of Volunteers
A team of volunteers from PPG tested the Crime Scene Chemistry project as a group volunteer effort. The team (pictured below) followed the same procedures that students use to make sure the procedure and materials work reliably and to look for ways to improve the experiment. Using the feedback provided by PPG, Svenja Lohner, a Senior Staff Scientist at Science Buddies, revised the project, making updates to the background information and experimental procedure, as well as to the photos and diagrams used in the project.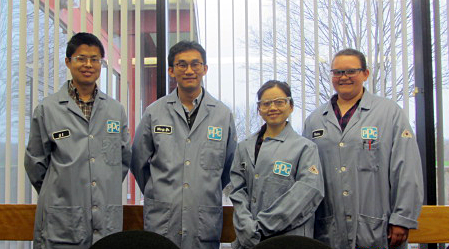 Above: These PPG chemists worked together to test the Crime Scene Chemistry project: (Left to right) Qi Zheng, Yu Wang, Shuyu Fang, and Kayla Percic.
Lohner also updated the project to take advantage of Google's Science Journal app. With the free Science Journal app, students can use a phone's light sensor to take readings during the chemiluminescence reaction. This improvement offers students another way to gather data during the experiment. (Note: The Science Journal app is available for both Android and iOS; the Crime Scene Chemistry project's use of the app is for iOS devices only. Our Science Journal tutorial series helps students and teachers learn more about using the app and doing experiments with sensors.)
A Shared Commitment to STEM Education
By working with Science Buddies, sponsor companies and organizations use their expertise to play a hands-on role in the development of quality STEM education materials that may be used by thousands of students each year.
Science Buddies estimates that more than 40,000 students will use the revised Crime Scene Chemistry—The Cool Blue Light of Luminol project in the coming school year.
Science Buddies thanks PPG for supporting K-12 STEM education and helping test and update student-focused science materials. Last year, PPG volunteers helped test and update the Column Chromatography project. (See PPG Volunteers Help Science Buddies Improve Student Chromatography Project.)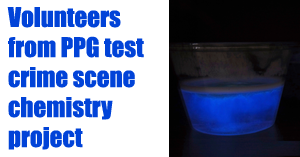 Categories:
You Might Also Enjoy These Related Posts:
Explore Our Science Videos
DIY Mini Drone Part 4: Program Drone Steering with Arduino
Robotics Engineering Project: Use the Force! Push and Pull LEGO® Mindstorms® Robots