Making a Game of City Planning: Students Explore Civil Engineering
Many popular video games involve aspects of city planning. Whether nurturing a small village or populating and running a sprawling city, kids can experiment with city planning on a variety of levels, from ensuring available resources to strategically positioning city protection. A fun SimCity science project from Science Buddies helps turn in-game city planning into a science experiment, one students can also use to enter the annual Future City competition.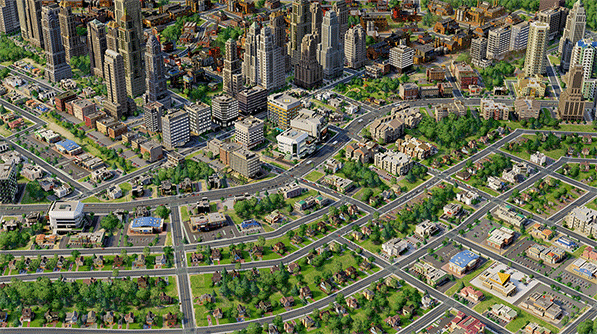 Above: A "suburbs" image from a city created in SimCity.
City planning. As a kid, I don't think I gave much thought to city planning, urban design, and civil engineering. I was wowed by whatever local structures, landmarks, or skyscraping architecture I passed by or saw when on vacation, but, growing up in a small town, the intricacies of city planning were not on my radar.

Since then, having lived in and visited cities of all sizes, I have comes to appreciate and marvel especially at the networks of roadways and transportation paths that snake through and around metropolitan cities. Road planning fascinates me. But there is a lot more that goes into city planning than just streets and highways. Civil engineers work on transportation systems, but they also work on energy and water systems and all kinds of buildings and construction projects both for business and residential use.

Video Games and Virtual Cities
SimCity, a computer game devoted to virtual city building, first appeared in 1989. The popularity of the game led to several iterations and versions of the game. You may have missed the height of the SimCity craze back in the 1990s, but video game-based city planning and world building has continued to evolve and reappear as a theme and challenge in lots of games, including computer games, console games, mobile apps, and games integrated in social networks like Facebook.

Above: In Clash of Clans, a popular mobile game, players design their village (or base) using an in-game editor and positioning elements to best protect their resources.

Whether set on a farm, medieval times, the present day, or in the future, many games rely on creative and strategic world building. Sometimes, games pegged as something else, especially tower-defense games, have a large element of world building. This plays out in different ways, depending on the game.
In some games, you grow a city by buying and upgrading things like housing, farms, mines, and social structures.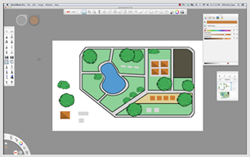 Experiment with Planning City Spaces this Summer with Autodesk Online Challenges!
Two creative challenges on the Autodesk Digital STEAM Workshop encourage students to explore elements of city planning using computer-assisted design tools to design city parks. The Shape: Small Park Design challenge invites beginning designers to use Autodesk SketchBook Express to mock up a small city park that fits within a set of design and cost parameters.
The Urban Park challenge offers a more robust activity for intermediate students ready to experiment with a number of tools from Autodesk's software suite. Using Autodesk AutoCAD, Autodesk Maya, Autodesk Revit, and Autodesk Inventor, students work on a park design that will appeal to a wide range of ages, uses recycled materials where possible, does not exceed 3,600 square feet, and falls within a given budget for construction.
Premier Design Tools for Educational Use
Autodesk gives students, educators, and educational institutions free access to professional design software, creativity apps, and real-world projects. For more information, details about educational use, and to download software, visit the Autodesk Education Community.
What Will You Make?
If you are already a user of Autodesk software, we would love to hear from you! If you try one of these park planning Autodesk Digital STEAM Workshop challenges, let us know how it goes!
You may also be responsible for setting the taxes and making other decisions that are integral to how the city grows and functions. In some games, you have to build and upgrade social buildings in proportion to work spaces and residential housing in order to keep the city in balance, the residents happy, and the gold flowing.
In other games, you design a base or village, a lot like a small city, but you don't have to deal with the essentials of survival (food and shelter) or with ensuring the happiness of residents. Designing a sustainable base that is properly defended and laid out in ways that successfully ward off attack from the outside may be a central element of game play, however, equal in importance to conducting raids, gathering more resources (either by harvesting or looting), and making decisions about what to upgrade and how to grow and evolve the base to higher levels.
The pervasive popularity of Minecraft and the countless maps and worlds available for players to visit epitomizes the appeal of world building in the video game space—and highlights keen interest in world building among younger players and students, too. In the open-ended Minecraft game, you can play the game as an explorer of a map created by someone else, maybe a map in which survival is the key, or you can play creatively and build your own world, block by block. (After you finish designing a map, you can make it available for other players to explore.) In survival mode, you need to first build a work bench (so you can get tools) and then build a house so you have somewhere to sleep at night to protect you from the zombies, skeletons, creepers, and spiders. But in creative mode, your imagination is the limit, and using a range of available blocks (including command blocks that can be programmed to do specific things), you can build a house, a town, a city, or a full world.
If you enjoy games that encourage creative in-game design or enjoy rearranging your in-game village over and over again, either for the creative fun of it or in response to things going wrong (losing against attacks, for example), you may want to take the idea to the next level and explore city planning as a career path or experiment with city planning for fun or for your next science fair project.

Making Science Fair Connections
In the To Infinity and Beyond: Plan a City of the Future with Sim City. science project, students use Sim City to design a city for a future population of 50,000 or more people. Designing the city of your dreams may sound like a lot of fun, but students may quickly find out what lots of city officials know—it can be hard to keep everyone happy!
Using tools in the project, students test and evaluate the success of their cities and make changes to better understand how various aspects of city planning work together to create a successful city—one people want to live in!
Part of the Sim City science project involves surveying friends and family to find out what elements they really want and care about in a city. To learn more about setting up and using surveys as part of a science project, see the Designing a Survey and Sample Size: How Many Survey Participants Do I Need? resources from the Science Buddies Project Guide.

Making Connections
The To Infinity and Beyond project ties in with the annual Future City competition, so spending time with Sim City this summer and translating your ideas about a perfect city into a computer simulation may be the first step into next year's science project or a first step on the way to Future City.
Categories:
You Might Also Enjoy These Related Posts:
Explore Our Science Videos
Gingerbread House STEM Challenge
Slow Motion Craters - STEM Activity
The First Cartoon: Make Your Own Thaumatrope!