Sparking Interest in STEM Careers in Middle School
This sixth-grade computer teacher is helping her students start thinking, now, about the range of STEM career paths available and how jobs in science match up to interests they already have.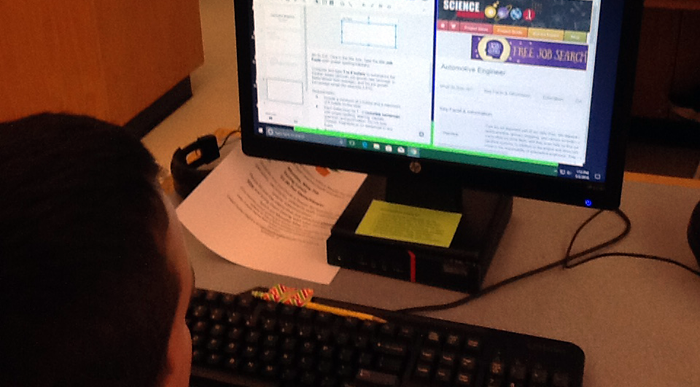 The Future STEM Workforce
According to the U.S. Bureau of Labor Statistics, "over 800,000 new STEM jobs were added to the U.S. economy" between May 2009 and May 2015, and "ninety-three out of 100 STEM occupations had wages significantly above the national average wage." It is clear that there is considerable opportunity for students who pursue STEM, but will there be enough interested students?
Sources continue to predict a significant shortage of STEM employees to meet growing workforce demand, particularly in computer science and health fields.. Even more alarming is the U.S. Department of Education's claim that only 16 percent of high school students are interested in STEM-related careers. The future of the U.S. STEM workforce depends upon schools, teachers, programs, and organizations reaching students in meaningful ways with career information that both sparks interest and enables students to see themselves with a future in STEM.
Creating Opportunities for Students to Explore STEM Careers
Sparking student interest in STEM careers is key, and the earlier students start thinking about the wide range of STEM careers, the better. Kids are asked from the time they are little what they want to be when they grow up. Middle school is not too early to encourage students to survey STEM career paths and explore possibilities that may still be years away. Career-focused school projects like that of Sue Spollen, a computer teacher in Tewksbury, MA, have the potential to engage students at a pivotal point in their education and may make a real difference in how students think about their future.
Spollen is a dedicated computer teacher for sixth grade at John F. Ryan Elementary School. Every week, Spollen works with 270 sixth-grade students in the school's computer lab, where they focus broadly on computer and digital literacy skills. Students passing through Spollen's lab learn and practice keyboard skills, get exposure to computer science, and work on projects that synthesize and reinforce other areas of academic learning, like writing, research, and communication skills.
One of the computer-based projects Spollen does with students each year focuses on careers. As part of the project, her sixth-grade students do a personal interest assessment, survey careers, and choose a career to report on. Spollen says she has been assigning a career project for eight years, but this was the first year that she focused the project on STEM careers. Shifting the assignment to have students narrow in on options in science, technology, engineering, and math was a change that supports district-wide educational goals and her own desire to expose students to the wide range of STEM careers available.
STEM careers "provide excellent future opportunities," says Spollen, and in the introduction to the STEM Career assignment, she tells her middle school students, "STEM jobs are expected to be plentiful in the future, so it is beneficial for you to understand the type of STEM job that best fits your interests and strengths."
STEM Career Information at Science Buddies
In preparing this year's STEM-focused career assignment, Spollen integrated Science Buddies' Careers in Science profiles into the project. The career section of the Science Buddies website features more than 150 popular careers in a range of STEM fields. Each profile has been developed to maximize student understanding of what the job entails and the educational path that leads to that career. Career profiles provide salary projections, a short list of companies that hire in that area, education requirements, and "a day in the life" summaries to help students better understand what someone in a specific job does. Career profiles also include videos, photos, and interviews with employees in the field to help illustrate the career.
Spollen says that the Science Careers area at Science Buddies was a good fit for her project. "It is STEM-focused, provided a good selection of careers to choose from, and was easy to navigate/understand."
"Students need to know what types of jobs will be in demand/growing so they can focus on the improving the skills they need, as well as reset their growth mindset."
~ Sue Spollen, teacher
Imagine Yourself in a STEM Job
To complete Spollen's career assignment, students work through a series of online steps, learning to take screenshots and navigate websites as part of the process. Spollen breaks the assignment into two parts, general exploration and research. In the exploration stage, students use online tools and surveys to help them understand their own strengths and interests and to help them narrow in on areas of STEM that may be of particular interest. Students then move on to the research part of the assignment.
They begin this portion of the project at Science Buddies, browsing the Science Careers area of the site and looking at careers in Earth & Physical Sciences, Life Sciences, Engineering, Math & Computer Science, and Health. In the project directions, Spollen highlights a few areas of potential interest (e.g., arts, sports, and cooking) and links those areas of interest to careers students might want to research on the Science Buddies site. For example, a student interested in sports might research careers like Diver (Environmental Science), Athletic Trainer (Life Science), or Physical Therapist (Health).
After identifying and choosing one career of interest, students do additional research on the career and create a multi-slide presentation using Google Slides. The slideshow requirement helps reinforce software skills as well as emphasizes content, organization, and strong writing skills. Spollen notes that the slideshow is not a creative project but is, instead, an orderly presentation of the student's research on a chosen career. (Students have the opportunity to add color and images to enhance their presentation as a follow-up assignment.) By the end of the project, students in Spollen's class have surveyed a number of careers and taken a closer look at a STEM career of possible interest and maybe discovered a career path that will shape how they think about the future.
When asked about the value of talking about STEM careers with middle school students, Spollen notes the importance of connecting classroom learning to real-world careers. "I spent 14 years in the computer industry before becoming a teacher," says Spollen. "I am also certified in math. Career awareness is extremely important in middle school so they understand 'why am I learning this in math?' Also, students need to know what types of jobs will be in demand/growing so they can focus on the improving the skills they need, as well as reset their growth mindset."
Science Buddies Science Careers section "...is STEM-focused, provided a good selection of careers to choose from, and was easy to navigate/understand."
~ Sue Spollen, teacher
Share Your Science Class Story!
Do you use Science Buddies in the classroom or with your students? We would love to hear your story and share it with the Science Buddies community. Reach out to us at scibuddy@sciencebuddies.org and let us know about your STEM class.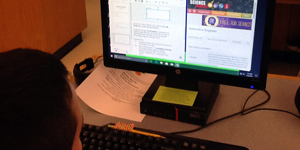 Categories:
You Might Also Enjoy These Related Posts:
Explore Our Science Videos
Build a Light-Tracking Bristlebot
Why Do Apples and Bananas Turn Brown? - STEM activity