Pharmacist: A Science Career in Patient Health Care
As the number of medications, both over-the-counter and prescribed, continues to rise, pharmacists play an increasingly powerful role in helping ensure patient wellbeing, safety, and quality of life. Is the medication you were prescribed safe for you? Beyond an apple a day, feeling better may require advice from a pharmacist!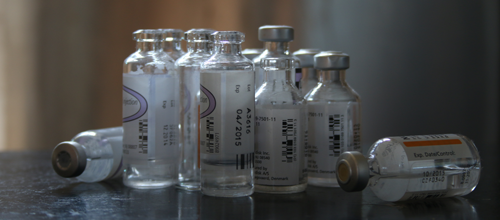 Whether you need an antibiotic to help fight an infection, powerful cough syrup, insulin, or another doctor-ordered medication, when it is time to pick up your prescription, you probably head to a local pharmacy. Your pharmacy may be a neighborhood business, a branch of a drugstore chain, or a pharmacy nestled inside a large grocery store. Your pharmacy may even have a convenient drive-through or a vault from which you pick up your medicine without waiting in line, or maybe your pharmacy offers 24-hour service.
Regardless of where your pharmacy is or how you pick up your medications, the person who filled your prescription—counted out or measured the quantity—is a pharmacist. Someone else may ring you up. Someone else may have taken the prescription from you when you dropped it off. But the pharmacist is the one ultimately responsible for ensuring you receive the right medicine, the right strength, and the right quantity, all matching up to your doctor's orders.

Recognizing Patients as Individuals
It is easy to think of being a pharmacist as simply a job of shuffling pills into safety-lock bottles, but pharmacists do much more than that. Pharmacists also help patients understand how to take a new medicine and warn them of possible side effects. Pharmacists also answer questions about generic versus non-generic medications and changes in medications. If a pill changes size, shape, or color, your pharmacist may tell you before you even have a chance to notice. Pharmacists need to know as much as possible about a vast number of available medications. But pharmacists also need to know you—an individual patient.
Just because a doctor prescribes a medicine to treat a specific problem doesn't mean it is the right medicine (or dosage) for a patient. Every patient is different. Each patient has her own medical history and medication history. Before a prescription is filled, a pharmacist may catch a problem with the prescription or with the combination of the prescription and a specific patient's health history. Computer profiles help flag possible problems, but pharmacists are the ones who talk directly with patients to explain any possible problems and relieve any concerns.

Safeguarding Patient Health
A recent NPR story covered the emergency department of a children's hospital in Dallas, TX, where pharmacists work, around the clock, to ensure the accuracy of prescriptions being made to treat patients. This kind of safety net may help decrease prescription-related problems, problems that reportedly cause thousands of deaths each year.
In an emergency room setting, pharmacists can make a tremendous difference, but even beyond critical care and emergency department scenarios, pharmacists are predicted to play an increasingly important role in day-to-day healthcare. Variables like increased life expectancy, increased preventative healthcare services, increased number of people with chronic conditions, increasing numbers of available prescription drugs, changing medical insurance policies and ongoing changes in prescription coverage, and ever-increasing medical knowledge put the pharmacist in a pivotal position between the prescribing doctor and the patient—a position where precision and accuracy must go hand in hand with an ability to synthesize pharmaceutical information, spot potential big-picture issues and complications, and convey necessary information to patients.

Making Connections
Students interested in human health and biology, medical biotechnology, and medicine, can explore science questions related to health issues and medications in science projects like these:
To learn more about the educational requirements, daily tasks, work environment, and career outlook for pharmacists, see the Pharmacist career profile, part of Science Buddies's science careers area.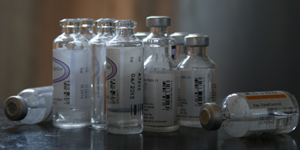 Categories:
You Might Also Enjoy These Related Posts:
Explore Our Science Videos
Paper Ball Run: 2022 Engineering Challenge
Valentine's Day Candy Delivery Robot