Philo Farnsworth: The Student Who Invented TV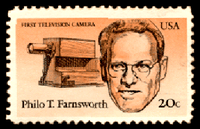 Farnsworth invented the TV and landed on a U.S. postal in stamp in 1983. In later years, Farnsworth's widow, Pem, reportedly explained Farnsworth's relationship to the history of TV this way: "You take Farnsworth's patents out of your TV and you'd have a radio."
Born on August 19, 1906: Philo Farnsworth.
Philo Farnsworth?
A household name? Maybe not.
But if you have a TV in your house, you are using something Farnsworth envisioned as a high school student and spent many years developing. Farnsworth is often referred to as the "inventor" of TV, and his story is fascinating and exciting in terms of what's possible when a young scientist or engineer takes what is available and imagines what may be possible. Farnsworth's early fascination with electricity and his spirit of "what if" is what brought moving images to the screen, but his ideas got their genesis in something much more basic... the lines created when plowing a field.
A biography of Farnsworth posted on the Brigham Young High School website summarizes his vision at age 14 this way: "he dreamed of using a lens to direct light into a glass camera tube, where it could be analyzed in a magnetically deflected beam of electrons, dissected and transmitted one line at a time in a continuous stream." By the age of 21, Farnsworth demonstrated this method of transmission, with a single line, thus creating the first television transmission.
What will you and your students invent, test, question, or discover this year?
Continued Study
Farnsworth's story is one that puts the Engineering Design Process in action. Students with an interest in electronics, engineering, tinkering, and the DIY mentality of inventing, or students who see a problem and have ideas on how something could be developed to solve that problem, can learn more about the steps of the engineering process in the Science Buddies Engineering Design Process guide.
The following books and reference materials may help you learn more about Farnsworth and the development and historical timeline of TV:
Categories:
You Might Also Enjoy These Related Posts:
Explore Our Science Videos
Model the Planets of the Solar System
The Jumping Flame Trick Revealed!
Candy Snap! Does freezing candy make it more brittle?