By Kim Mullin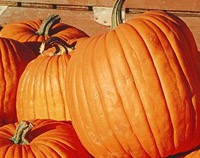 Pumpkins seem to be everywhere in the fall, and with good reason. Fall is when pumpkins turn ripe, so we eat them (mmm, pie!) and use them for decorations.

If you've ever opened up a pumpkin, you know that it is full of "pumpkin guts." Stringy, messy, and full of seeds, many people just throw the guts away. Others like to roast the seeds for a tasty snack.
A pumpkin is a squash. Open up other kinds of squash, such as an acorn or butternut squash, and you'll find similar stringy guts, full of seeds. Why? Because seeds are how many plants make new plants. If you plant seeds from a fresh pumpkin, with a little water and care, you might get a new pumpkin plant next year—your very own pumpkin patch!
Why do you think pumpkins have so many seeds? After all, some fruits, such as an avocado have only one giant seed. Do all types of squash have lots of seeds? And what about size? Do you think that a large pumpkin will have more seeds than a small one? Explore more about seeds in different kinds and different varieties of fruits in the How Many Seeds Do Different Types of Fruit Produce project.

Categories:
You Might Also Enjoy These Related Posts:
Explore Our Science Videos
Gear Ratio for the Junior Solar Sprint
Volleyball Machine: 2019 Engineering Challenge
How To Curl Metals With Heat