Success Story: Student Engineer Tests Solar-Powered Robot
This fourth-grade student had fun building and playing with a solar-powered bot—and learned about alternative energy and electricity in the process!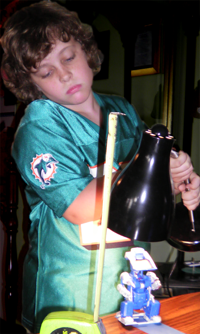 As a fourth-grade student, Keeley (above) investigated how effective different light sources are for a solar-powered robot. Read about other student science successes in the Science Buddies in Action area.
For his first science fair project, Keeley Hilliard explored Avatar-style water bending using an
Archimedes screw pump
. It's a classic mechanical engineering device, perfect for a leaky ship, but for a fan of
Avatar: The Last Airbender
, the screw pump experiment was a great way to simulate the mystical field of water bending—with science. Last year, building on his
successful third-grade project
, Keeley shifted his focus from water to another core element—the Sun. Based on a recommendation from the
Science Buddies Topic Selection Wizard
, Keeley selected the
"The Frightened Grasshopper: Explore Electronics & Solar Energy with a Solar-Powered Robot Bug"
Project Idea for his fourth-grade science fair at Educational Horizons in Florida.
Part of the newly launched Robotics Interest Area at Science Buddies, the "Frightened Grasshopper" Project Idea guides elementary students in an introductory exploration of one aspect of robotics—power. The project, which invites an investigation of solar and alternative energy, uses a small and inexpensive robotic bug
to let students see, hands-on, how a solar panel works to convert certain kinds of light energy to electrical energy. When Keeley bought his materials for the project, he decided to mix things up a bit. Instead of the grasshopper kit, he took a two-legged approach with the T3 robot,
a fitting selection as he asked: can man-made light effectively power a solar robot?
Keeley got help from his Dad with the construction of the robot. "Some of the design details were pretty tough," he admits. The T3 converts to several engaging forms, robot, tank, and scorpion, but the shape of the bot doesn't really matter in this robotics investigation. What matters is the size of the solar panel, the source of light, and the intensity of the radiant energy from the light. Once the solar panel was in place, Keeley was all set to test a range of light sources, including light bulbs in varying wattages, all pitted against the Sun.
Many questions can be asked in this experiment, starting with whether or not man-made light works for "solar power." If it does work, why and how? Does artificial light work as well as natural light? How long does solar power last? What happens overnight or on a cloudy day? For a young engineer, observing a robot's behavior and energy when it gets its juice from different kinds of light is fun but also offers first-hand insight and a chance to draw conclusions and formulate other questions about alternative energy.
At ten, Keeley is interested in robotics, electronics, video game design, and other areas of physical science, which made the "Frightened Grasshopper" project an exciting choice for him. The project also gave him a chance to explore questions related to energy and power, questions that have real-world significance and that built upon his core interest in engineering. At the fair, Keeley's investigation earned a repeat first place in the Physical Sciences division. He then moved on to the district science fair, where he took fifth place.
Keeley is already looking forward to this year's science fair. In addition to feeding his enthusiasm for science, his first two successful fairs have given him confidence. "I have already picked out my project, thanks to Science Buddies," Keeley told us. "But you will have to wait before I tell you what it is. I want the Triple Crown!"
We can't wait to hear what he chooses and where science takes this young engineer next.

Share Your Robotics Stories
Are you or your students interested in robotics? We would like to hear your robotics stories! If you have completed or are considering a robotics project for your science or engineering project, let us know about your project or experience.
Categories:
You Might Also Enjoy These Related Posts:
Explore Our Science Videos
Make a Hygrometer to Measure Humidity – STEM activity
Harvest Water from Fog Science Project
Build a Model Recycling Sorting Machine