Student Physics: Accelerometer on a Trampoline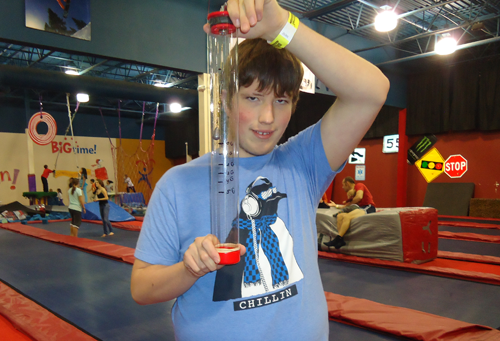 For his 8th grade science project, Jonathan Stewart gave the
"The Chills and Thrills of Roller Coaster Hills"
Project Idea a new,
bouncy
, twist. When it was time for his science project, the local amusement park was already closed for the year, so after building his accelerometer (the device he is holding in the photo), Jonathan put it to the test on a trampoline for a great physics project exploration of g-force!
What did
your
science project or family science activity look like? If you would like to share photos taking during your project (photos like the one above or photos you may have put on your
Project Display Board
), we would love to see! Send it in, and we might showcase your science or engineering investigation here on the Science Buddies blog, in the newsletter, or at
Facebook
and
Google+
! Email us at
blog@sciencebuddies.org
.
Categories:
You Might Also Enjoy These Related Posts:
Explore Our Science Videos
Why Won't it Mix? Discover the Brazil Nut Effect
Build a Bird Feeder to Study Birds – STEM activity
Cricket Wicket Knockdown: 2020 Engineering Challenge