Online Support Forum Helps Student Succeed Two Years in a Row
Students doing science fair projects often have questions they need answered during the process. This student found extra support in Science Buddies' free Ask an Expert forums, and her environmental science projects were nominated for Broadcom MASTERS in both sixth and seventh grade.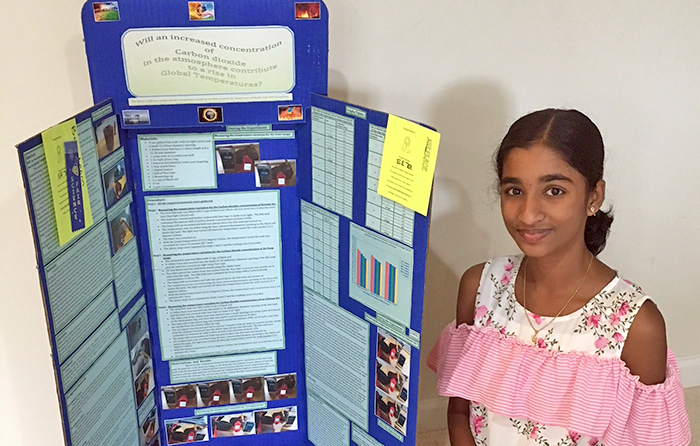 Above: Lakshita with the project display board for her winning eighth-grade science project.
Lakshita, a middle school student in Missouri, has been doing school science fair projects since the third grade. She is especially interested in real-world science and the environment. In the sixth grade, however, Lakshita ran into a problem. She had questions and needed help while working on her project, and she felt that her teachers were too busy to provide extra support. "Though science teachers at my school do know the scientific method and how to do an experiment, I wasn't able to find any time to ask them for clarifications in my hectic schedule. Even if I [found] time, my teachers weren't able to find any time in their schedule to give a detailed answer or explanation to my questions."
As a middle school student, Lakshita was looking for additional support, support she couldn't get at school and support in an area of science beyond what her parents, both software engineers, could provide. She searched online and found the Science Buddies Ask an Expert forums. "Knowing I needed someone to work one-on-one with me on my science project and answer my [questions] in depth and quickly, I started to research mentors and all sorts of helpful websites," recalls Lakshita. "That's when I came across Science Buddies, which was exactly what I was looking for. I met my mentor, JK, who learned about my science project and helped me figure out answers to my questions."
The Annual School Science Fair
Lakshita says that she is very interested in environmental science projects. "I may be able to raise awareness about what humans are doing to damage our Earth," she says, noting that she has done school projects related to biodegradable plastic, biofuels vs. fossil fuels, and global warming. Her projects have consistently done well in science fair competitions. She won her local fair and went to the regional science fair for the first time in the fourth grade, where she placed third. In the fifth grade, she won her local fair and placed second in the regional fair. Proud of her success, Lakshita hoped to do even better at the science fair with her sixth-grade project. The extra assistance she received from a mentor in the Science Buddies Ask an Expert forums helped her complete a more complex project investigating biofuels made from bananas. She placed first in the regional science fair, won an American Chemical Society award, and was nominated for the prestigious Broadcom MASTERS middle school science competition.
"I was very much relieved to find a mentor on Science Buddies who would have time to have a detailed chat with me about my project." Lakshita, student, 7th grade
In seventh grade, Lakshita returned to Ask an Expert for assistance with her environmental science project on the relationship between car pollution and global warming.
Real-world Science and Climate Change
Inspired by environmental science reading she saw her mom doing, Lakshita started researching climate change and global warming. After listening to a talk by oceanographer and climatologist Stefan Rhamstorf (Potsdam University) about the causes of increased carbon dioxide in the atmosphere, Lakshita decided to focus her school science project on global warming and the relationship between carbon dioxide levels and temperature.
Lakshita used the Ask an Expert forums throughout her project and asked for input from her mentor as she put together parts of her report and display board. Expert "JK," a high school volunteer in Science Buddies' student mentoring program, assisted Lakshita in the forums. JK says that she, too, used Science Buddies as a student and appreciates the wide range of projects and support available at Science Buddies. JK knows, firsthand, that students often need additional support outside of school. "While I came from a good school system, my science teachers in no way could have offered the same variety of projects to choose from that would serve to pique my interest in previously unexplored scientific topics. Had I not had Science Buddies as a resource, my cautious exploration into a field I had no experience with would have ended out of fear and frustration."
As an Expert in the Science Buddies forums, JK is able to help students like Lakshita get answers to questions whenever they arise. This extra and individual support can make a big difference in a student's science project experience.
"I'm very happy that my daughter found the Ask an Expert forums," says Lakshita's mother. "Working with a person who knows about the subject of her project can help her fully understand the project before getting started."
Science Fair Success
After presenting her seventh-grade project at the school fair, Lakshita again advanced to the regional competition. Taking into consideration feedback from the judges and discussions with her Science Buddies mentor, Lakshita made some modifications to her project. "Thanks to this, I won first place in the environmental science category. The American Chemical Society awarded my project first place in the overall science fair, too! I also became nominated for Broadcom MASTERS. Of course, I couldn't have been so successful without the help of Science Buddies."
Lakshita appreciates that a project like hers can help raise awareness about global warming. Even at home, her project made a difference in how her family views and takes care of their car. "Through my research, I became aware of the dangers of global warming (rising sea levels, increased wildfire seasons, increased coastal flooding, etc.) and started to change tiny parts of my lifestyle. I learned that the components of car exhaust cause a lot of pollution, therefore increasing global warming on Earth. Instead of using a car for small distances, I encourage myself and other family members to ride a bike or walk if the destination isn't too far. I remind my parents to regularly maintain their cars, as this will help their car function correctly and emit less carbon dioxide in the atmosphere. I hope that my project inspired many other people to help our environment too."
She plans to continue her research with her eighth-grade project on climate change and the relationship between car traffic and ozone levels.
In addition to her interest in environmental science, Lakshita enjoys singing, playing violin, and doing arts and crafts. She also participates in swimming and track at her school. She plans to pursue forensic science. "Ever since I was a child, I have been interested in solving mysteries, and I read mystery novels all the time. I like to use logic and reasoning to solve all sorts of crime riddles."
"I won first place in the environmental science category. The American Chemical Society awarded my project first place in the overall science fair too! I also became nominated for Broadcom MASTERS. Of course, I couldn't have been so successful without the help of Science Buddies."
Lakshita, student, 7th grade
Supporting Students Doing Hands-on Projects
The Science Buddies Ask an Expert forums offer free and convenient online assistance to students working on science projects. The forums are monitored by a team of adult volunteers who work in STEM fields and at STEM companies and top high school science students. These Experts assist with student questions ranging from help finding a project to troubleshooting a procedure or analyzing data. For many students, the ability to get additional support to supplement what is available in the classroom or at home can have a tremendous impact on the success of their project and how they feel about doing science projects.
"Working with students like Lakshita, who express genuine enthusiasm about both the experimental process and the motive behind the project, reinforces my belief that volunteering at Ask an Expert is something I want to do for a long time," says JK.
To learn more about the Science Buddies Ask an Expert volunteer program, please visit: www.sciencebuddies.org/volunteer.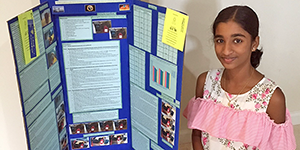 Categories:
You Might Also Enjoy These Related Posts:
Explore Our Science Videos
The Jumping Flame Trick Revealed!
Ball Launcher: 2018 Engineering Challenge
Cricket Wicket Knockdown: 2020 Engineering Challenge