Student Discovers Green Thumb Growing Plants without Water
A hydroponics experiment gave this student more than just the chance to learn more about growing plants. She also cultivated strong problem-solving skills as she moved her experiment to the garage.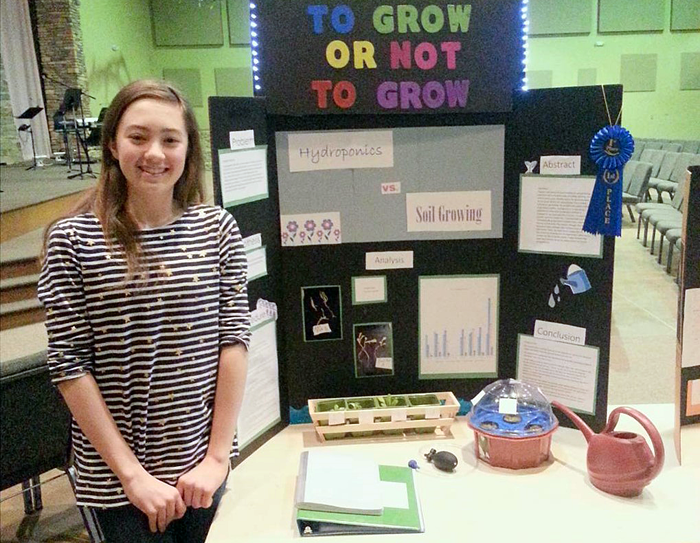 Above: Madeline at the science fair with her hydroponics project.
No matter where you live, fall and winter months are not necessarily the best months for doing plant biology projects, but at Science Buddies, we know that picking a project of interest can make a big difference in a student's experience with an independent science project. As an 8th-grade student, Madeline loved to garden. When she spotted the Hydroponics: Gardening Without Soil project at Science Buddies, she thought she had found a great project for her first science fair. What Madeline did not count on was the fact that living in Alaska might prove to be a real challenge for a plant growing experiment!
Winter in Alaska
Madeline and her family had just recently moved to J-BER (Joint Base Elmendorf–Richardson), Alaska and were still adjusting to differences in seasons and light when Madeline picked her project. The science fair was in January, which meant that Madeline needed to conduct her experiment in November and December, months in which there is limited daylight in Alaska. With sunrise as late as 10 A.M. and sunset sometimes before 4 P.M., there wasn't necessarily enough sunlight outside to grow plants, and average temperatures during these months are below freezing.
Weather and daylight conditions were far from ideal for a plant biology project, but Madeline did not let this dampen her enthusiasm. Since growing her plants outdoors posed a problem, Madeline moved her science project into the garage. She used a grow lamp to ensure enough light and watered her plants using a watering can.
Madeline says that tending the plants and the grow lamp for the month-long project was a challenge, but she carefully monitored her plants and even got her siblings involved in helping her record and measure data. At the end of the experiment, Madeline says that her results comparing soil-based and hydroponic plant growth supported her hypothesis. "I definitely learned that hydroponics is the best way to go. Thank you Science Buddies for helping me find this project!"
"The project was fun. I learned a lot about hydroponics, gardening, and how to properly measure and collect data." Madeline, 8th-grade student
A Science Fair Success
Participation in the science fair was required, but Madeline says she really enjoyed the experience. "I thought that the science fair itself was really cool, and I would do it again," she says. Plus, she won first place in the 8th grade division!
Madeline says that her teachers recommendeded that students use Science Buddies, and she is glad she did. "I loved using it to see different projects that matched my criteria, and it is safe to say that I would not have found my project, or had such a good time with the science fair, if I did not have Science Buddies!"
After the science fair, Madeline continued to grow lettuce in some of her pots and registered for a spot at a community garden. "I am starting herb pots, and I have a new love for science!" When she isn't taking care of her plants, Madeline says she enjoys basketball and is learning how to ski. She also enjoys building with LEGO, crafting, and gardening.
Explore Hydroponics
Students inspired by Madeline's project can explore growing plants without soil with their own hydroponics activity or project. The video above provides an overview of how the project works.
Share Your Science Buddies Story!
Have you used a science project, STEM activity, or Lesson Plan from Science Buddies in your class or program? We would love to hear your story! Email us at scibuddy@sciencebuddies.org and tell us how you use Science Buddies with students.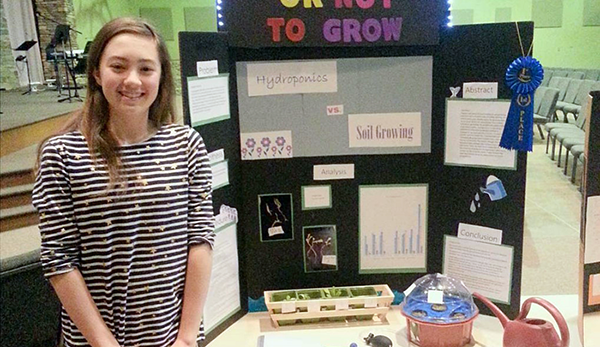 Categories:
You Might Also Enjoy These Related Posts:
Explore Our Science Videos
Build a Simple Steerable Robot