Cornell Senior Cites Middle School Science Fair as Pivotal
Independent science and science fair projects give students the chance to really dig into STEM exploration. Finding a topic of personal interest can make a real difference in how the project goes. For this college student, a middle school science fair project changed her view of science and set her off on an exciting STEM career path.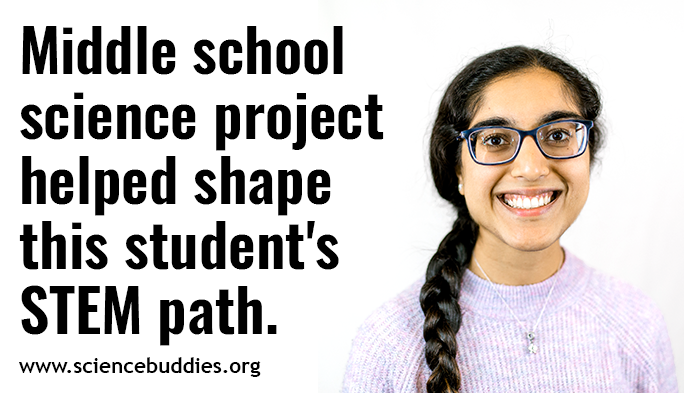 Today, Harleen Suri is a senior at Cornell University (NY), majoring in mechanical engineering with a concentration in biomechanics. STEM is a big part of her life and her plans for the future. Ten years ago, though, she was a 6th-grade student in Pennsylvania tasked with finding and doing a science project for Arcola Intermediate Middle School's science fair. And science wasn't her favorite subject.
Back in the 6th grade, Harleen says that algebra and history were her favorite subjects. Science was just "okay," says the Cornell senior. "I remember my middle school science classes were not necessarily my favorite, but also not something I disliked. We spent time learning about various topics, from ecosystems and cells to hydrogen bonds and photosynthesis, [but] I remained fairly apathetic towards my science classes." So when it came time to find a project for the science fair, Harleen drew a blank.
"I remember I could not think of a project that interested me," says Harleen. At the recommendation of her science teacher, she visited the Science Buddies website to look for a project. "Scrolling through, I realized that [Science Buddies] had a plethora of different projects, many of which interested me. I could search by topic, field, or difficulty level and find multiple projects that sparked my interest."
"This experience is what ultimately changed my view on science and made me decide that I wanted to pursue a career in a STEM field."
Harleen Suri, Cornell University
A Middle School Turning Point
In 8th grade, Harleen was again faced with finding a science fair topic. Using Science Buddies, she selected the Burning Biofuels: Comparing Nonrenewable and Renewable Fuels energy project. When asked, she can still summarize the steps of her middle school project. "The project involved taking vegetable oil and motor oil and then burning [each] to heat a can of water," she explains. "By measuring the percentage change of the temperature of water, the amount of energy released from the renewable fuel source (vegetable oil) as compared to the non-renewable fuel source (motor oil) could be determined."
Harleen was experimenting to see if she could show that biofuels are not only environmentally-friendly but also a more effective source of energy. It was a science project with real-world implications.
"The project ended up being one of the best things I did that year," says Harleen. "I took the idea of the project, and after doing some research, decided that I wanted to not only test different kinds of vegetable oils, but actually make the biodiesels that could be used in engines." Harleen successfully expanded her project to convert oils into biodiesels for testing.
For Harleen, the ability to connect a school project with real-world solutions was eye-opening. She says she remembers being "completely engrossed" in the project. "I think what really intrigued me was the fact that I could read about how biodiesels were produced and how they could have a large impact on society if they were widely used and then actually make them and see how they were indeed a great source of energy."
For some students, the middle school science fair is just another class requirement. But for Harleen, the science fair had a dramatic influence on how she thought about science and her future. "This experience is what ultimately changed my view on science and made me decide that I wanted to pursue a career in a STEM field. I felt that this field was something I could make a difference in. I began to see how what we were learning in my science classes was useful."
"The project ended up being one of the best things I did that year."
Harleen Suri, Cornell University
Sparking Interest in STEM Careers
The Careers in Science area at Science Buddies helps students learn about a wide range of STEM careers and includes information about educational requirements, salary range, and job outlook.
For additional inspiration about introducing students to STEM careers, see these posts:
Learn more about the benefits of science fair projects in our five-part Why Do Science Projects and Science Fairs? blog series.
Share Your Science Buddies Story!
Have you used a science project, STEM activity, or Lesson Plan from Science Buddies in your class or program? We would love to hear your story! Email us at scibuddy@sciencebuddies.org and tell us how you use Science Buddies with students.
Categories:
You Might Also Enjoy These Related Posts:
Explore Our Science Videos
Two-Stage Balloon Rocket Lesson Plan
Turn Milk into Plastic! Lesson Plan Introduction
Fun Physics with Your Cell Phone