Science Project Success Story: Making paper speakers after school
For this dedicated after-school educator, science activities from Science Buddies are a great fit for fun and engaging science exploration that doesn't feel like school. Over the last few months, she's done a number of activities from Science Buddies, including a creative science project with circuits and magnets that lets students make their own working speakers or headphones!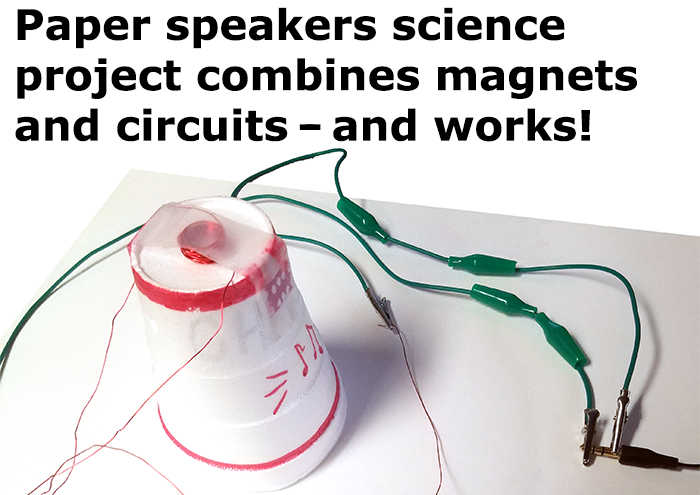 Paper speakers science project combines magnets and circuits - and works!
Above: Using paper cups for the Paper Speakers activity inspired Christina Hall's students to think about their speakers as DIY headphones!
Sparking Interest in Science Outside of the Classroom
As a 4-H Educator through the Cornell Cooperative Extension of Chenango County (New York), Christina Hall works with elementary and middle school students in 4-H and non-4-H after-school programs throughout the county. She visits some locations once a week, and some every other week or once a month. To meet the needs of the wide range of students she sees and the varying schedules of the programs, Christina is always on the lookout for fresh and engaging science, technology, engineering, and math (STEM) materials to use with students.
She was excited when she discovered the STEM Activities for Kids area at Science Buddies and has used a number of these activities with students. "I've been enjoying looking to Science Buddies for some out-of-the-box ideas that kids really like. I feel like when I ask the kids what they want to do, they all just want to make slime. They'd make slime every week if they could."
Last summer, Christina did the Paper Speakers science project with a group of 4-H students as a test to see how well the activity would work with a group. Since then, she has done Paper Speakers, with multiple groups of students, mostly in grades 6-8. When possible, Christina says she structures her activities so that students each have their own materials and are able to leave with a take-home project. Although she was excited about the Paper Speakers idea, she was initially worried about buying supplies to do the activity with a large number of students. She adapted the project materials slightly, using stereo cables that were more readily available. She also used plastic cups instead of paper plates. The shape of the cups inspired students to think of their speakers as headphones and even to work on designing headphone bands they could attach to their speakers, which added an unexpected creative engineering design angle to the activity.
The Paper Speakers activity builds upon concepts covered in other experiments she has done involving circuits and magnets, and Christina says the Paper Speakers activity has been really effective with kids and that they are always surprised that they can make speakers that work with simple materials. "I like it because it really works, and the kids get excited about magnets and circuits, which gives opportunity for extensions to the activity," she adds.
"I've been enjoying looking to Science Buddies for some out-of-the-box ideas that kids really like. I feel like when I ask the kids what they want to do, they all just want to make slime. They'd make slime every week if they could."
Christina Hall, 4-H Educator
In addition to Paper Speakers, Christina has done versions of other science activities that can be found at Science Buddies, too, including bath bombs, paper circuits, hula hoops, and solar ovens. "A lot of the home science activities from Science Buddies are perfect for what I'm doing where the kids don't want to feel like they're in a classroom anymore, but it's still a learning opportunity," says Christina. She especially appreciates that the activities focus on the directions for doing the science activity and offer a succinct explanation of the science at hand.
"When I'm searching for STEM activities that fit what I'm doing, often the first results are blogs that list tons of STEM experiments, but they're usually not concise lessons, and they often don't have a take-away about the science behind what's happening in the project or extensions. Science Buddies offers me all of that, and the activities are not just obvious activities that the kids have all done before."
At the time of this story, Christina was preparing to make marshmallows with students using the Make Your Own Marshmallows activity.
Try Paper Speakers
There are two versions of Paper Speakers at Science Buddies, the activity version that Christina used, which is designed for home, classroom, or group use, and a project version suitable for students working on an independent science project or science fair assignment:
The project version includes suggestions for ways to use Google's Science Journal app to measure sound intensity. To learn more about using Science Journal and working with the sound intensity sensor, see Get Started with a Sensor App and Exploring Sound Intensity with a Sensor App.
Above: Using paper plates, students can build and experiment with their own functional Paper Speakers!
Share Your Science Buddies Story!
Have you used a Science Fair Project Ideas, STEM activity, or Lesson Plan from Science Buddies in your class or program? We would love to hear your story! Email us at scibuddy@sciencebuddies.org and tell us how you use Science Buddies with students.
"A lot of the home science activities from Science Buddies are perfect for what I'm doing where the kids don't want to feel like they're in a classroom anymore, but it's still a learning opportunity."
Christina Hall, 4-H Educator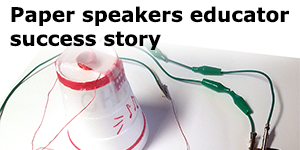 Categories:
You Might Also Enjoy These Related Posts:
Explore Our Science Videos
Make a Water Strider - STEM Activity
Why Won't it Mix? Discover the Brazil Nut Effect
Build a Simple Electric Motor