Success Story: The Science of Video Games
Three years in a row, this fifth grader has turned his interest in video games into a winning science investigation. For Xavier, a new science project assignment is a great opportunity to learn about another aspect of game design and development—and have fun at the same time. Game on!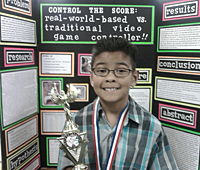 Xavier Downey (above) is a veteran science fair winner. Exploring various angles of science related to video game play and video game design, Xavier has made the leader boards at local science fairs three years in a row—and had fun in the process! Read about other student science successes in the Science Buddies in Action area.
When it comes to cutting-edge science, technology, engineering, and math (STEM) education, a lot of weight is being thrown into turning the student-generation's engagement with video games into a direct conduit for scientific exploration and innovation. Rather than forcing kids to turn off the games, companies like AMD, through their AMD Changing the Game Initiative, and other proponents of Change the Equation, advocate encouraging students to dig in deep and explore various angles of game design, game mechanics, and game play. If students, teachers, and parents all come to the video game playing field with an understanding that there're a lot to learn from playing games, the win-win combination can score big points for students in terms of science education and in sparking new interest in science and technology.
Science Buddies in Action
Xavier Downey, a fifth grade student in Hesperia, CA, is an avid gamer. He's into current versions of Pokémon and enjoys going to bat in Mario Super Sluggers. Despite his affinity for his DS and Wii, at eleven, Xavier is also a veteran science fair participant. What stands out about Xavier's science fair history is that his last three science fair projects have all been about video game-related topics. Beyond simply turning "game" into schoolwork, Xavier has taken top honors each year at both his school and district fairs, showing that while the science of gaming can be fun, the projects students pursue in this area can go head-to-head with science projects in other, more traditional, areas of science.
Xavier and his mom are big fans of Science Buddies. After discovering the Science Buddies website at the onset of his third grade project, they've returned each year to search for a hot gaming topic for the science fair and to use Science Buddies resources for guidance, including the Ask an Expert forums. From Xavier's perspective, Science Buddies has given him an edge in terms of developing and completing competitive and successful projects. He's understandably excited about all those first place ribbons, but he's even more enthusiastic about the fact that with each of his projects, he's gotten to explore the science behind something he loves—video games.
"The best part of all is that the projects I chose to do were all video-game-related science projects! I got to play video games and do school work at the same time! I actually wanted to do school work and research all the time for my science projects," says Xavier. "I couldn't have done it without the help of Science Buddies. Learning has never been so much fun!"
A Gamer's Science Fair
Using the Topic Selection Wizard, Xavier turned up his first video game project in 2010. The "Sweating the Score: Can Video Games Be a Form of Exercise?" project let him explore, firsthand, whether or not popular "exercise" games (exergames), a genre advanced by the availability of platforms like the Wii and Kinect, actually qualify as exercise for players. He followed that project with "No Pain, Lots of Game" in 2011, a project that investigates game-playing as an alternative to medications for pain management.
With two gaming projects behind him, with human physiology and neurology components, respectively, Xavier tackled another question related to video games this year in the "Out of Control" project. In this project, Xavier switched his attention to game design and hardware and compared the effectiveness of controllers that mimic their intended functionality (like a steering wheel for a car racing game) to traditional controllers.
As Xavier learned, traditional control schemes use an "abstract" interface in which players use a series of buttons or directional sequences and combinations to achieve on-screen effects. To successfully play the game, these controls have to be learned (and memorized). Diehard gamers may find these controls instinctive, as they often build upon familiar controls from other games, but such controls can be confusing and difficult to master for new gamers. In an attempt to lower the learning curve and reach a wider audience, game development companies have introduced new interfaces that involve "natural mapping." The idea is that if you know how to play tennis on a real court, then clicking a tennis racket-shaped attachment to your remote and swinging it to play a game of tennis can be easier to learn and more inviting to play because the action mimics reality.
Gaming for Everyone
Xavier's background research on video game history gave him a better understanding of the ways in which game controllers have rapidly changed as the gaming industry has grown. "I learned exactly how far video game controllers have changed from the first one-button joysticks to [the] motion sensing remotes of today," says Xavier. With that history in mind, and with an understanding of the differences between natural and abstract mapping schemes, Xavier put his hypothesis that natural mapping control schemes make it easier for a non-gamer to learn a game—and result in higher scores—to the test. Recruiting the help from non-gamers in his family, including his parents, aunts, and uncles, and armed with his knowledge of game control theory, Xavier had his volunteers play a Wii-based racing game that uses a steering wheel.
After analyzing the data he gathered while observing his family members play the game, Xavier found that his testing supported his hypothesis. "This year I learned that a video game controller that mimics a real-life action makes it easier and faster for an inexperienced video game player to learn the video game, rather than trying to remember what button does what using a push-button traditional video game controller," he explains. His experiment encouraged Xavier to step out of the role of player and look at the big picture driving video game design and development. Based on his testing and observations, he has some insight into where gaming may be headed. "Technology continues to improve and advance," says Xavier. "This project showed me [that] motion-based controllers are the future of gaming," he adds, noting that controllers and control schemes have already evolved since the introduction of the first motion sensor remotes.
A Winning Combination
Continuing his string of science fair successes, Xavier's fifth grade project won first place at both his school and district science fairs. He also won a gold medal in the fifth grade division at his county fair, the RIMS Inland Science and Engineering Fair. In addition to the academic success, Xavier's experiment also had another winning outcome. Because of his project, some of his "non-gamer" family members realized that gaming can actually be a lot of fun. "After having so much fun playing [the racing] game, my Mom, my Aunt, and my Grandma all think video games are fun," enthuses Xavier. "And now we have Wii Sports bowling competitions!"
For Xavier, video game science projects give him the chance to really dive into a topic of interest, even as he explores different areas of science, engineering, and human behavior. "The best part of my project was that it gave me an excuse to have to play video games—it's for school! I was having fun, learning, [and] doing a science experiment and school work all at the same time."
Parents and Teachers: Supporting Video Game Projects
Xavier's mom has been a big supporter of his gaming science projects. Parents don't always immediately see that a student's love of games can be turned into a project that uses the scientific method, but after three years of watching Xavier's projects unfold—and watching him immerse himself in background research this year to better understand the topic—Xavier's mom has no doubt of the value of science projects that use video games as a foundation.
"Before I would never think this area would actually be a science project," Xavier's mom admits. "But now, I think it is very interesting how science and video games can go hand in hand and be useful and such a fun learning experience for kids. I think nowadays gaming and computer technology are important to the future and advancement of the world."
The following Science Buddies resources are designed to help teachers and parents support video game-based science projects and exploration: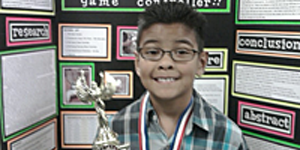 Categories:
You Might Also Enjoy These Related Posts:
Explore Our Science Videos
DIY Rubber Band Paddle Boat
How to Make Edible Rice Paper