Student Success and the Science of Stealth
When looking for an unusual science project, this sixth grade student found just the right combination of excitement and challenge with a project about stealth technology from Science Buddies.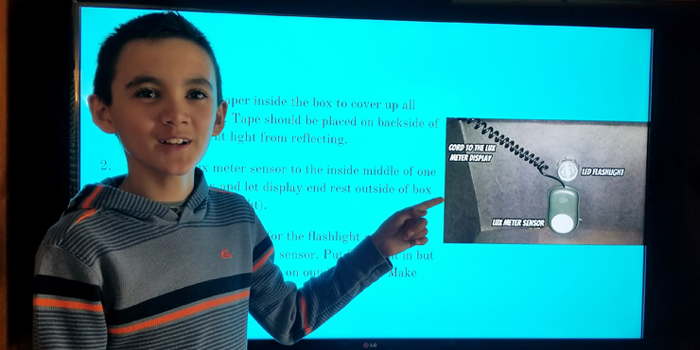 Choosing a Science Project Idea
When assigned to do a science project, many students are unsure what to do or what they want to explore. The Topic Selection Wizard at Science Buddies helps match students with projects based on their interests. By using the Topic Selection Wizard, many students find projects they might not have thought to search for or discover ideas in areas of science that are exciting and that they might not have considered.
A Stealth Science Recommendation
When faced with finding a project for the school science fair, Dylan, a 6th grade student at a K-12 charter school in Arizona, had clear objectives. He knew what he wanted: a project that was unique, did not involve food or bacteria, and would work well as a PowerPoint presentation, a requirement of the assignment. But he didn't know what project he wanted to do. Using the Topic Selection Wizard at Science Buddies, Dylan discovered the Stealthy Shapes: How to Make an Aircraft Invisible to Radar physics project.
Dylan says the stealth science project in his recommendations list after using the Topic Selection Wizard immediately caught his interest. "The idea of replicating a radar system was very intriguing to me," says Dylan. "My friends and I enjoy making paper airplanes and seeing how the shape affects performance." After reading about the project, Dylan says he "wanted to learn more about why the Stealth fighter was designed in the shape that it was."
Hands-on with Exciting Real-world Science
Stealth technology uses a combination of physics, materials science, and geometry to mask large objects that might seem impossible to hide. The concept sometimes sounds like science fiction. How can you hide a giant plane from detection? With his science project, Dylan modeled and explored the real-world science behind stealth technology and learned lots of new skills and information along the way.
"By using visible light and a Lux meter, I was able to replicate a radar system and learn why the Stealth fighter was actually so stealthy!" Dylan says he learned a great deal from the Stealthy Shapes project. "I learned how to use shapes (V-shape) and textures (crumpled surfaces) to more effectively scatter waves, making the planes more stealthy. I also learned about electromagnetic waves, radar cross-section, and how to use a Lux meter."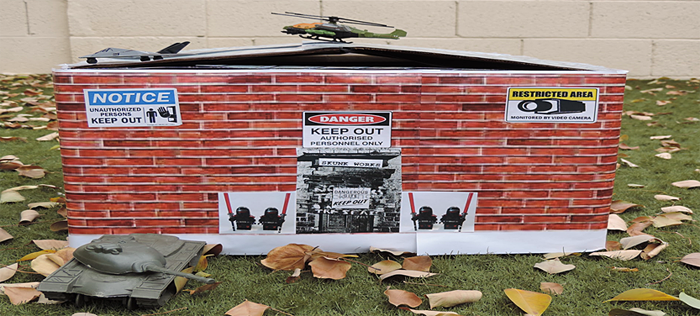 When it was time to put together his presentation, Dylan knew that explaining the science involved in his experiment might be a challenge. "Making sure my audience understood the connection between visible light (and a Lux meter) and a radar system," was really important, says Dylan. "Many were not familiar with electromagnetic waves, so I had to make it clear that visible light and radar [are] similar."
Dylan says he enjoyed presenting his project, partly because he thought the science involved was cool and wanted others to see how exciting it is, and he worked hard to create a presentation that would really engage his audience. Dylan gave his project a fun story line. "I made the box setup that I used for the experiment look like a secret testing location that I called Skunkworks Engineering." When he showed different types of planes to compare how stealthy they are, Dylan used the following examples: the Super Guppy (not stealthy at all), the Stealth Fighter (pretty stealthy), and Wonder Woman's plane (extremely stealthy).
About his decision to use Science Buddies, Dylan is clear: "I did not want to do the typical cliché project, and your site has so many cool ideas to choose from. I will definitely be using this website again and again!"
In his free time, Dylan loves to play soccer, read books, and volunteer at a local non-profit that helps homeless families. In the future, Dylan says he may study computer engineering or robotics. No matter what direction he takes, he wants to help others. "I really want to create or improve processes that help as many people as possible."
"I did not want to do the typical cliché project, and your site has so many cool ideas to choose from. I will definitely be using this website again and again!" ~ Dylan, 6th grade student
Share Your Science Project Story!
Did you or your student have a great science project experience this year? We would love to hear your story and share it with the Science Buddies community. Reach out to us at scibuddy@sciencebuddies.org and let us know about your project.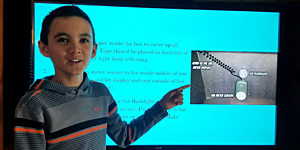 Categories:
You Might Also Enjoy These Related Posts:
Explore Our Science Videos
DIY Mini Drone Part 6: Motion Control
Science Buddies: Hand Warmer Chemistry
Write and Read Braille – STEM activity