Sustainability Lessons Help Make Environmental Awareness Real
For this fifth grade teacher, an interactive Science Buddies lesson on sustainability and human impact was a great way to refresh the importance of a project-based learning unit her students did earlier in the school year.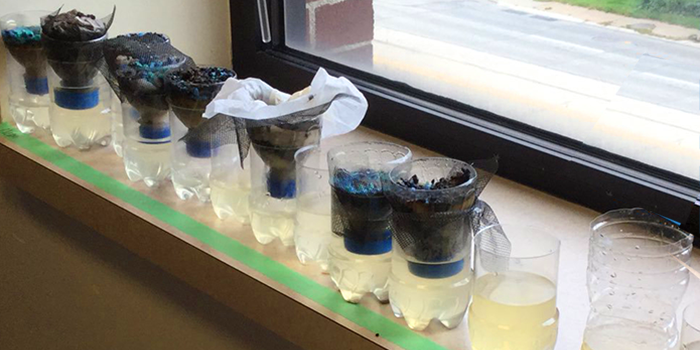 Above: Melissa Zeiszler used a sustainability lesson plan from Science Buddies as a follow-up to a 'clean it up' environmental science project (part of which is shown here) that her students did earlier in the year.


Last year, when teaching 5th grade at Kennedy Elementary School in Omaha, NE, Melissa Zeiszler was looking for a good Earth Day-themed lesson to tie in with other projects her students had done when she heard about a pair of new Lesson Plans from Science Buddies. Launched just in time for Earth Day and Environmental Education Week, the lessons use Your Plan, Your Planet to help elementary and middle school students explore their own role in conservation and sustainability. Your Plan, Your Planet is a free, interactive online tool by Google, in partnership with the California Academy of Sciences and the Ellen MacArthur Foundation.
Melissa, now Dean of STEM at Kennedy Elementary School, says she was looking for something to do with her students as a follow-up to a "Clean It Up" project-based learning unit they completed earlier in the year. In that unit, students explored pollution and human impact. "They designed a solution or awareness campaign to educate our community and change human actions that were hurting the environment," says Melissa. "One of the big science standards in that unit was to understand the geo-, hydro-, atmos- and biosphere and how they interacted. With Earth Day in April, I wanted to circle back to refresh the students' minds about their learning and bring awareness to Earth Day."
The Sustainability: How Our Actions Affect the Environment lesson from Science Buddies was a perfect fit. Talking about their earlier "Clean It Up" projects and reviewing some of the key terms, Melissa leveraged prior learning and got students excited about using Your Plan, Your Planet. "I loved the sustainability videos in the lesson to drive conversation about the term sustainability," says Melissa.
"The students we have today have to care about the Earth to protect their future."
Melissa Zeiszler, Kennedy Elementary School
Melissa had her students work in small, collaborative groups on their research and reading (using the jigsaw approach). They worked together to complete a graphical organizer she set up for the lesson and then created short videos to summarize what they learned. Each video had to, "a) define sustainability in their own words; b) list 3 solutions or actions that can reduce environmental impact, and c) explain the importance of taking care of the Earth," explains Melissa. Her students used ChatterPix and Flipgrid, tools they had been using in the classroom, for their videos.
Melissa says that her students enjoyed the lesson and the fun, interactive Your Plan, Your Planet tool. "They loved it. If we had more time, I would have given them more time to explore it," she adds. "Some students went back on other days to continue exploring since there was a lot of good information there. Many were shocked by the facts."
Helping Teachers Bring Real-world Science to the Classroom
For today's educators, teaching environmental awareness units and helping students think about sustainability is important. "It brings self-awareness and a sense of community to our actions and planet," says Melissa. Lesson plans like those Science Buddies created for use with Your Plan, Your Planet make it easier for educators to plan and lead hands-on, NGSS-aligned, STEM activities on environmental subjects.
"The students we have today have to care about the Earth to protect their future," says Melissa. But inspiring caring and a sense of agency isn't something teachers can do once and check off as "complete." These lessons often have to be repeated and brought into other conversations throughout the year. "After the PBL [early in the year], students were more aware and held their peers accountable for their environmental actions. As you can imagine, that faded as time went on, which is why the sustainability lesson and environmental lessons each year are so important to classrooms, schools, and communities."
"When teachers reach out to me for extra ideas, lessons, and activities, I refer them to Science Buddies."
Melissa Zeiszler, Kennedy Elementary School
Science Buddies for Students and for Teachers
Melissa says she has used Science Buddies with students through the years, especially for science fair projects. "I originally stumbled across it years ago when I moved to teaching 5th grade. I was frustrated with basic 'experiments' that were really activities or demonstrations that did not address the science or exploration portion." With scientist-authored background information for all lessons, projects, and activities, Melissa found added depth at Science Buddies. "When teachers reach out to me for extra ideas, lessons, and activities, I refer them to Science Buddies."
Melissa says the teacher background information provided with each Science Buddies Lesson Plan is especially valuable. "This helps raise the capacity of teachers to provide better instruction and facilitate lessons to a deeper level of understanding and curiosity." "It's easy for teachers to find reading and math professional development; many are offered by districts. Science can be tricky because it's often lost in the shuffle of trying to get students on grade level. Though the background section might be short, it's helpful for teachers to better understand what they are teaching."
To learn more about these Lesson Plans and Your Plan, Your Planet, see Make Environmental Sustainability Actionable for Students with These Lessons. To view all Lesson Plans, visit Lesson Plans.
Thank you to Melissa for sharing her story and feedback with Science Buddies!
Share Your Science Buddies Story!
Have you used a science project, STEM activity, or Lesson Plan from Science Buddies in your class or program? We would love to hear your story! Email us at scibuddy@sciencebuddies.org and tell us how you use Science Buddies with students.
Categories:
You Might Also Enjoy These Related Posts:
Explore Our Science Videos
How to Make an Archimedes Screw - STEM Activity