A Pet Science Project Success
At Science Buddies, we know that students who choose a science project of personal interest often enjoy the experience the most. For this eighth grade student, the key to a positive first science fair experience was a project about his dog.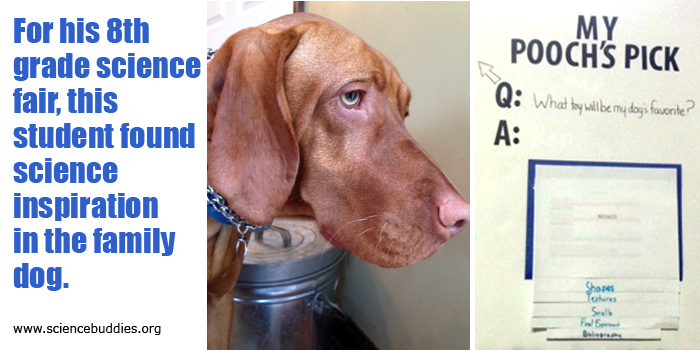 For his 8th grade science fair, this student found science inspiration in the family dog. www.sciencebuddies.org
A Perfect Pick for Every Student
When assigned to do a science project, many students are unsure at first what kind of project they will do. Not every student plans to go into a field of science, and finding and doing a project of personal interest can make a real difference in how students think about science. To help ensure that every student can find a project of interest, Science Buddies has more than 1,100 project ideas available in more than 30 areas of science.
Science and the Family Dog
Jake, an 8th grade student in KY, is interested in baseball, basketball, piano, and ping pong. When faced with a science project assignment, he visited Science Buddies at the suggestion of his teachers. "When I was starting out, I really had no idea what I wanted to do for my project," says Jake. "I was interested in doing something with sports or music, since those are big areas in my life." Science Buddies has projects related to baseball, basketball, and piano, but while browsing at Science Buddies, Jake found an animal behavior project that tied in with another interest—his dog Henry.
Jake decided to do the Dog Toys: What Makes One a Favorite or a Flop to Fido? project, one of several dog-related projects at Science Buddies. In the Dog Toys science experiment, students investigate the characteristics that make a dog favor a toy. What goes into making a great dog toy, one your dog will love? Jake set out to find out which his science project. Following the steps of the experimental procedure, Jake modeled the kinds of questions, testing, and procedures market researchers and product designers might do when evaluating products to make and sell.
As Jake learned about variables and the scientific method, he refined his dog toys project to better control the variables. Instead of using store-bought dog toys, he made all of his dog toys so that he could really pinpoint the features Henry seemed to like most. When testing the shape of different toys, for example, Jake made toys out of aluminum foil in various shapes to evaluate Henry's response. He made his own toys to test other qualities, like texture, too.
Jake's science fair project was a double success. Not only did he tie for first place, but he also got to spend extra time bonding with his dog (and learning what toys his dog likes best) in the name of science!
Jake enjoyed his project and says that if he has the opportunity to do another science fair project, he will choose a more difficult project. "I have a better grasp on what a science fair project looks like, now," says Jake.
Share Your Science Project Story!
Did you or your student have a great science project experience this year? We would love to hear your story and share it with the Science Buddies community. Reach out to us at scibuddy@sciencebuddies.org and let us know about your project.
"I have a better grasp on what a science fair project looks like, now." ~ Jake, 8th grade student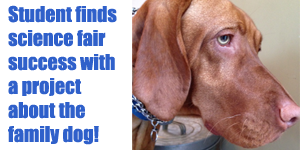 Categories:
You Might Also Enjoy These Related Posts:
Explore Our Science Videos
Build a Water Sprinkler Toy
3D Printing with Sand and Glue (no 3D printer required!)
Line-Tracking Robot: BlueBot Project #3