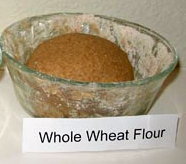 The above ball of dough has been kneaded. Students can explore kneading as one variable that influences the strength of the gluten in a food.

For many of us, Thanksgiving brings with it the feast mentality and ushers in a season full of special treats and baked items. From familiar pecan and pumpkin pies on Turkey day to dozens and dozens of cookies throughout December, 'tis the season of homemade goodies.
Clever bakers can turn the extra time in the kitchen into a scientific smorgasbord of experimentation. Starting with investigations into the role of baking powder, the use of egg substitutes, the secrets behind flakey crusts, and the quest for perfect chocolate chip cookies, the kitchen can be a hotbed of science (and math)!
But kitchen science doesn't have to be about dessert. Aspiring food chemists can find all kinds of recipes for exploration, even some that let them investigate the science behind human health and nutrition and current eating crazes. For example, what's up with gluten?

Holding It Together
Breads and bread- or grain-based dishes are, for some, the top of the comfort food list, and what you like best about certain foods may boil down to the presence of gluten, a protein found in wheat, rye, and barley. From pasta to pizza dough to giant pretzels, many familiar food items contain gluten. With its connection to wheat, this may sound like a good thing. After all, there's been a strong "whole grains" push in recent years, which accounts for more lunchboxes containing wheat or multi-grain breads. But the words "gluten-free" appear in more and more conversations, magazines, and ads these days.
There is a health condition related to gluten. Celiac disease, also known as gluten intolerance, is a genetic disorder. When people with celiac disease eat something with gluten, the small intestine reacts and can be damaged. For those with celiac disease, eating gluten-free is a necessity, not a lifestyle choice. But many people are choosing to follow gluten-free diets.

Making Connections
What's the gluten debate all about? What role does gluten play in familiar foods?
These are questions the student scientist can explore while experimenting with some favorite recipes. The Great Globs of Gluten! Which Wheat Flour Has The Most? project lets students investigate the role of gluten in foods. Be forewarned though, this project is completely hands-on in every sticky, gooey way!
After getting a better understanding of the influence of gluten, students can go on to taste-test recipes that contain varying amounts of gluten or no gluten.
Categories:
You Might Also Enjoy These Related Posts:
Explore Our Science Videos
Design and 3D Print a Snowflake
Aluminum Foil Boat Design - STEM Lesson Plan
Magic Triangles - Fun Math Puzzles with Increasing Difficulty