The New CEO of General Motors Inspires Students about Engineering
Stories about Mary Barra have the potential to empower, encourage, and inspire students of all ages as she takes on a very visible and important leadership role in the automotive industry. As Barra shows, even something as simple as making paper boats can make a difference in how students (or adults) perceive science and engineering—and maybe in how a company performs!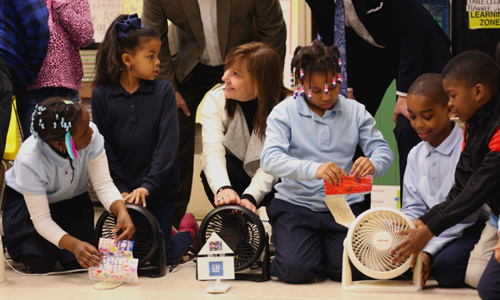 Mary Barra, new CEO of GM, leads the GM "A World in Motion" skimmer boat in Bates Academy student competition last year. Image: © General Motors.
The weeks leading up to the start of Mary Barra's reign as CEO of General Motors (GM) have sent ripples of excitement and inspiration through all kinds of media corners, from those who cover the glass ceiling, to those who see Barra's rise as a wonderful tribute to hard work and company loyalty, to those who simply love cars, to those who see in Barra a role model for female engineers and scientists of all ages. Indeed, since the December announcement that Barra would be handed the keys and become GM's new CEO upon the retirement of Dan Akerson this month, the media has been buzzing with stories about Barra, a Michigan native, who started at GM as a teenager, who really wanted a fancy sports car for her first car but bought something more practical in order to be able to afford college, and who has risen, quietly, to the top of a global auto manufacturing company that has been on a successful rebound since its financial troubles in 2009.
Though Barra has carefully sidestepped many gender-specific questions, it is clear that, just by being who she is and where she is, she is poised to become a powerful role model for young engineers, especially for young women. With the status of "girls in science, technology, engineering, and math" (STEM) frequently under the media microscope and a concern for teachers, parents, and community leaders, Barra's history, educational background, and new position in the world of automobile engineering offers a wonderful beacon of possibility. To girls who love cars, who love engineering, or who love any STEM subject that is frequently viewed as "for boys," Barra's story offers inspiration and a reminder that doing what you love is what matters.

The Engineering Design Process
In reports and interviews this week surrounding the Detroit Auto Show where she unveiled the 2015 GMC Canyon, Barra has talked about teamwork and about collaboration, ideals and practices that may prove to be cornerstones of her strategy leading GM. While these qualities could be highlighted to smooth the transition into her new role, it seems they are not new catchphrases for Barra but are, instead, central to her style, vision, and approach.
A team-building activity she spearheaded last year at GM showcases Barra's emphasis on teamwork, collaboration, and on the engineering design process—Barra orchestrated a "paper sailboat challenge" for more than 200 GM engineers and designers.
While team-building exercises and activities are common in big business, Barra's paper sailboat challenge stands out for its novelty, for the simplicity of getting everyone involved in doing something that might feel a bit silly but showcases the fun in the process, and for the simple fact that the event has its roots in an activity she did with third grade students as community outreach at a local school.
At Bates Academy in Detroit, Barra and other members of her team got hands-on with a group of students in a "skimmer" competition where they created boats and then raced them across hard floors (not water) using fans to simulate the necessary winds. This kind of community STEM event is wonderful for students and helps to show students that science, technology, math, and engineering can be fun, that the steps of the engineering design process are accessible, and that even small changes can bring innovation and, maybe, a winning new design—or the fastest skimmer.
We love the story of the paper sailboat challenge and its skimmer origins with Detroit students. We love the photos and video of Barra and her team working side-by-side with the kids. And who can help but love the "C'mon, mama needs a new pair of shoes!" comment from one of the enthusiastic participants?

Getting Involved
Creating opportunities for hands-on science and engineering at a local school is a great way to contribute to science education and to help show both girls and boys that science and engineering is fun, exciting, and offers many different paths for the future. If the story of Barra and her paper boats inspires you, and you are wondering how you might create a similar kind of activity either for students at a local school or with a group of kids at home, take a look at these hands-on science projects, all of which are ideas that could be transformed into a fun class or group activity or competition:
Prefer dry ground? There is no need to stop with boats. Paper airplanes, hovercraft, and marble runs make great hands-on engineering activities for students, too:

Real People, Real STEM Inspiration
For more stories about volunteers helping create hands-on science and engineering opportunities in classrooms, schools, and programs in their communities, and for additional stories about encouraging girls in STEM, see the following posts on the Science Buddies Blog:

More Information
To learn more about Mary Barra, see:
Categories:
You Might Also Enjoy These Related Posts:
Explore Our Science Videos
How to Assemble Your BlueBot Chassis
Basic Circuits Kit: Conductors and Insulators