The Obstacle-Avoiding BlueBot Robot
Fourth in the series of BlueBot projects using the BlueBot: 4-in-1 Robotics Kit, the Obstacle-Avoiding Robot borrows some engineering design properties from cats and other whiskered animals. How can whiskers and bump sensors help a BlueBot avoid running into things?

The obstacle-avoiding BlueBot robot is one of four core sensor-based robots students can build with the BlueBot: 4-in-1 Robotics Kit. For more information about this and other projects students can do with to explore robotics engineering and programming using the BlueBot Kit, see 10 Robotics Projects with the BlueBot Kit.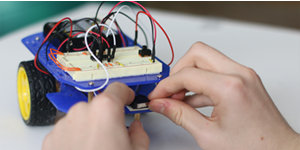 Categories:
You Might Also Enjoy These Related Posts:
Explore Our Science Videos
Build A Gumdrop Geodesic Dome!
Solve A Mirror Maze Reflection Challenge!
Introduction to Paper Chromatography | Theory and Practice