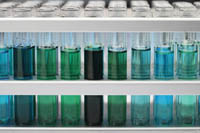 The Science Buddies library of science fair project ideas recently got a bit of glow and an unusual dose of "green" in the form of a new project that uses chromatography. The "green" in this case is "green florescent protein (GFP)," and the project uses a study of GFP to demonstrate "size-exclusion chromatography."
Looking at the etymology of the word chromatography, you know that chromatography is related to color ... and to paper. The word derives from Greek words meaning "color" and "to write," and many chromatography projects involve paper chromatography. The origins of chromatography stem from early studies of plant-based pigments like chlorophyll.
Using chromatography, students can analyze the quantity of dyes and pigments in both natural and man-made products. In short-term science fair projects that can be performed in a number of hours, students can use paper chromatography to compare the inks in permanent black markers or to determine the breakdown of dyes in the composition of the hard-shell exterior of favorite candy-coated candies. With a bit more time available, paper chromatography can be used to study and compare pigments in red flower petals.
While these projects involve paper-based methods, chromatography is not always paper-based. Instead, chromatography is an umbrella term for laboratory techniques that assist in the separation of mixtures.
In "Sizing It Up! How Scientists Separate Proteins," a science fair project idea authored by a teacher-student team from Tracy High School in San Joaquin county, CA, students use a Size-exclusion Chromatography Kit from Bio-Rad, sponsor of Science Buddies' biotechnology projects and resources, to explore size-exclusion chromatography as they create mixtures and break them down again to determine the size of GFP, a protein which glows green when exposed to blue light.
A bit of time in a dark room with a blue light, a green protein first isolated from a jellyfish, and combinations of hemoglobin and vitamin B12 – it's got the makings of a hit classroom or home-based project. Plus, it's a great way to get a hands-on look at what's involved in separating proteins – a critical step in biotechnology, from drug development and research to analysis and tracking of toxins.
Getting Started:
Categories:
You Might Also Enjoy These Related Posts:
Explore Our Science Videos
Paper Bridges STEM Activity
Is the Egg Raw or Cooked? STEM activity
Harvest Water from Fog Science Project