Top Science Student Benefits from Science Buddies Project Guides
Students conducting science projects at all levels can find resources and guidance at Science Buddies.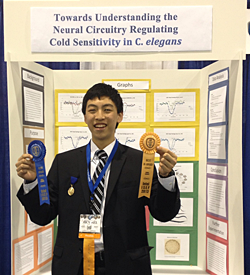 Pictured above: Michael Shao at the 2013 Intel International Engineering and Science Fair

Science Buddies for Every K-12 Student
Science Buddies has resources for all levels of student science projects. Our Science Fair Project Guide and ISEF Project Guide contain numerous resources for students conducting hands-on experiments and preparing to present their research and findings at school, at a local fair, or at an advanced competition.
Students at all levels frequently consult the Project Display Boards resource for assistance in preparing the board that lets judges, teachers, and science fair visitors better understand what their project was about—and what they learned, discovered, or uncovered. Browse the Project Display Board gallery to see examples.
If you are planning a project display board this year, visit Elmer's Products, Inc. to download a rebate form to save money on display board supplies!
For Michael Shao, an incoming junior at Detroit Country Day School in Beverly Hills, MI, science is an important part of his high school experience. "I do at least one hands-on lab a week in each of my science classes," says Michael, who is currently most interested in biology.
Last year, Michael catapulted his growing interest into a winning science project, his first foray onto the science fair scene since fifth grade. His sophomore science project in animal science may have future application for humans. "My Intel ISEF Project was about finding the neural circuitry (neurons) that are responsible for sensing cold temperatures using the nematode C. elegans as a model organism," explains Michael.
Because it has a simple nervous system, the C. elegans worm can be studied as a model of the human nervous system. Michael's research may help scientists find new ways to help humans withstand lower temperatures.
Michael entered his project in the regional fair, progressed on to the state fair, where he won the Grand Award, and then continued on to the 2013 Intel International Science and Engineering Fair (Intel ISEF), where he won a Best of Category Award in Animal Sciences.

Supporting Top Student Research
As he worked on his project, Michael visited Science Buddies and consulted resources in both the general Science Fair Project Guide and the more advanced ISEF Project Guide. In the advanced project guide, Michael says resources like How to Find a Mentor, How to Read a Scientific Paper, and the Sample Subjects from Advance Competitions were particularly helpful.

The Display Board
When it was time to get ready to showcase his results at the local fair, Michael visited Science Buddies to review tips and suggestions for presenting his project and findings. "The Science Buddies website gave me great advice on how to construct my board and present my project," says Michael.
The science project display board can be very important in helping clearly convey a project to the judges and audience. After putting together this year's board, Michael offers the following advice: "I found that the board does not need to look fancy to win. The judges are judging the boards for content."
As Michael summarizes, the content—including the overview, procedure, data, and analysis—is what a project display board is really all about. Judges want to see what a student did and what she discovered or learned. Michael advocates keeping it simple and straightforward. An effective project display board needs to be well constructed to succinctly and clearly present information. The Science Buddies Project Display Boards guide, sponsored by Elmer's® Products, Inc., offers helpful information regarding sizes, fonts, adhesives, and more. (See also: "Perfecting the Project Display Board.")

Benefits of Hands-on Exploration
"I think hands-on science is extremely important for all students," says Michael. "For students with less science experience, hands-on science can really encourage them to explore their curiosities and better understand how science works. For those who are already interested in science, students learn much faster when they are exposed to hands-on science where they can see actual results of the information they learn in textbooks and lectures and try new ideas."
Michael plans to continue his research this year, with his eye set on another trip to Intel ISEF to show off his ongoing work and to meet up with other top science students he met this year.
In the meantime, like many other students who enter the world of advanced science fair competition, Michael is using the Internet to keep in touch and up to date. "I stay connected with other top science students through the Official Intel ISEF Facebook Page. I still talk to many of the people I met at ISEF from all over the world on Facebook chat. To keep up with science news, I often read Science News or Scientific American magazines and go on sciencenews.com to read the latest discoveries. I also read the science section of major news publishers such as The Wall Street Journal and The New York Times."
Science Buddies creates resources for students at all levels and is always excited to meet and hear from top science students who consult Science Buddies materials during their science fair process.
We wish Michael luck with his continued research!
Categories:
You Might Also Enjoy These Related Posts:
Explore Our Science Videos
Race Through Space with Gravity Assist Maneuvers
Build a Self-Driving Arduino Car
Build a Solar-Powered Car for the Junior Solar Sprint