Abstract
Do you like playing with play dough; or modeling clay? Wouldn't it be cool if you could add
lights
, sound, or even motion to your play dough creations? In this project, you will use play dough that conducts electricity, which will allow you to connect lights to your sculptures!
This project is the first in a three-part series on play dough circuits, which can all be done with the same materials. We recommend doing the projects in order.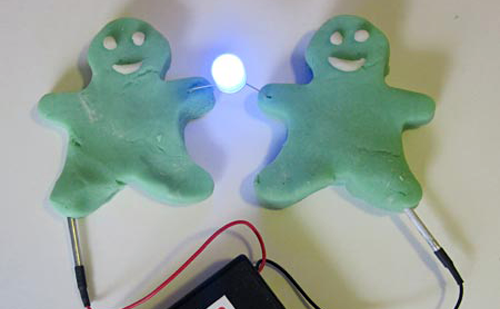 Objective
Use play dough and modeling clay to create a simple circuit that lights an LED (light-emitting diode).
Introduction
Do you like making things with play dough or modeling clay? Then this project is perfect for you! It turns out that play dough conducts electricity. Electricity powers many of the things you use every day, like the lights in your house, and the computer you are reading this on. Once you learn more about this simple electric circuit, you can add cool things like lights or buzzers to your artistic creations.
When you add electricity to playdough to make creations with light, sound, and motion you are making a circuit. What is a circuit (pronounced "ser-kit")? A circuit is like a path through which electricity flows. A circuit needs to be made out of a conductor, which is a material that electricity can flow through easily. Conductors are usually made out of metals like copper. An insulator is the opposite of a conductor; electricity cannot flow through it. Many everyday materials—like wood, plastics, and rubber—are insulators. In this project, you will make two different materials: a conductor (Play Doh) and an insulator (modeling clay).
All circuits need to get their electricity from somewhere. Many appliances in your house (like your TV, computer, and lights) get electricity from plugs in the wall, which are connected to wires that deliver electricity to your house from power plants. Many smaller, portable circuits (such as electronic toys and cell phones) are powered by batteries, which store electricity. Batteries have two ends; one is called positive and is marked with a plus sign symbol (+). The other is called negative, and the symbol for negative is a minus sign (-), but this symbol is usually not printed on batteries.
In order for electricity to flow, there needs to be a conductive path connecting the positive end of a battery to the negative end. This is called a closed circuit. Along the way, the electricity can flow through things like lights (to make them light up). Figure 1 shows a photo of a playdough circuit powering an LED (which stands for "light-emitting diode" and is a type of tiny lightbulb found in many electronic devices) with a battery pack.
If there is not a complete path through which electricity can flow, it is called an open circuit. In an open circuit, the path that electricity follows has been broken somehow. This means that there is no way for electricity to flow in a complete loop, and the LED does not light up. Figure 2 shows a picture of an open circuit.
Electricity likes to take the "easiest" possible path. If you add an easier conductive path to the circuit than the one that was already there (such as squishing the playdough into one ball instead of two), the electricity will flow through that conductive material instead of through the LED, and the LED will not light up. This is called a short circuit. Figure 3 shows a picture of a short circuit.
There are two different kinds of dough: conductive and insulating. You can use insulating dough (or modeling clay) to help prevent short circuits by putting it in between your two lumps of conductive playdough. This is shown in Figure 4.
Now that you know all about playdough circuits, you are ready to start building your own! You can also read even more about electricity in the Science Buddies Electricity, Magnetism, & Electromagnetism Tutorial. Once you have finished this project, you may be inspired to try even cooler things with your electric playdough with these science projects:
Terms and Concepts
Electricity
Circuit
Conductor
Insulator
Battery
Positive
Negative
Closed circuit
Open circuit
Short circuit
Questions
What are some examples of objects that are powered by electricity?
What are some examples of conductors and insulators?
Which ingredients determine whether homemade play dough is conductive or insulating?
What is the difference between closed, open, and short circuits?
What artistic play dough creations do you think you can make that involve lights?
Materials and Equipment
Electric Play Dough Kit, available from our partner Home Science Tools. You will need these items from the kit:

4xAA battery holder
Piezoelectric buzzer
Jumbo LEDs (25 total — 5 each in red, green, white, yellow, and blue)
White insulating dough (3.5 oz)
Red, blue, and green conductive dough (3.5 oz each)

You will also need to gather these items, not included in the kit:
Optional: in addition to the dough included in the kit, you can make your own conductive and insulating dough (for example, if you want other colors). See Electric Play Dough Recipes for materials and directions for making your own dough. You can also use store-bought Play-Doh® (replaces conductive dough) and modeling clay (replaces insulating dough).>p
Experimental Procedure
Variations
Frequently Asked Questions (FAQ)
If you are having trouble with this project, please read the FAQ below. You may find the answer to your question.
Careers
If you like this project, you might enjoy exploring these related careers:
Contact Us
If you have purchased a kit for this project from Science Buddies, we are pleased to answer any question not addressed by the FAQ above.
In your email, please follow these instructions:
What is your Science Buddies kit order number?
Please describe how you need help as thoroughly as possible:

Examples

Good Question I'm trying to do Experimental Procedure step #5, "Scrape the insulation from the wire. . ." How do I know when I've scraped enough?
Good Question I'm at Experimental Procedure step #7, "Move the magnet back and forth . . ." and the LED is not lighting up.
Bad Question I don't understand the instructions. Help!
Good Question I am purchasing my materials. Can I substitute a 1N34 diode for the 1N25 diode called for in the material list?
Bad Question Can I use a different part?
Contact Us
Related Links
Cite This Page
General citation information is provided here. Be sure to check the formatting, including capitalization, for the method you are using and update your citation, as needed.
MLA Style
APA Style
Last edit date: 2023-09-08