Make a Whirlybird from Paper
1 review
Summary
Active Time
10-20 minutes
Total Project Time
10-20 minutes
Key Concepts
Weight, gravity, lift, aerodynamics
Credits
Teisha Rowland, PhD, Science Buddies
Sabine De Brabandere, PhD, Science Buddies
Introduction
Have you ever seen a helicopter flying through the air? Have you ever wondered how they fly—or if you could try flying one yourself? This fun activity will help you get started at home building a simple paper helicopter. And you will learn a little bit about what keeps these amazing vehicles aloft.
This activity is not recommended for use as a science fair project.
Good science fair projects have a stronger focus on controlling variables, taking accurate measurements, and analyzing data. To find a science fair project that is just right for you, browse our library of over 1,200
Science Fair Project Ideas
or use the
Topic Selection Wizard
to get a personalized project recommendation.
Materials
Computer with access to a printer to print the whirlybird template. (If you do not have access to a printer, you can use a ruler and pencil to draw your own whirlybird template based on the online one.)

Printer paper

Scissors

Several paper clips

A safe, high place from which to drop the whirlybirds (You could have an adult help you stand on a chair or choose a balcony with safe railing, for example.)

Optional: stopwatch



Prep Work
Download and print the

whirlybird template

. If you do not have access to a printer, you can download the file and open it on your computer. Then use a pencil and ruler to draw the whirlybird shape on a piece of paper, based on the dimensions in the template.

Follow the directions on the template to cut out and fold the whirlybird.



Instructions
It is time to drop your whirlybird!

| | |
| --- | --- |
| | What do you think will happen when it gets dropped? |

Have an adult help drop it from a safe high place (such as standing on a chair or a stepping stool, from a balcony). To drop the whirlybird, hold it by the middle part with tab facing down, then let go.

| | |
| --- | --- |
| | How did the whirlybird fall? |




Drop the whirlybird a couple more times from the same height.

| | |
| --- | --- |
| | Why do you think it is important to drop it more than once? |

Now, attach a paper clip to the bottom part of the whirlybird and drop it again.

| | |
| --- | --- |
| | Do you think it will fall faster? |




Pay close attention.

| | |
| --- | --- |
| | How did it fall with a paper clip attached? |

Keep adding paper clips, one at a time, to your whirlybird and drop it a few times after each new paper clip.

| | |
| --- | --- |
| | What do you observe as you add more and more paper clips? |

Optional: You can also use a stopwatch to time how long it takes the whirlybird to fall with different numbers of paper clips on it. Write down the times to help you remember how fast it falls when you add different numbers of paper clips.
What Happened?
When you drop a whirlybird, it will take a fraction of a second for it to start spinning and slow down. This is why you need to drop it from a high location—it needs a certain amount of vertical space to begin its spinning. Once the whirlybird does start spinning, it should "helicopter" slowly to the ground. As you add paper clips, the whirlybird should fall faster and faster until eventually it drops so fast that it does not spin at all.
Experimenting with your own whirlybird designs can be a fun and challenging engineering activity. Some designs will fall more slowly than others. If you change the dimensions too dramatically, however, the whirlybird may actually tumble to the ground instead of spinning its way down.
Digging Deeper
Helicopters stay in the air using spinning blades that are used to generate an upwards push called "lift." With enough of it, a craft can overcome the force of gravity, which pulls the object down toward Earth. Aircrafts such as helicopters with spinning blades are called rotary wing, unlike traditional airplanes, which are fixed wing.
This activity uses a simple paper helicopter called a "whirlybird." Unlike a real helicopter, the whirlybird does not have a motor to make its blades spin. Due to its special shape, however, the blades still spin as it falls. This generates additional lift that slows the whirlybird even as it drops. So, it falls slower than if you crumpled up the same piece of paper and dropped it. Adding more paper clips to the whirlybird make it weigh more; the Earth pulls it harder to the ground, so a whirlybird with extra paperclips falls faster compared to the same whirlybird with fewer paperclips.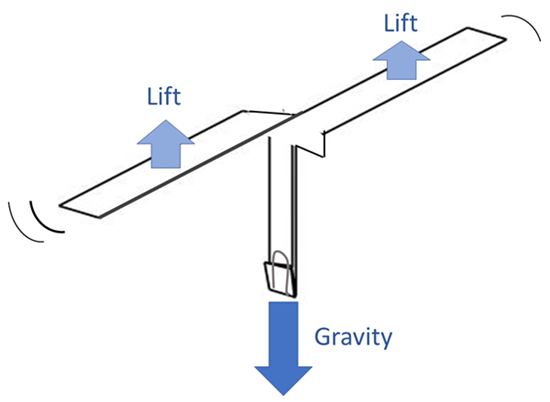 Ask an Expert
Curious about the science? Post your question for our scientists.
For Further Exploration
Try making whirlybirds from different types of paper, such as printer paper, construction paper and cardstock. Do the different types of paper fall at different speeds? Why would that happen?
Try modifying the whirlybird template or making your own design. For example, what happens if you make the "wings" longer or shorter or narrower or wider? What if you make the edges of the wings wavy or zigzagged instead of straight? What if you make the wings curved instead of rectangular? What if you fold the rotors at a different angle? Try out a bunch of different ideas, one at a time, to see what happens. Then try to design your own whirlybird—one that falls as slowly as possible.
Related Resources
Project Ideas
Activities
Lesson Plans
NGSS Performance Expectations:

3-PS2-1

. Plan and conduct an investigation to provide evidence of the effects of balanced and unbalanced forces on the motion of an object.
Links
Careers
Reviews
Explore Our Science Videos
How To Build a Rube Goldberg Machine
Junkbots – Build Robots from Recycled Materials