Science Project Pathways for Google Classroom
One tool to plan, assign, and manage a science project in your class.
The Science Project Pathways is a powerful scheduling tool that breaks the science project into a series of smaller more manageable assignments. The assignments use Science Buddies guide to the scientific method to take students step-by-step through a science project. Teachers enter the project start date, and the tool will create a custom schedule with recommended assignments and due dates. From the schedule, teachers can make assignments in Google Classroom and view student progress on each assignment.
Teacher's Guide to Science Projects
The Teacher's Guide to Science Projects was developed to provide teachers with everything they need to assign, manage, and evaluate a science project program in the classroom, including lots of tips to make a science project a fun educational experience. While this guide was designed for teachers who have never assigned a science project, it also offers a variety of tools and tips that seasoned teachers will find useful. Some of the key elements included in the guide:
Benefits of a Science Project: An explanation of the benefits of doing a science project and how they map to the science education standards.
Teacher Timeline: Steps to help teachers guide students and plan additional activities.
Safety Guidelines: How and when teachers should review student science projects for safety concerns.
Student Science Project Schedule: A timeline for students to follow with reading and homework assignments.
A Parent Guide to Science Projects: A letter introducing parents to the science project, plus tips on how to effectively help a student on a project.
Printable Assignment Worksheets: for key steps of the science project
Download Teacher's Guide to Science Projects (pdf)
Download Science Fair Schedule Worksheet (Word doc): This worksheet is a handy tool to help construct a schedule for science fair assignment due dates. In contrast to the timelines and schedules included in our Teacher's Guide to Science Projects, these worksheets are not tied directly to the resources in our online Science Project Guide and can be helpful for teachers who are planning a science project but might be using materials other than those provided on our website.
Science Fair Project Grading Rubrics
Grading rubrics are an important component of the science project to ensure that all projects are graded fairly and on the same fundamental concepts. Science Buddies has developed a set of teacher-vetted rubrics in PDF format for each step of the science project as detailed on the Science Buddies website. The rubrics cover:
Draft grading/judging rubric for computer science projects:
Computer science projects are a perfect fit for the interests of many students, but they don't really fit the model of the scientific method. This draft article explains the differences and provides guidelines for computer science projects. Please send us your comments.
NGSS & Science Projects
Learn how Science Buddies resources and hands-on science projects align to the Next Generation Science Standards and Common Core State Standards with
Mapping Science Buddies Content to Core Teaching Standards
.
Teachers Guide to Student Resources on Science Buddies
Explore the best way to use Science Buddies resources with your students. Our
teachers guide
helps you map student science experience to Science Buddies resources that will meet their unique needs.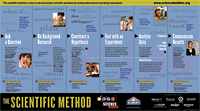 Scientific Method Classroom Poster
Our 36" x 20" classroom poster provides an overview of the six steps of the scientific method, as described on the Science Buddies website. Anyone interested in printing their own copies may
download the PDF
.
The Scientific Method vs. the Engineering Design Process
View a side-by-side
comparison of the engineering design process and the scientific method
. We also have a
downloadable version
that is perfect for an easy reference, classroom poster.
Success Stories from Teachers and Students
We love hearing from teachers who have been using Science Buddies materials in their classrooms. Our collection of Teacher Testimonials is inspiring, as are stories of successful student and teacher projects inspired and assisted by Science Buddies resources and project ideas.
A Guide to Planning a Science Fair
Planning your school's science fair? New to the process or just looking for a more organized approach? We've developed the documents below to help you put on a successful science fair, from start to finish. The documents go hand in hand and offer many options that you can tailor to your school's fair.
Science Enrichment Tools: Encourage Science
Science Buddies wants you and your students to get the most out of the science fair project experience, and we're confident that these Science Project Enrichment Tools will help. Each tool features grade-level applicability, implementation instructions, and direct benefits for your students. Please visit each link, some of which include supplementary tools for you to download and print for use in your classroom.
Kid-Friendly Programming Languages and Resources: Incorporating game-making and/or animation-making in your classroom or as an after-school activity may be a successful way of teaching programming and other STEM (science, technology, engineering, and math) content.
Family Science Night: Show students and their families that science is fun! By setting up several science activities for everyone in the family, parents will experience the type of hands-on, inquiry-based learning that their children are receiving. This tool also fosters interaction between parents, teachers, and students.
Extra Credit: Boost science fair attendance by providing extra credit to students who bring a family member or mentor to the fair.
Science Fair Information Night: This tool goes hand in hand with the Science Buddies Teacher's Guide to Science Projects. Hold a Science Fair Information Night for parents at your school and present this dynamic PowerPoint presentation, which explains the process, goals, parent-teacher involvement, and student benefits.
In-Class Science Project: Employ scientific inquiry in your classroom by guiding students through a hands-on trial run of a single classroom science project before they tackle their own.
Black Box: Give students assignments related to their science projects, grade them according to set rubrics, and then offer students the chance to improve at each step.
Science Fair Passports: Organize a passport activity to increase fair attendance and encourage visiting students to enjoy learning from the fair, communicating with fair participants, and being inspired by their peers' projects.
Peer Review: Have students interview each other about their science fair projects to help them build confidence, enhance presentation skills, and learn to evaluate and implement feedback.
Project Clinic: Level the playing field for students who do not have access to knowledgeable mentors who can assist them in conceptualizing and completing their science projects.
More, coming soon!
Explore Our Science Videos
Model the Size of a Virus
3D Printing with Icing (no 3D printer required!)
Turn Milk into Plastic! Lesson Plan Introduction