Science Buddies Blog: September 2012 Archives
Americans spend billions on cosmetics every year. Who creates and tests all of these shampoos and lotions? Cosmetic chemists!
By Kim Mullin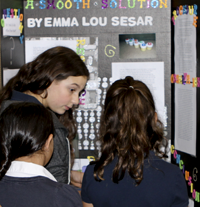 Emma Sesar was surrounded by science fair attendees last Spring as she handed out samples of the lip balms she developed as part of her science project.
Why was Emma Sesar surrounded by groups of young girls at her school science fair? Lip balm samples! For her sixth-grade science project, Emma chose the
"Lotions and Potions: Lessons in Cosmetic Chemistry"
Project Idea because she is a fan of lip balm and wanted to explore the world of cosmetic chemistry.
Guided by recipes and procedures in the Project Idea, Emma created three different lip balms and then formulated questions to ask her test subjects. As she cooked up her custom creations, she had fun learning about the different components of lip balms, such as emollients, emulsifiers, and stabilizers, especially because many of the ingredients smell so good. Throughout the process, Emma found the Science Buddies Project Guide "extremely helpful" and was pleased that her project turned out so well.
What really surprised Emma, however, were the crowds that swarmed her at the science fair. After working hard on a project, the science fair allows students to show off their work, and Emma was certainly able to do that! Her creative project display board and enticing lip balm samples attracted a lot of attention. "I was surrounded by young girls for the entire fair," says Emma. "I ended up giving some students second, third, and fourth testers!"

A Positive Science Experience
Will Emma be the next Estée Lauder? She has many different interests, so she doesn't know what she wants to do when she grows up. However, she looks forward to perfecting her lip balm recipe and also plans to participate in next year's school science fair!
Read about Emma's teacher's use of Science Buddies in the classroom and other student science successes in the Science Buddies in Action area.
Categories:
---
This fourth-grade student had fun building and playing with a solar-powered bot—and learned about alternative energy and electricity in the process!
As a fourth-grade student, Keeley (above) investigated how effective different light sources are for a solar-powered robot. Read about other student science successes in the Science Buddies in Action area.
For his first science fair project, Keeley Hilliard explored Avatar-style water bending using an
Archimedes screw pump
. It's a classic mechanical engineering device, perfect for a leaky ship, but for a fan of
Avatar: The Last Airbender
, the screw pump experiment was a great way to simulate the mystical field of water bending—with science. Last year, building on his
successful third-grade project
, Keeley shifted his focus from water to another core element—the Sun. Based on a recommendation from the
Science Buddies Topic Selection Wizard
, Keeley selected the
"The Frightened Grasshopper: Explore Electronics & Solar Energy with a Solar-Powered Robot Bug"
Project Idea for his fourth-grade science fair at Educational Horizons in Florida.
Part of the newly launched Robotics Interest Area at Science Buddies, the "Frightened Grasshopper" Project Idea guides elementary students in an introductory exploration of one aspect of robotics—power. The project, which invites an investigation of solar and alternative energy, uses a small and inexpensive robotic bug
to let students see, hands-on, how a solar panel works to convert certain kinds of light energy to electrical energy. When Keeley bought his materials for the project, he decided to mix things up a bit. Instead of the grasshopper kit, he took a two-legged approach with the T3 robot,
a fitting selection as he asked: can man-made light effectively power a solar robot?
Keeley got help from his Dad with the construction of the robot. "Some of the design details were pretty tough," he admits. The T3 converts to several engaging forms, robot, tank, and scorpion, but the shape of the bot doesn't really matter in this robotics investigation. What matters is the size of the solar panel, the source of light, and the intensity of the radiant energy from the light. Once the solar panel was in place, Keeley was all set to test a range of light sources, including light bulbs in varying wattages, all pitted against the Sun.
Many questions can be asked in this experiment, starting with whether or not man-made light works for "solar power." If it does work, why and how? Does artificial light work as well as natural light? How long does solar power last? What happens overnight or on a cloudy day? For a young engineer, observing a robot's behavior and energy when it gets its juice from different kinds of light is fun but also offers first-hand insight and a chance to draw conclusions and formulate other questions about alternative energy.
At ten, Keeley is interested in robotics, electronics, video game design, and other areas of physical science, which made the "Frightened Grasshopper" project an exciting choice for him. The project also gave him a chance to explore questions related to energy and power, questions that have real-world significance and that built upon his core interest in engineering. At the fair, Keeley's investigation earned a repeat first place in the Physical Sciences division. He then moved on to the district science fair, where he took fifth place.
Keeley is already looking forward to this year's science fair. In addition to feeding his enthusiasm for science, his first two successful fairs have given him confidence. "I have already picked out my project, thanks to Science Buddies," Keeley told us. "But you will have to wait before I tell you what it is. I want the Triple Crown!"
We can't wait to hear what he chooses and where science takes this young engineer next.

Share Your Robotics Stories
Are you or your students interested in robotics? We would like to hear your robotics stories! If you have completed or are considering a robotics project for your science or engineering project, let us know about your project or experience.
Categories:
---
Exceptional Science Buddies Volunteer Expert from Bio-Rad Laboratories assists hundreds of students with science projects. Her dedication to helping students exemplifies the volunteer spirit—and makes a difference in how students view and experience science.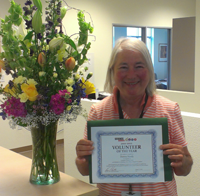 Congratulations to Donna Hardy of Bio-Rad Laboratories!
Donna Hardy (pictured above) has been named Science Buddies Volunteer of the Year in recognition, especially, for her service in the Ask an Expert forums.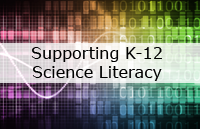 The Science Buddies Ask an Expert forums offer personalized help to K-12 students, teachers, and parents with questions about science fair projects. From fielding questions about formulating hypotheses to helping with the identification of variables to troubleshooting an experimental procedure, our volunteer Experts help make science projects less frustrating and more rewarding. With each student we help at Ask an Expert, we foster enthusiasm for science and increase science literacy. If you are interested in learning more about volunteering with Science Buddies, visit sciencebuddies.org/volunteer.
The new school year is underway, which means students and teachers are already talking about science fairs and science projects, proposing science questions that might be asked, and putting steps of the scientific and engineering methods into action. Millions of students, teachers, and parents visit Science Buddies each year, and we are proud to continue to offer free science resources, including more than 1,000 scientist-authored Project Ideas, designed to make hands-on science exploration a positive experience at all levels.
Science Buddies works closely with its corporate sponsors to encourage and facilitate volunteerism, and our volunteer program makes it easy for employees to contribute in meaningful ways. Each year, volunteers join us in our mission to encourage, increase, and support science literacy. Many of these volunteers, professionals in a diverse range of scientific fields, join our My Science Buddies community and assist with tasks that help us maintain the high quality students, teachers, and parents expect from our resources. Other volunteers help in our Ask an Expert forums, assisting with science questions throughout the year. Others join our cause by volunteering as science fair judges in their local communities, spreading the word about Science Buddies, testing science Project Ideas with their colleagues or families, or assisting with the development of new resources. We are thankful for the time all of our volunteers give to Science Buddies.

An Outstanding Volunteer
Today, we are proud to recognize Donna Hardy of Bio-Rad Laboratories as our 2012 Volunteer of the Year. Donna has been volunteering as an Expert in the Ask an Expert forums since 2005. In that time, she has helped hundreds of students and parents with science project questions. Every year, we hear from students who have gone on to succeed with science projects at school or at a local fair. Many of these stories include mention of assistance they received from Donna in the forums.
Whether a student needs help choosing a project, is having trouble formulating a hypothesis, needs guidance in analyzing her data, or is looking for advice on presenting results, Donna offers thorough, supportive, and encouraging advice. Some students ask a question, receive an answer, and then move on to complete their projects. But many students return for ongoing support, and Donna works with them throughout the process, often doing additional research, helping them procure access to background materials, and working well beyond the typical weekly time commitment for volunteers in the Ask an Expert.
Students struggling with their science projects, or unsure how to get started, receive invaluable advice from Donna. At the same time, Donna has assisted numerous students with advanced science projects, mentoring the students through high-caliber explorations that have gone on to be presented at fairs like the Contra Costa Science & Engineering Fair (CCCSEF) and the Intel International Science and Engineering Fair (Intel ISEF).
"I could not have completed the project if it weren't for all the support I received from Ask an Expert and Donna, and the project would not have received the awards that it did," said Matthew, a student recently profiled at Science Buddies for his investigation of acne treatments. Similarly, Naima, a student in Canada, cites her long-term mentorship with Donna in the forums as critical to her project's success. "I do not live in a university town, and I did not have the opportunity to work in a laboratory or interact with professors," explains Naima. Through the Ask an Expert forums, Donna helped guide Naima through a sophisticated exploration of biofuel and renewable energy. "Although I was confined to my basement as my lab, Donna was incredible in helping me understand the background concepts behind my project, helping me develop the advanced chemistry procedure, helping me analyze odd results, suggesting improvements on my scientific report, and overall helping me complete the project within my location and budget constraints." Naima went on to present her work at the Canada Wide Science Fair.
When a second-grade student put Squanto's advice on using fish as a fertilizer to the test on his family farm, he and his family turned to Ask an Expert for help defining the procedure and then presenting the results. And when a high school student in Danville, CA was working on her advanced project, "The Effect of Deer Antler on the Proliferation of Endothelial Cells in vitro," she, too, got input from Donna and went on to present at the 2012 Intel ISEF. These are just a few of the many students Donna has assisted.
"Donna is an extraordinary volunteer in the Ask an Expert forums," says Amy Cowen, Science Buddies Online Community Manager and Volunteer Coordinator. "If I could clone a volunteer to help at Ask an Expert, I would clone Donna," she continues. "Donna always goes above and beyond the call of duty, providing complete, helpful, and encouraging responses to questions at both ends of the spectrum. When it comes to helping field student questions, Donna seems to have perfect pitch. In addition to Ask an Expert, I know Donna volunteers in her own community as a judge at local science fairs, and she has helped with various other volunteer projects at Science Buddies, including helping us evaluate our top student mentors and reviewing submissions for last year's chemistry contest. She's a wonderful example of our volunteer team, and I am very happy to see her contributions recognized."
Vice President Courtney Corda added, "Donna is, and always has been, an outstanding mentor. I feel very lucky that Donna has given Science Buddies and all the students we serve the gift of her time. I'm sure that having talented, caring volunteers like Donna is one of the factors that helped Science Buddies earn the SPORE prize from the journal Science and that helped Scientific American and NOVA choose Science Buddies for outreach partnerships. Donna is a great role model. We really can't thank her enough. We are honored to present her with our Volunteer of the Year award."
Categories:
---
---