Science Buddies Blog: June 2014 Archives
Fireworks displays are fun to watch and a tradition accompanying many community celebrations. With a simple family science activity, the mystery behind the dazzling night-time sky show can be explored. This is colorful hands-on summer science—minus the "boom" of fireworks explosions!
If the skies are clear, fireworks are sure to elicit oohs, ahhs, and cheers. From big explosions of color to subtle pops that splatter the sky with colorful trails, fireworks displays are full of amazing effects. Do you have a favorite fireworks pattern? Maybe you really like the Chrysanthemum, the Willow, or the Spider? Or maybe you love a good Saturn Shell or ring?
The shape (what it looks like when it explodes) of a fireworks effect varies, as does the height at which the fireworks climb before they explode. But part of what makes fireworks so mesmerizing is their color in the night sky.

Making Science Connections
You and your students can experiment with hands-on science to better understand what causes the colors you see in the sky during a fireworks demonstration. The Discover the Flaming Colors of Fireworks science activity is a fun way for you and your family to do science that ties in with popular July 4th celebrations in the US this week (or for Bastille Day celebrations later this month, or to better understand fireworks that happen any time of the year!).
The hands-on activity guides you and your students in experimenting with two different readily-available chemicals to see what colors these chemicals produce when burned. One of the chemicals you will use is ordinary table salt (sodium chloride). The other, copper sulfate, can be obtained from a pet store. These two chemicals will produce flame colors that are clearly different from one another, making this science that students can easily "see"—even in the dark!

More Chemicals, More Colors
For students wanting to investigate the colors of flame produced when other chemicals burn, or for students interested in turning this science activity into a full-scale science project, the Rainbow Fire kit from the Science Buddies Store contains the chemicals required to do the more comprehensive set of flame tests described in the Rainbow Fire physics project idea.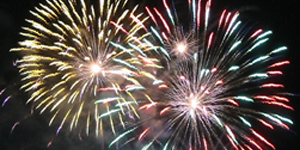 ---
---
Lauren Killingsworth, a recent high school graduate, already has an impressive resume of stem cell research that may contribute to future treatments for blindness. Out of the lab, she is making a difference in the lives of both students in her community and people with visual impairments. For this Stanford-bound scientist, science is the key to the unknown, and doing hands-on science, she believes, is the key to engaging more students with STEM.
Lauren's winning essay opens by capturing and sharing a pivotal moment during one of her own research projects, the kind of moment she wishes all students had the chance to experience. The gap between actively doing science and reading about science is something she has set out to change for students in her community.

Exploring Biomedical Research
In recent summers, Lauren has conducted research at the Buck Institute for Research on Aging. "I worked on stem cell research, specifically developing retinal neurons from stem cells," she explains. "My interest in stem cell biology was actually sparked by a lecture I attended at Stanford University when I was little. It was part of the 'Splash' program taught by Stanford students, and I remember being astounded to learn that cells, tissues, and even organs could be regenerated using stem cell biology. The medical applications of this technology were so promising, and I wanted to get involved."
At the Buck Institute, Lauren worked on projects that investigate the possibility of restoring vision to the blind. The "Assessment of Lineage Conversion to Neural Retina Fate" project "focused on converting human fibroblasts directly to retinal neurons, by infecting fibroblasts with viruses that cause expression of transcription factors." Another project involved "assessing whether or not the small molecule IWR-1 can replace the human recombinant protein Dkk-1 in developing induced pluripotent stem cells."

Making a Difference for the Visually Impaired
Outside of the lab, Lauren's interest in eye and blindness research takes humanitarian shape in the work she and her family does training service dogs. "I've been raising Guide Dogs for the Blind since 6th grade," says Lauren, "and it has been a very formative experience for me. It is incredibly fulfilling to see the bond and trust between a guide dog and his or her visually impaired partner, and I feel blessed to play a part in the process."
Service dogs make a dramatic difference in the lives of their companions, but Lauren says that her work with Guide Dogs for the Blind has also inspired her science research on blindness. "While guide dogs provide a tremendous service to the visually impaired, I envision a world where science research can provide medical cures to blindness-related diseases," says Lauren. "I hope to work with the organization Unite for Sight in college, and partake in an international mission where I would volunteer in an eye clinic in Ghana," she adds.

Science for Everyone
While at Tamalpais High, Lauren implemented a student mentoring program between her high school and Martin Luther King (MLK) Academy. Initially, the program provided tutoring in all subjects, especially math. The program has since evolved into a science-focused outreach effort to meet the need Lauren saw to create stronger opportunities to connect and engage students with science.
"Today, the program is mainly hands-on science labs," says Lauren. "Next year, students will be matched to high school tutors so that they can each conduct their own science fair project!"
The program recently received a youth service grant from ABC News and Disney. Lauren says this funding will help sustain and grow the program in coming years as other high school students step into her role and continue the student service program.

A Top Science Student
Like many young scientists, Lauren was a busy high school student. In addition to being a school leader, a member of the volleyball team, a trainer of service dogs, a volunteer at the Marine Mammal Center in Sausalito, a student mentor, and recipient of an MIT Science Leadership Award, she has also been an active science fair participant—the only one, she says, from her high school.
"The science fair has been a big part of my school years," says Lauren. "In 10th grade, I won 1st place at the Marin Science Fair in Life Sciences for my project on decreasing oral bacteria by brushing the tongue. I also won 3rd at the SF Bay Area Science Fair." As a senior, she won the Grand Prize at the Marin County Science Fair (and 4th place in the SF Bay Area Science Fair) for research on development of retinal neurons.
Next year, Lauren will be attending Stanford University. "I am really looking forward to learning about exciting new topics—from biotechnology, to stem cell biology, to multivariable calculus," says Lauren. Lauren plans to study biology, with an emphasis on cell and molecular biology, neurobiology, or immunology. In the future, she hopes to combine her interests in medicine and science research, possibly in the area of veterinary science, a continuation of her work with animals and a career she says she dreamed of as a child.
Building upon the interest in community service projects and science education she demonstrated in high school, Lauren says, "I hope to incorporate service into whichever career I choose—whether continuing my efforts in science education or participating in a program such as Doctors without Borders, or—the veterinary equivalent—World Vets. I am also very interested in global health and development, and I look forward to spending a quarter abroad to acquire a more international perspective on medicine."
The full text of Lauren's winning essay appears below.


---
Computer bugs and vulnerabilities like the Heartbleed bug provide frightening reminders of how important it is to set strong passwords online. Students can learn more about password practices and experiment with testing passwords by using and improving a password-guessing program written in Python.
Heartbleed was a pervasive bug because many, many servers use OpenSSL, a tool used by sites, ironically, to help protect the transmission of sensitive information. Both the number of servers potentially affected by the bug and the fact that someone exploiting the bug (and stealing user information) could do so without being detected makes the bug particularly frightening.
Not every site and company was impacted by the Heartbleed bug, but many were. (According to some estimates, as much as 66% of the Internet was impacted by the Heartbleed security flaw.) Thankfully, news of the bug and checklists for sites for which users definitely needed to change their logins, traveled fast. Heartbleed was big news in both public and private circles. You may have even shared, retweeted, emailed, or texted warnings or public service announcements about Heartbleed to your own friends and family.
News of the Heartbleed bug immediately caused password and online security and privacy panic. While coders and server owners raced to patch the bug, users faced up to the fact that changing passwords was necessary. According to a recent Wired article, "Heartbleed triggered what was probably the single largest mass-password change in history: In response to the bug, some 86 million internet users in the U.S. alone changed at least one password or deleted an internet account."
After reviewing several charts of online sites that were affected by the Heartbleed bug, including many social media sites, I realized I didn't have a choice. To ignore the risk of the Heartbleed bug would be to bury my head in the sand. I needed to change passwords at least on some of the major sites I access frequently, sites that are part of my daily routine.
You may know that a simple password like "apple" is not a good idea. Neither is the name of your pet or your birth date. But what is a good password? How complicated does a password need to be to be safe from hackers? Is any password really unbreakable?
Taking a look at how passwords can be guessed can help answer that question. By experimenting with a password guessing program, students may better understand strategies to take to make sure passwords are as strong as possible.

Personal Password Protocol
Once upon a time, I used a single password for all of my logins. Gradually, a bit of paranoia crept into my approach as stories of identify theft began to rise and as the number of places requiring a login increased. Did I really want the same password at x gaming or shopping site as I use to access my bank? If someone hacks my email or my iTunes, to how many other accounts might they also gain access?
Along the way, I changed how I create my passwords, how many I use, and how I structure them.
Then there was Heartbleed.
Dealing with the Heartbleed bug was definitely not fun. Many of us have dozens and dozens of logins, possibly involving dozens and dozens of passwords. All those passwords add up!
In response to Heartbleed, I changed a handful of passwords in one afternoon. I jotted down a few of the changes on a slip of paper. (This probably wasn't the smartest choice.) I promptly lost the paper in moving between rooms and between computers. (More than a month later, I still have not caught sight again of that scrap of paper.)
When I next tried to use Facebook... bam. Trouble. I tried dozens of combinations and tweaks on my old password. Dozens of failed attempts. Lots of wasted time. I finally got in, and then repeated, amazingly, the same difficulty when I was prompted to log in again on another computer. And then again on my phone.
When I tried to log into one of several email accounts, my Instagram account, my Pinterest, I ran into password trouble at every turn. Because so many of my passwords differ, I repeatedly found myself at a loss trying to get logged back in, a process I had to repeat on every device I use.
Unfortunately, while I had trouble cracking my own passwords, even though I know the general parameters of how I set them and how I had tried to systematically change them, a hacker probably would not have nearly as much trouble breaking my passwords or yours.

Real-world Online Security
Password security is always something about which you want to be cautious, mindful, and protective.
In the movies, you often see people—on the well-intended side as well as on the criminal side—trying to figure out a password based on somewhat obvious details or identifying information about the person (like a child's name, a birth date, or a favorite rock band).
Off the big screen, guessing someone's password is not usually that easy. Most people are savvy enough about online security to use something less than obvious, to throw in some mix of capitalization, and to intermix numbers, letters, and symbols.
Guessing a friend or family member's password might be harder than you think, or even impossible—for you. But for someone applying technology to the process of stealing passwords, you might be surprised at how quickly a password can be broken by a bit of computer code.
A program isn't trying to "guess" the password the same way you might. Instead, a computer program may be coded to run systematically through all possible combinations to try and break your code.

Making Student Science Connections
Two science projects at Science Buddies tackle password security and guide students in an investigation of computer security behaviors and technologies.
Do People Use Different Passwords for Different Accounts? is a human behavior project in which students investigate password practices among groups of users. In this project, students survey people to better understand how different users think about, use, and create passwords for online sites and services. Do they use the same password everywhere? How many passwords do they have? What kinds of trends can be identified among users regarding password practices? (For more information about conducting survey-based science projects, see the Designing a Survey and Sample Size: How Many Survey Participants Do I Need? resources from the Science Buddies Project Guide. Don't overlook the ways in which your online connections and social media can be used to help broaden your survey pool!)




Password Security: How Easily Can Your Password Be Hacked? is a computer science project in which students take an inside look at how difficult (or not difficult) figuring out a password can be. By first thinking about a standard combination lock and doing the math to determine the number of combinations (and how much time it might take to test each one) and then moving on to thinking through the same process for more difficult kinds of locks, students look from the ground up at password construction and password cracking.

Using an introductory exercise in reading and writing Python code, the project guides students in an exploration of how computer routines can try and guess passwords. You can't use this code to steal someone's information from somewhere else, but you can have fun experimenting with guessing a password a friend inputs in the program code or testing the code to guess your own strings and compare the time it takes the program to guess different kinds of passwords. What makes it harder for the program to guess a password? What kind of password takes longest? Can this simple program crack the passwords you normally use? Can you come up with a password the program can't guess? You can also test the password guessing code to see if you can figure out a few sample passwords from Science Buddies.

Note: the project above is not designed to encourage students to try and write code that might steal user information. Instead, the project gives students a better understanding of how passwords can be systematically tested and guessed by software (even if millions of possible combinations have to be checked). The project also gives students a fun, real-world scenario in which to experiment with Python computer programming. Learning to run, edit, and revise the provided code involves installing Python, learning to interpret the code, and familiarizing oneself with the syntax specific to Python, which is important for students who may already have experience with other coding languages.

Memorizing Passwords
Keeping track of multiple passwords can be complicated, and as the number of passwords you use increases, so does the challenge of remembering them all! One strategy people often talk about in setting a password is to use the first letter of each word in a title or phrase. This kind of password is called a passphrase.
When using a passphrase password, you are using a memorable (you hope) sentence as a way to help you remember your password. People use similar approaches to help remember other strings of information. Mnemonic devices help people remember information by attaching the information to something more easily remembered. A silly sentence made from the first letters of the names of the planets, for example, may make it easier to remember the order of the planets than just trying to memorize the planet names in order.
The Memory Mnemonics science project guides students in an exploration of mnemonic devices and how they may help improve someone's ability to remember information. For a simplified family science activity version of this project, see Memory Science.

Protect Yourself Online
For additional information regarding best practices for online safety and privacy, see the Internet Safety Guide.
---
3D printing has opened a cool new frontier of custom manufacturing that brings freedom to individuals interested in design, invention, or just in need of a rare or unusual part. With a hands-on modeling and design project using Autodesk 123D Make, students can design and assemble a layered 3D model for a better understanding of how 3D printing and additive manufacturing works.
3D printing is all the buzz. From replacement parts for household objects or toys that are broken to one-of-a-kind creations to a large-scale approach to manufacturing that may revolutionize the way products are made, 3D printing has changed how people think about "making" things that once required industrial machines and molds. In addition to giving individual inventors and designers new options for testing out ideas, 3D printing brings new possibility to many big industries, from automotive to healthcare. 3D printing is a game changer, and industry and DIY and maker communities alike are excited by what 3D print technologies enable, but the printer in your school computer lab or home office probably still prints out the same flat images and text as it always did.
What is 3D printing all about? What does it really mean for a printer to "print" a ready-made, fully-functional object, on demand, similar to the way you might request an item from a vending machine?

One-of-a-kind Designs
You may have read stories about "printed" objects ranging from artificial organs to cell phone accessories and other tchotchkes, things that someone wants to make but doesn't need a million of or even a hundred. Or maybe what you need is a specific little piece to replace something that is broken, a piece that is hard to find or no longer made. With 3D printing, you can make just one of any item you can imagine—as long as you can create a digital 3D model. There are no expensive molds and machines that have to be made, customized, or altered to handle each design or each change. Instead, using a digital design file as a blueprint, a 3D printer prints out the object, layer by layer.
With 3D printing, the z axis comes into play as the printer adds "depth" to the print. In order to create a file for 3D printing, designers use computer-aided software to create a 3D model of an object that can then be printed with a special 3D printer. Depending on the printer, 3D printed objects can be made from a variety of materials, including rubber, plastics, paper, and even metals. Using the digital blueprint, the printer (loaded with the chosen material) extrudes the material layer upon layer, similar to the way that a regular printer deposits ink as the printer head moves back and forth across the page—only dimensionally instead of just in flat, horizontal rows.

Creating Paper Models
The layer by layer approach central to 3D printing is an example of additive manufacturing. In traditional manufacturing, an object might be created by taking a block of material and removing (or subtracting) material to get to the desired shape. Sculpting something out of a block of soap or a block of wood, for example, involves a subtractive approach—you whittle away what you don't need to leave only the desired shape behind. With additive manufacturing, layers of material are added, one by one, to build the object to the desired shape and size. Only what is needed is used, so there is less waste.
That virtually any object imaginable, including artificial organs, can be constructed by printing "layers," may seem hard to believe. A novel software application from Autodesk helps remove the mystery of additive construction by giving users a hands-on way to create their own additive models.
Autodesk's 123D Make auto-converts 3D digital objects into 2D vector-cut patterns or templates. Using 123D Make, students can print out the individual layers needed to construct a 3D model (designed in another program) and then glue or tape the layers together to manually build the 3D object. Using paper (or cardboard) to construct a 3D object from layers lets students see, from the ground up, how a 3D printer creates a 3D object from layers. It's a great creative exercise, but using 123D Make is also a great way to take a hands-on, nuts-and-bolts look at how an object can be built from layers—and how computer-aided design and modeling is related to what a 3D printer will "do" when printing out the dimensional object.

Making a 3D Model
Using 123D Make, students can explore fundamental principles of 3D additive design by making their own 3D object from layers. Opening up one of the many gallery examples is a great way to get started. Choose a model like a "skull," "rocket," or "rhino," and you can immediately see how layers are used to create the item. With 123D Make, students can change the size of the item, change the direction of the "slices" (which plane is used for slicing?), and even view the same object as it could be assembled using various techniques, including stacking (layering) and paper folding.
Once a design has been finalized, it can be laser-cut (professionally) or, for an at-home look at the process, the design can be printed out on multiple sheets that contain all of the slices necessary to make the object, layer by layer. Trace and cut the shapes from cardboard, grab some glue, and you have the makings of a fascinating creative engineering activity. (Some versions of the 123D Make application animate the assembly steps, layer by layer, as shown in the screenshot below. All layers are numbered for DIY assembly.)


123D Make is available as an iOS or Android app, a standalone software product, and a web application.

Next Steps
After experimenting with a cardboard-based, glue-it-together 3D model, students can continue to explore 3D modeling and 3D printing using one of a range of Autodesk tools. The Autodesk 123D site connects students with a number of free apps and tools, resources, and samples to help jump start exploration of 3D and computer-aided design.

Premier Design Tools for Educational Use

Autodesk gives students, educators, and educational institutions free access to professional design software, creativity apps, and real-world projects. For more information, details about education use, and to download software, visit the Autodesk Education Community.

What Will You Make?
If you are already a user of Autodesk software, we would love to hear from you! If you try 123D Make, or any other tool on the 123D site, please let us know. We would love to see what you build, design, explore, or even print!
---
---
From physics to statistics, science plays a big role in soccer. As the World Cup unfolds this summer, watch the games, cheer on your favorite teams, and see science in action!
By Kim Mullin
To make it into that final match, elite soccer players will leave everything on the field, giving their fans the chance to see awesome punts, exciting goals, and split-second reaction times. How can these players score from impossible angles? How do goalies block shots? Practice makes perfect, but scientific principles have something to do with it, too.

Making Connections
The following Science Buddies Project Ideas help students uncover and explore the science in soccer:
Science and Sports Go Hand-in-Hand
Sports science makes it easy to bring up scientific concepts in everyday life. Whether they are throwing, running, swimming, or kicking, asking the right questions can help kids see that science that isn't just for classrooms. Visit the Science Buddies Sports Science topic area to find more winning ideas!
---
---
A magic milk rainbow may be all about what's happening at the surface level between milk and soap, but when kids create the magic, the learning excitement is palpable. For Lily Arendt, hands-on science activities are a great way to help kids uncover the magic of science. We couldn't agree more!

For Lily Arendt, a biology student at DePaul University in Chicago and a participant on the Miss America beauty pageant circuit, engaging students, especially girls, with science and inspiring them to ask science questions and experiment to find answers is an issue she's putting front and center both as her pageant platform and with students in her hometown.
Lily recently took the Science Buddies Make a Milk Rainbow activity, part of the brand new Science Buddies Activities area, into fifth and sixth grade classrooms in Green Bay, Wisconsin to bring cool chemistry into the classroom and give students a chance to get hands-on with some awe-inspiring science.
After spending time with students in four different classes, Lily says the kids' enthusiastic response to the milk rainbow experiment was unanimous. "I was thrilled to see that all four classes were equally excited about the experiment!"
The project involves the reaction between food dye, dish soap, and milk. With these simple ingredients, four individual drops of food coloring can be mixed and swirled into a rainbow or a spin-art-style display by touching a cotton-tipped swab dipped in soap to the surface of the milk. The science of surface tension and surfactants helps demystify what is going on, but it looks a lot like magic when the colors begin to move away from the swab even though they were not touched. This is a colorful science experiment that is sure to bring oohs and ahhs.
Lily says she, too, was wowed when she first tried out the milk rainbow experiment. "I was just as impressed with the movement of the food coloring as the kids were! I definitely believe this experiment has an element of science 'magic' that all ages would enjoy."
In the classroom activity, Lily helped the students set up the demonstration, and then she stepped back, letting the kids get hands on to see what happened as they, not a teacher, touched the swab to the surface of the milk. A swab with nothing on it caused the milk to behave one way. But a swab dipped in soap caused something entirely different to happen! This kind of active learning can be incredibly empowering for students who think science is something that happens in a lab somewhere by real scientists.
Supplementing science education with opportunities for active learning is what Science Buddies project ideas and now science activities are all about. With great ideas and blueprints for science experiments scaled for independent study or fun family weekends, Science Buddies is helping students, teachers, and parents take an active role in science exploration at home or at school.
It's a perspective on science that Lily shares.
"After taking many lecture-based science classes throughout my education," says Lily, "I've realized how disengaging it can be to simply listen to someone tell you the cool things about science. The thing I love about science is that it does have that 'wow' factor, and students, especially in elementary and middle school, should have the opportunity to experience science in their own way! Doing a hands-on experiment may just be what it takes to ignite that spark between a student and a love for science."
Not only did they enjoy the chemistry experiment, but the fifth and sixth grade students Lily worked with were excited to go home and share the experiment with friends and family. In re-telling or re-creating the experiment at home, they continue to process and absorb what they learned, articulate it, and pass on the fun.
In the classroom, Lily spent time talking with students about science careers, showed them how the Topic Selection Wizard works, and looked at sample Project Ideas that came up as "recommendations" for an individual student.
"When I discovered the Topic Selection Wizard on the website, I knew I needed to share it with the students," says Lily. "I wish I had had this resource when I was doing my elementary and middle school science experiments and even when I was first looking into a science career!"
A popular tool on the Science Buddies website, the Topic Selection Wizard helps match students with science projects in which they might be especially interested—based on their responses to a simple questionnaire. Many times, students uncover a perfect project using the Topic Selection Wizard that they might not have discovered by just browsing the directory of projects.
"The school I visited does have a wonderful science fair every year," says Lily, "and scrolling through the recommended projects, I know there were many experiments that caught the students' eyes."
For Lily, time spent in the classroom helping connect kids with the "magic" and wonder of science is time well spent. Lily says she has always been interested in science. Even as a kid, she says she enjoyed both doctor and dentists appointments because the doctors would explain the science behind what they were doing.
Lily also fondly remembers her 4th grade science fair project. "It was called 'Which will float: the ball or the boat?'," says Lily. "I had shaped multicolored clay into both a round ball and a concave boat shape and placed them in a tub of water to see what they would do. I definitely wish I had had Science Buddies as a tool when I was in 4th grade, but I remember demonstrating the experiment to my friends and loving the fact that I had come up with the experiment all on my own!"
Her childhood fascination with science blossomed into career goals when she took AP biology in high school. Today, Lily is studying biology at DePaul while working to promote science, technology, engineering, and math (STEM) education as part of her pageant platform.
"My pageant platform is called 'Women in Science: Exceeding the Boiling point,' and I chose this title because that is exactly what I want to encourage young women to do—to exceed the expectations placed on them in the sciences! Currently in the United States, only 25% of the available STEM careers are filled by women, and in a country where science and technology is valued so highly, that is truly a shame. I believe an interest in science starts at a young age, and young women need female role models to demonstrate to them that it's okay to love the sciences and that it is possible to become a confident, successful woman with a science career! I am so happy to have found Science Buddies, and I look forward to using it as a resource to encourage young women to pursue the sciences."
With up-and-coming scientists like Lily speaking out to girls and going into classrooms to show students that science is there, within reach, and full of magic and fun, there is hope for more and more students to embrace the sciences. Science Buddies is proud to support the process and to provide materials that help mentors, volunteers, parents, and teachers bring science to life for students—just like Lily did for students in Green Bay.

See our overview of the new Science Buddies Science Activities area.
---
Science Buddies has added a new "activities" section to its award-winning science education website. The new science activities complement the existing library of science fair project ideas but bridge the gap between science "assignment" or "independent project" and doing science just for fun at home or in the classroom. These new activities appear just as summer break begins for many students, making the timing perfect for families looking to keep kids engaged with science all summer long.
Science Buddies is excited to announce a brand new section of the website devoted to hands-on science activities. With a focus on short-term, family-friendly science and engineering experiments, these activities bring fresh new flavor and simplicity to Science Buddies and help families more easily make science a part of their time together at home.
In-depth Science Buddies Project Ideas for science fair projects and school assignments have been a key part of Science Buddies since the organization was founded in 2001. With a bit of ingenuity and reading between the lines, parents can adapt many of the more than 1,200 Science Buddies Project Ideas for home use, but the new dedicated science activities area makes it even easier to plan and lead a fun and engaging science experience at home.
The new activities help guide hands-on science exploration by providing simplified step-by-step procedures, key questions to think about or important observations to make, and information about what families can expect to see happen and why. In addition to a materials list, overview, and guided steps of the experiment, each activity includes explanatory information to help contextualize the activity and the science behind it, as well helpful links to relevant careers that help students make the connection between cool science and possible future career paths.
The science activities area is broken down into categories designed to help guide families in choosing a science activity to explore: All About Me; Build it Better; Crafting and DIY; Kitchen Creations; The Natural World; Outdoor Fun; Try It Out; and Whiz, Bang, Boom. As the section titles indicate, the new science activities area aims to help kids and families uncover and explore the science in everyday activities. Science really is everywhere, even in fun activities like throwing Frisbee at the park and making ice cream!
According to Sandra Slutz, Lead Staff Scientist at Science Buddies, "Most of the Science Buddies staff are parents. We understand the realities of balancing family time commitments, fun, and learning. So during the development of these activities, we continuously went back to three questions: Is it fun? Is it easy to do at home? Will kids learn something neat about science or engineering? I think we've succeeded in striking that balance across all 40 of these new activities. We hope our users will enjoy these activities as much as we have with our own children!"

Science Anytime
In the new Activities area, you will find great hands-on science ideas like these: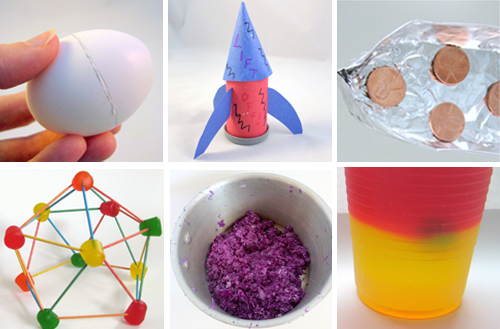 ---
---