Fun with Fireworks Science: When Chemicals Burn
Fireworks displays are fun to watch and a tradition accompanying many community celebrations. With a simple family science activity, the mystery behind the dazzling night-time sky show can be explored. This is colorful hands-on summer science—minus the "boom" of fireworks explosions!
What makes all the great colors you see during a fireworks display? Experiment with a fun backyard family science activity to see firsthand how different chemicals produce different colors when burned.
Find other great hands-on science activities for families to do together in the Science Buddies Science Activities area.
Do you and your family head out each 4th of July to watch fireworks in your neighborhood? Do you tune in on New Year's Eve to watch fireworks that herald the start of the new year? In cities big and small, many hours of planning, preparation, and staging result in awe-inspiring fireworks displays designed to dazzle watchers with the biggest, brightest, and best bursts of color and light.
If the skies are clear, fireworks are sure to elicit oohs, ahhs, and cheers. From big explosions of color to subtle pops that splatter the sky with colorful trails, fireworks displays are full of amazing effects. Do you have a favorite fireworks pattern? Maybe you really like the Chrysanthemum, the Willow, or the Spider? Or maybe you love a good Saturn Shell or ring?
The shape (what it looks like when it explodes) of a fireworks effect varies, as does the height at which the fireworks climb before they explode. But part of what makes fireworks so mesmerizing is their color in the night sky.
Making Science Connections
You and your students can experiment with hands-on science to better understand what causes the colors you see in the sky during a fireworks demonstration. The Discover the Flaming Colors of Fireworks science activity is a fun way for you and your family to do science that ties in with popular July 4th celebrations in the US this week (or for Bastille Day celebrations later this month, or to better understand fireworks that happen any time of the year!).
The hands-on activity guides you and your students in experimenting with two different readily-available chemicals to see what colors these chemicals produce when burned. One of the chemicals you will use is ordinary table salt (sodium chloride). The other, copper sulfate, can be obtained from a pet store. These two chemicals will produce flame colors that are clearly different from one another, making this science that students can easily "see"—even in the dark!
More Chemicals, More Colors
For students wanting to investigate the colors of flame produced when other chemicals burn, or for students interested in turning this science activity into a full-scale science project, the Rainbow Fire Kit contains the chemicals required to do the more comprehensive set of flame tests described in the Rainbow Fire Science Project physics project idea.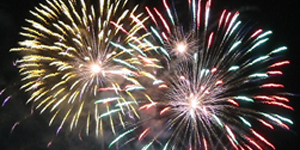 Categories:
You Might Also Enjoy These Related Posts:
Explore Our Science Videos
Make a Lung Model – STEM activity
Finding Pi Using Everyday Objects