A Wolf Story in California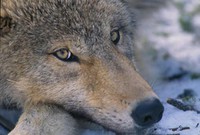 News of a lone wolf roaming through California made
SF Gate headlines
today. The gray wolf's movements are being monitored, but according to reports, the nearest companion is hundreds of miles away—the other direction. Why is this wolf wandering alone—and away from the nearest known female (and the potential of creating a pack)?
Students interested in patterns of animal movement—or wolf behavior—can learn more by using available radio telemetry wolf movement data to better understand animal movement patterns in the Where, Oh Where, Do the Wild Wolves Wander? zoology Project Idea.
How far will a wolf travel in a single year? Explore historical data to find out!
Categories:
You Might Also Enjoy These Related Posts:
Explore Our Science Videos
Storm Surge Activity - Protect Houses From Waves
Design and 3D Print a Snowflake