Biodiversity at Halloween: A Spider Variety Show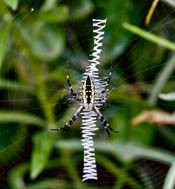 Kim and her kids spotted an Argiope aurantia like the one shown here on a daily walk. Image: Wikipedia, Deisy Mendoza.

Family Exploration

Remember, your students are curious about the natural world around them. A simple walk to school or through a park can be a revelation—and a great opportunity to talk about science. But you have to slow down and look! There are spiders—and much more—to be discovered!
Related posts:

By Kim Mullin

There are about 34,000 different species of spiders in the world, and in Northern Virginia we see quite a lot of them in the fall when they are busy eating and reproducing in preparation for the coming winter. While a large spider in the house can make me jump, I like to think that spiders are benevolent creatures, eating the insects that pester us. And, their webs are a perfect addition to the landscape at Halloween!
On our walk to school each day, my children and I pass a neighbor's garden. In the growing season, it's brimming over with flowers and vegetables, and we enjoy seeing what's new. One day, however, we spied something different and unexpected—an enormous yellow and brown striped spider! We'd never seen such a large spider outside of a display case. Its markings were very distinctive, so we easily identified it at a spider website later that day. It was a black and yellow argiope, or corn spider. It turns out that this spider is harmless to humans, but it sure was doing its part to control the insect population!
After successfully identifying one spider, we took a closer look at the other spiders in our neighborhood. We discovered that light brown funnel weavers are common in our yard. They create an open-ended funnel to one side of their web and hide there until something becomes entrapped! We also discovered a wolf spider, which hunts for its prey, rather than making a web. A hunting spider was a new idea for me!

Biodiversity—Learning About the Creatures Around You
What kind of spiders do you have where you live? Or other creatures? If you are curious to learn about your local biodiversity, explore these Science Buddies Project Ideas:
Bug Vacuums: Sucking Up Biodiversity: Have you ever wondered what a wildlife biologist does? These scientists study and monitor the health of habitats and ecosystems, often by identifying and counting plants and animals. Take on the role of a wildlife biologist by examining the biodiversity of insects in your own backyard using a homemade bug vacuum!
Finding Phyla: Animals come in all shapes and sizes, each a small part of the amazing diversity of life. These differences can also help us to classify animals into different groups. Which group do you belong to? How many different types of animals can you find around your home? Do this experiment to investigate the diversity of animal life around your home.

(Science Buddies Project Ideas in Zoology are sponsored by the Medtronic Foundation.)

Categories:
You Might Also Enjoy These Related Posts:
Explore Our Science Videos
How to Make Great Rock Candy – STEM activity
Can You Drink From a Really Long Straw?
3D Printing with Icing (no 3D printer required!)