Build a BlueBot Guard Robot!
With the BlueBot: 4-in-1 Robotics Kit, students can build four different robots using the same core BlueBot chassis. The first robotics project in the BlueBot series is the Guard Robot, a protective robot with a motion-detecting sensor.

The BlueBot kit can be used to build four different robots, each of which uses a different sensor and a different circuit on top of the core BlueBot chassis.
The Guard Robot circuit makes use of a passive infrared (PIR) sensor that enables the robot to detect moving objects that give off heat. This fun robot will appear to come to life when something enters its field of view.
Be prepared! This guard bot has a wide range!
The BlueBot Robotics Projects Series
The BlueBot kit contains the specialty materials needed for the following BlueBot robots. Each robot features a different kind of sensor and/or behavior.
For more information about these and other projects students can do with to explore robotics engineering and programming using the BlueBot Kit, see 10 Robotics Projects with the BlueBot Kit.
See also: Build a BlueBot Over Break and How to Do Robotics at Home with Your Kids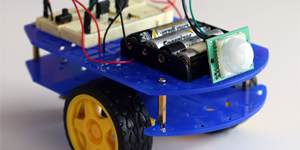 Categories:
You Might Also Enjoy These Related Posts:
Explore Our Science Videos
Sweet Earthquake Shake- STEM activity
Program Your Own COVID-19 Simulator with Scratch